Adventures in Portugal [April 5-8, 2017]
Two days after getting back from Italy, I went to Portugal with Shubhi and her friend Kristie from USC. This was the second time I went to Portugal on exchange, but the circumstances this time around were 1000x better. For one, I had more than one outfit and had no plans to sleep on a marble slab at the airport. For another, can you say 26ºC WEATHER?!?! This was the first time that I got to truly wear summer clothes on exchange, and I loved every second! There's so much STUFF you can do in Portugal that I could've probably spent another week there.
Day 1: Sintra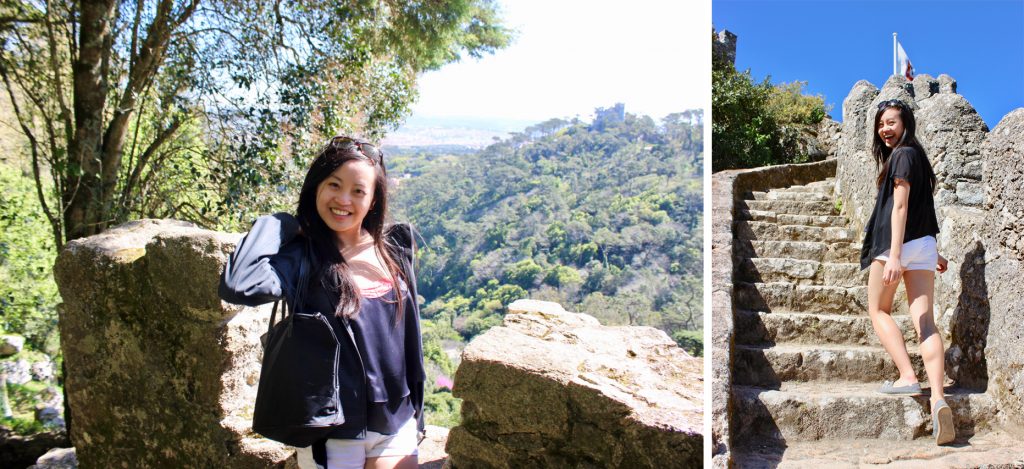 On our first full day, we headed to Rossio station (where I'd gone before!!) in order to catch a train to Sintra. Sintra is BEAUTIFUL. There are a ton of different castles, and you could probably spend a whole weekend exploring all of them. Because we've heard about how fantastic Pena Palace is, that one was a no-brainer to visit. The moorish castle was along the same route, so we went there first. In hindsight, we should've gone to the Quinta de Regaleira or Monserrate. The former is creepy and cool in a sinister way, and the latter has some stunning parks (or so I've heard).
Theoretically, you can hike from one castle to another, but they were pretty spaced apart and time was ticking! As it was, we only managed to get through two castles (although the day already felt super jam-packed). The tourists by the bus station were very aggressive, so you really have to push your way to hop-on. But once you're there, it's beautiful!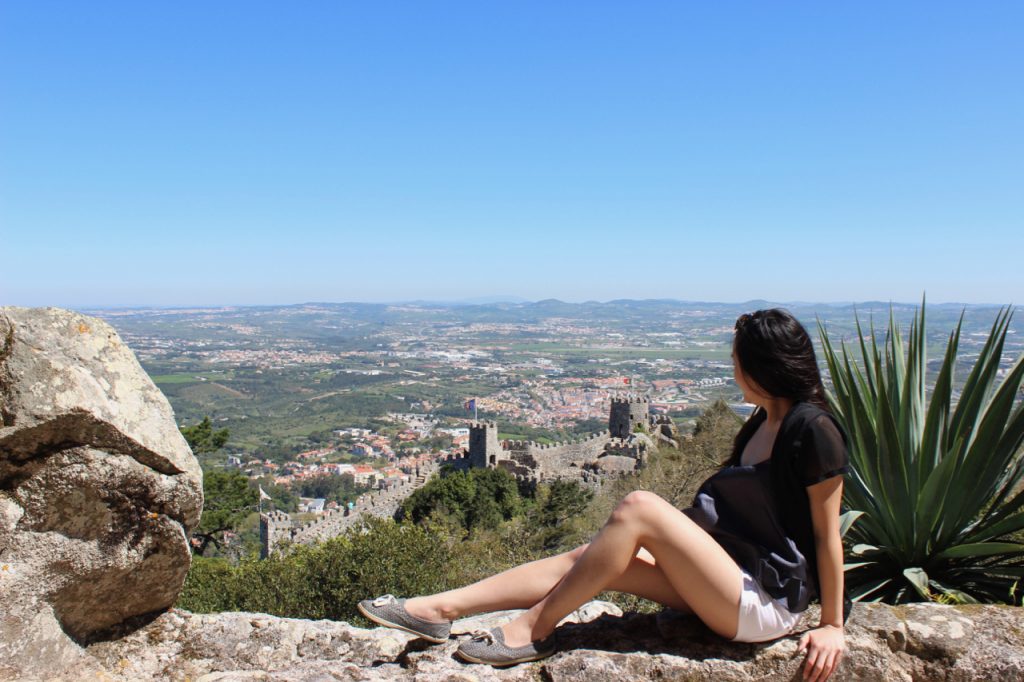 From a distance, the Moorish castle almost reminded me of the Great Wall of China!
The moorish castle was like a fort with immense green shrubbery everywhere. What really struck me was that there were houses dotted along all the cliffsides — why would people ever live here? Wouldn't that be super inconvenient? How do they do groceries?
At this point, I also realized that your travel experience will vary GREATLY depending on who you travel with. Kristie, Shubhi, and I took photoshoots to the next level (in a fun way)! I have never stopped for so many impromptu posed pictures in my life. We would let other tourists see the sights ahead of us so that we could get shots without anyone else in them. At some point, we gave up on any semblance of shame and threw on some music while taking pictures (I guess Tyra Banks knows what's up). Very few of my other travel companions would've put up with these shenanigans, so I'm glad I went with these two gals. I think our enthusiasm fed off each other, and we ended the trip maxing out the photo storage on several devices and laughing our heads off pretty much the WHOLE time.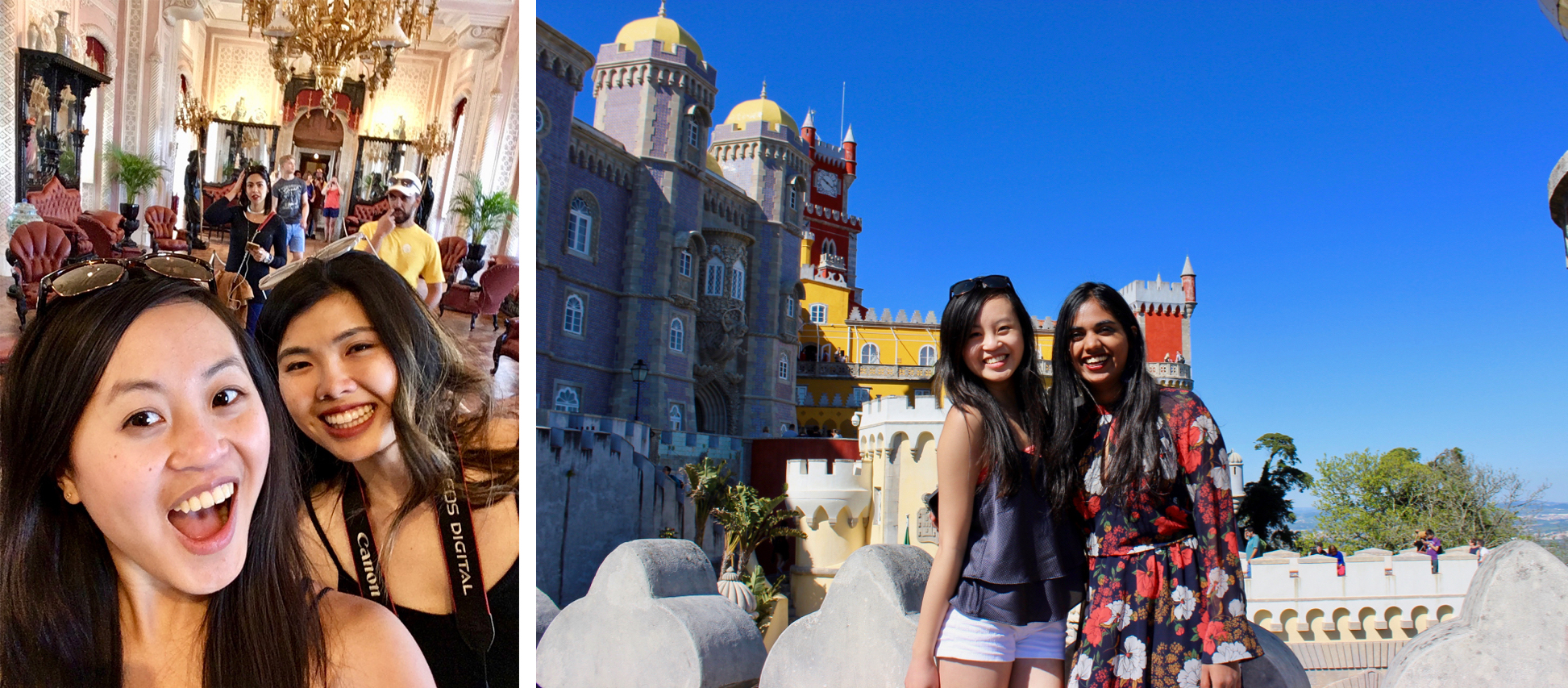 After we got our fill at the moorish castle, we headed to Pena Palace. Along the way, a man and his girlfriend stopped us and said, "Excuse me, where are you from?" When we said "Toronto," he exclaimed with: "I knew it! Me too!!!" He had actually just relocated to Portugal for work long-term. After a bit of chatter, we discovered that he actually went to Meadowvale Secondary School in Mississauga — what a small world! I mean, he was wearing a Leafs hat and his girlfriend had on an Oilers hat, so that should've probably tipped us off. How to spot a Canadian in the wild: wear Canadian hockey apparel. That being said, I don't know what made him realize we were Canadian too. Was it the way we talked? We weren't looking distinctly Canadian!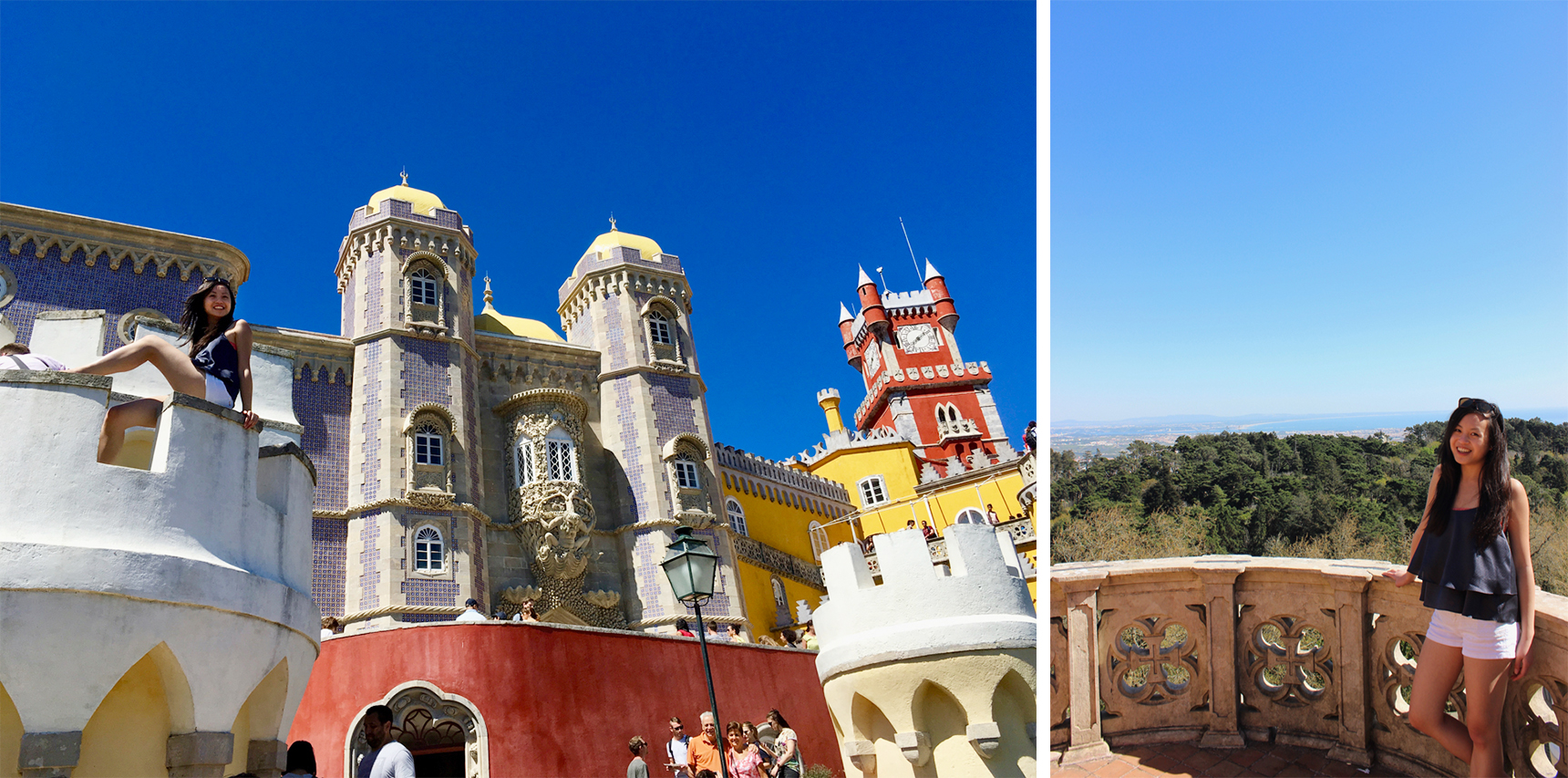 Pena Palace itself is amazing. It looked like a castle you'd find at Disneyworld, except in real life. The colours were vibrant, the castle had Lego-like shapes, and there were a million iconic photo spots. I am not exaggerating!! We ended up eating lunch at like 3 pm because, uh, #priorities. The fact that it was a beautiful day also helped improve matters.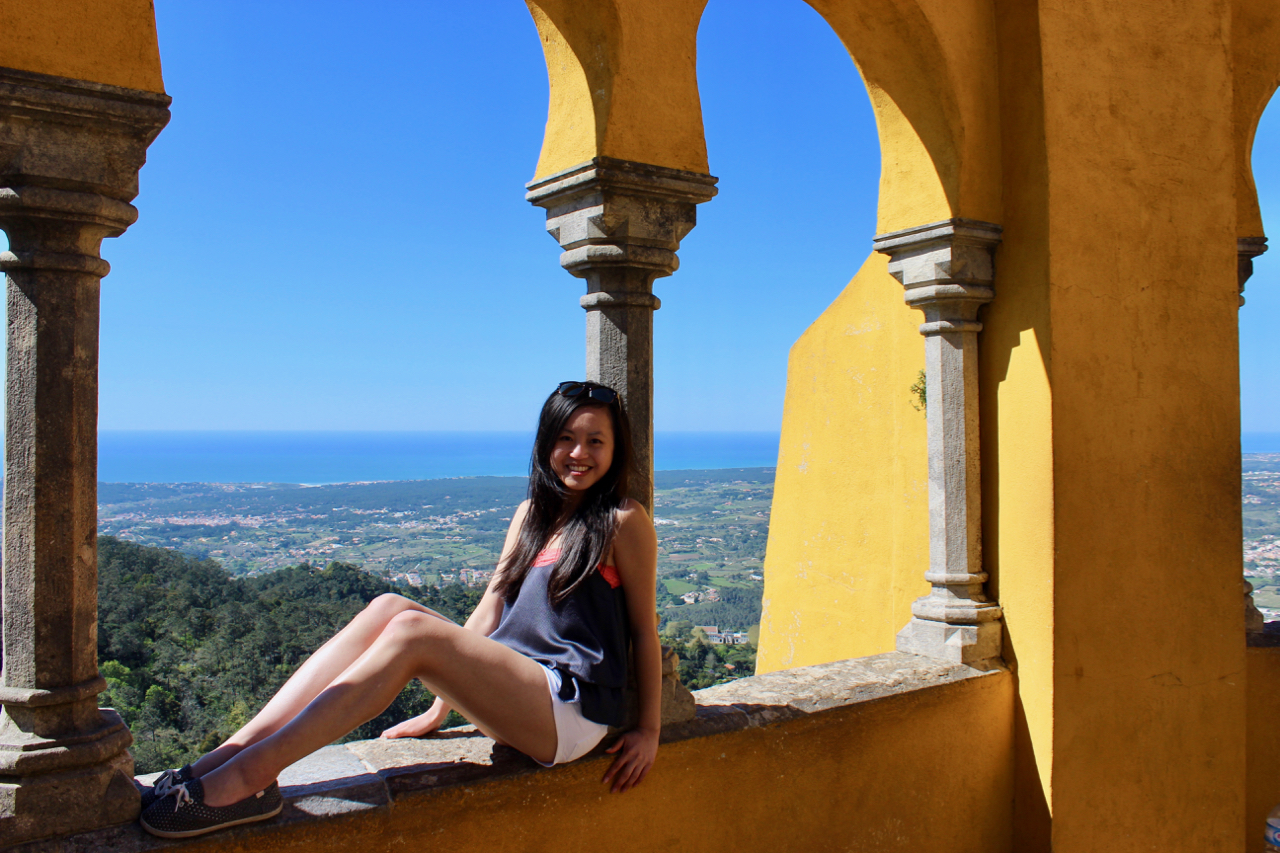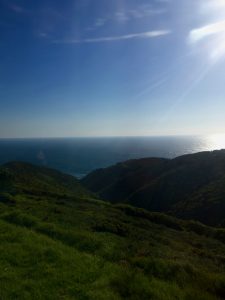 After going to Pena Palace, we made a bit of an error in judgment and decided to take a bus from Sintra to Cascais beach via a route that went through Cabo de Rocas. Let me be clear: Cabo de Rocas is stunning. The problem was that we kinda didn't realize that. We got on a bus that was so jam-packed that we had to sit on the floor of the bus (cue: immense dizziness and flashbacks to third-world countries), but it suddenly cleared up as soon as we arrived at Cabo de Rocas right around sunset, aka the "Most Western Point of Europe." THIS SHOULD HAVE TOLD US TO GET OFF. Instead, we continued this 1-hour+ bus ride to Cascais beach, instead of taking a 30 minute train there. …But hey, at least I snapped this pic of Cabo de Rocas while sitting on the bus? :'(
Cascais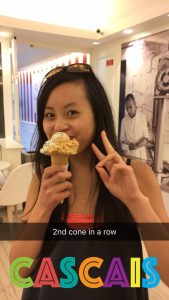 At Cascais beach, we frolicked by the water at sunset. All the other youths at the beach were pretty much leaving at that point, but we had just taken a bus for over an hour to get there, so we had to justify the journey! There were some really beautiful beachside houses around there (aka our future summer homes). We also spotted an incredible Portuguese establishment near there: Santini's! Everyone on exchange in Portugal has RAVED about their gelato, and I happily agree. I might have eaten two cones back-t0-back. I literally have no excuses. Sometimes a girl's gotta do what she's gotta do.


Meeting up with MORE FRIENDS!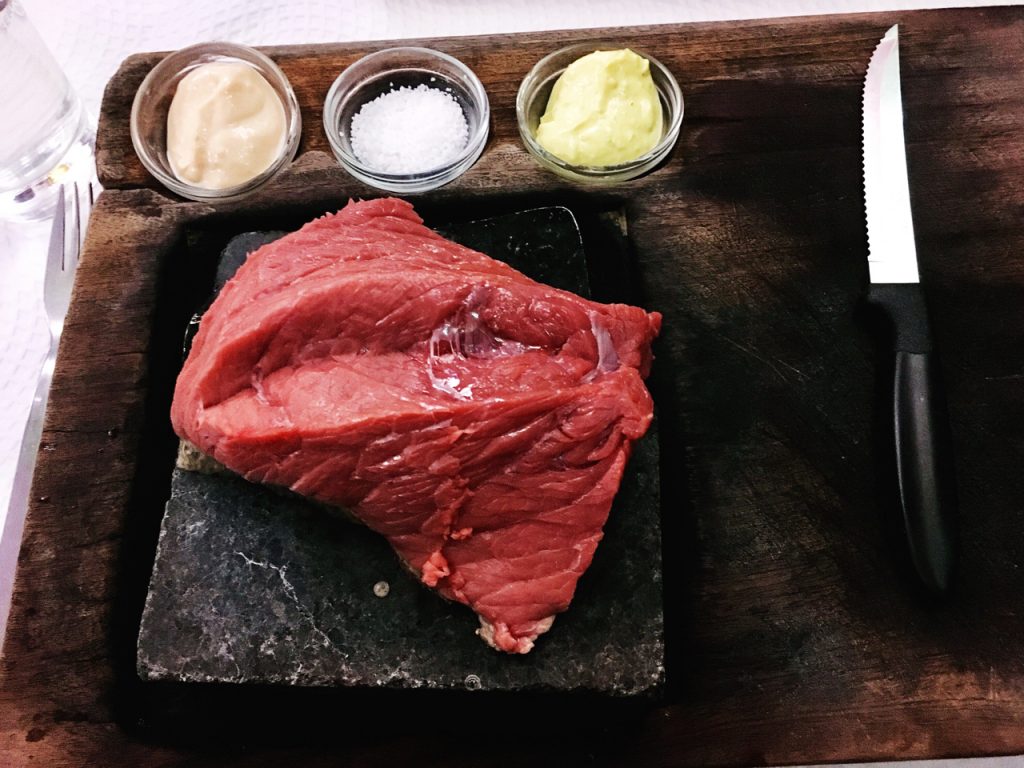 After getting back from Cascais, we went for dinner with Christa! She took us to her favourite Pasteis de Natas (Portuguese egg tart) place as an "appetizer," and then we headed to Restaurante Cabaças to eat these giant hunks of meat (pictured above). They're served to you sizzling on a hot stone, and it's up to you to season them, cook them to perfection, and cut them up. Totally different and delicious. The great thing about having a friend on exchange somewhere is that you get to discover things you wouldn't even fathom otherwise!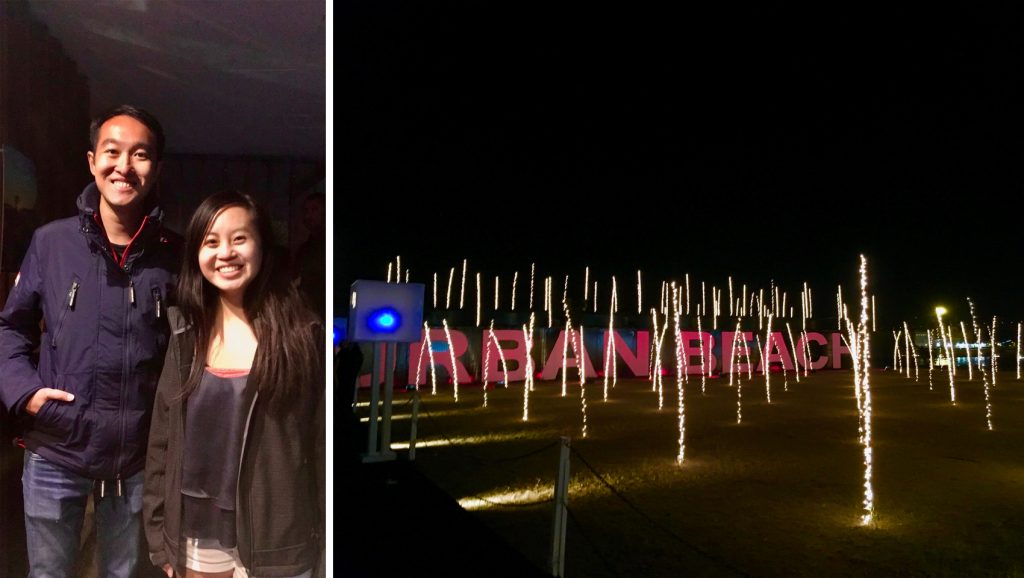 After dinner, we headed to Park Bar (a snazzy rooftop place on top of a parking garage), where we met up with Sean and his brother Kai from Singapore. I met Sean at a case competition in Hong Kong, and he happened to be in Portugal for his grad trip at the same time I was there! From that vantage point, we got to see the Golden Gate Bridge, which is a replica of the one in San Francisco. Apparently, Portugal also has a version of Rio's Christ the Redeemer, because Portugal doesn't know how to have original content.
From there, we headed to Urban Beach, where I saw other Queen's students like Paloma and Lexi! Apparently, Eric (who's on exchange in Zurich with me) was also there, which was pretty wacky since I didn't see him. Dustin and Kyle were also in Portugal at the same time too, but with opposite schedules to ours. I LOVE how all our exchange experiences are intertwined and line up at different times, simply because of the sheer number of Queen's students in our year on exchange at the same time in such close proximity. The music was surprisingly good, but I disliked how everyone smoked indoors. I had to air out my jacket by the window for a full day just to get rid of the cigarette stench.
Day 2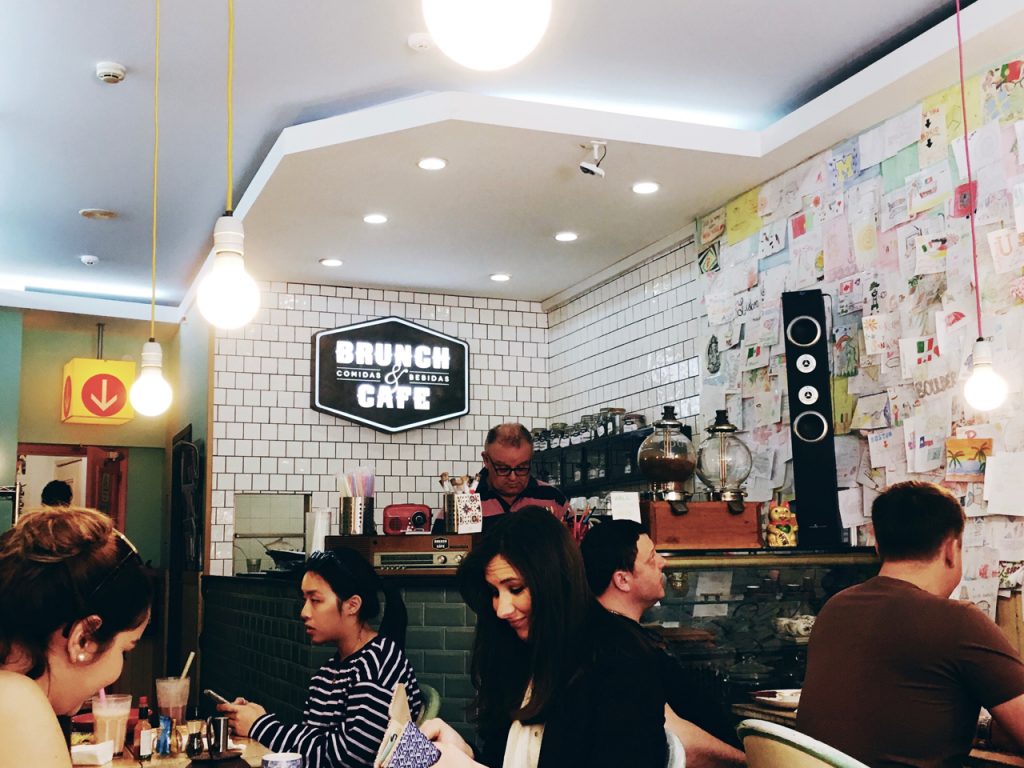 The next day, the world inched a little closer. We went to the brunch place above, which had handmade drawings all over one wall. Kristie was already well-represented since someone had drawn the USC logo, but Shubhi and I were not. To remedy that, we made a giant Queen's "Q" and added a little Canadian flag. After posting up the drawing, the people from the next table over started laughing and interrupted our conversation. It turned out that one of them was a Queen's artsci '05 grad! Who knew there were so many Canadians in Lisbon?
Since the day before had been so hectic, we decided to take a bit of a chill pill: we went up and down the slippery hills of Lisbon (a biker's nightmare), did some shopping, and then flopped on Carcavelos beach. We were going to go for a free surfing lesson with Christa, but decided against it since Shubhi's not a big swimmer. We were also planning to get up at 6 am to head to the Algarve, but after getting back at the Airbnb at 4 am the night before, that idea was quickly shot down in a game time decision (we woke up from alarms at 6 am and realized that the 3-hour trek was overly ambitious).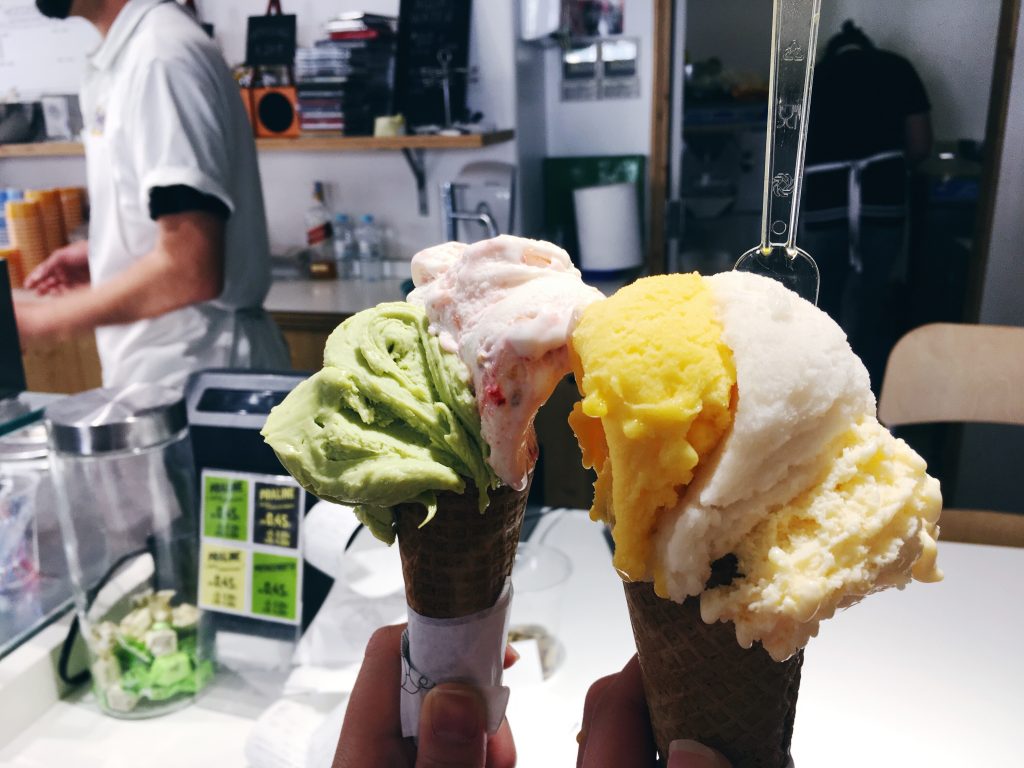 We also met another new love of my life: Gelato Davvero! They had incredibly unique flavours like honeydew and avocado, and I have to s/o Sam H's blog for the fantastic tip.
We ended up catching waves in the glorious 26ºC weather before grabbing more pasteis de natas and Portuguese chicken at the TimeOut Market. Since I had a 2:30 am flight back to Zurich on Swiss Air (bae <3), we couldn't do too much else. This trip was a couple days before spring break, which was why I headed back a little early. I definitely regretted it though — I could've easily spent more time in Portugal! Perhaps we could've visited the Algarve/Lagos/Albufeira if we stayed another day, explored more castles in Sintra, or just enjoyed the good vibes, friendly people, and delicious food. Portugal is 100% worth a visit, and I loved every second!