Day Trips in Switzerland
I've been to quite a few places around Switzerland now, so I thought it would be nice to aggregate these experiences into one blog post! Strong tip: If you plan to travel around Switzerland a lot, purchase the Halbtax (half-fare card) and Gleis 7 (for free travel between 7 pm and 5 am). My wallet definitely regrets not purchasing the Gleis 7!
Lucerne (February 11)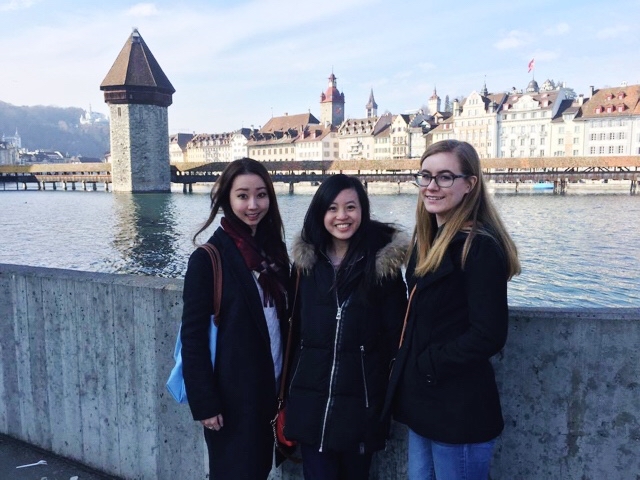 My first day trip (and actually, my first trip of exchange) was to Lucerne with Sara, Maddie, and Derek. I've been to Lucerne before, and that trip was one of the main reasons why I wanted to come back to Switzerland for exchange. It was stunning in the summer, and nearly as beautiful in the winter, too. One of the best things about Lucerne is the beautiful combination of the alps and the sea right in front of you. The place has a calm and lazy feel to it, but is definitely on the touristy side.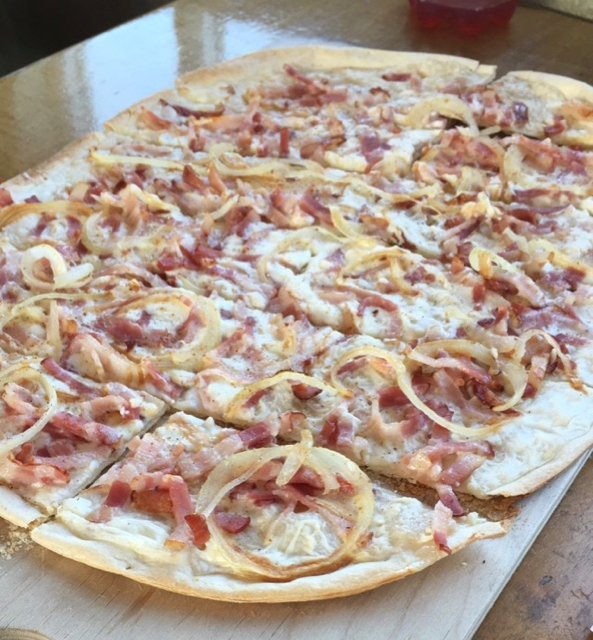 The first thing we did when we arrived was eat at Luz Seebistro, a charming restaurant right by the water. We shared a flammkuchen (see above), which directly translates into "flaming tart." FYI: it's actually a glorified pizza. We were going to order a ton of honey/goat cheese dishes at first, but everyone seemed to be ordering this mysterious dish. And with good reason! It was so good.
Afterwards, we walked around the old town (which looked very similar to Zurich's old town, tbh). Unfortunately, I could not add to the GELATO TOUR OF EUROPE™, because all gelato places were closed until Carnival Season made its way through Lucerne. Truly tragic, but more on the carnival phenomenon later. At this point, my only understanding of carnival season was a penchant for creepy witch masks.
After that, we saw a few bridges and churches. After looking at three churches in a row, it kind of felt like they were competing with each other in an attempt to outdo the others! The craziest one had a full boys' choir begin singing as soon as we walked in.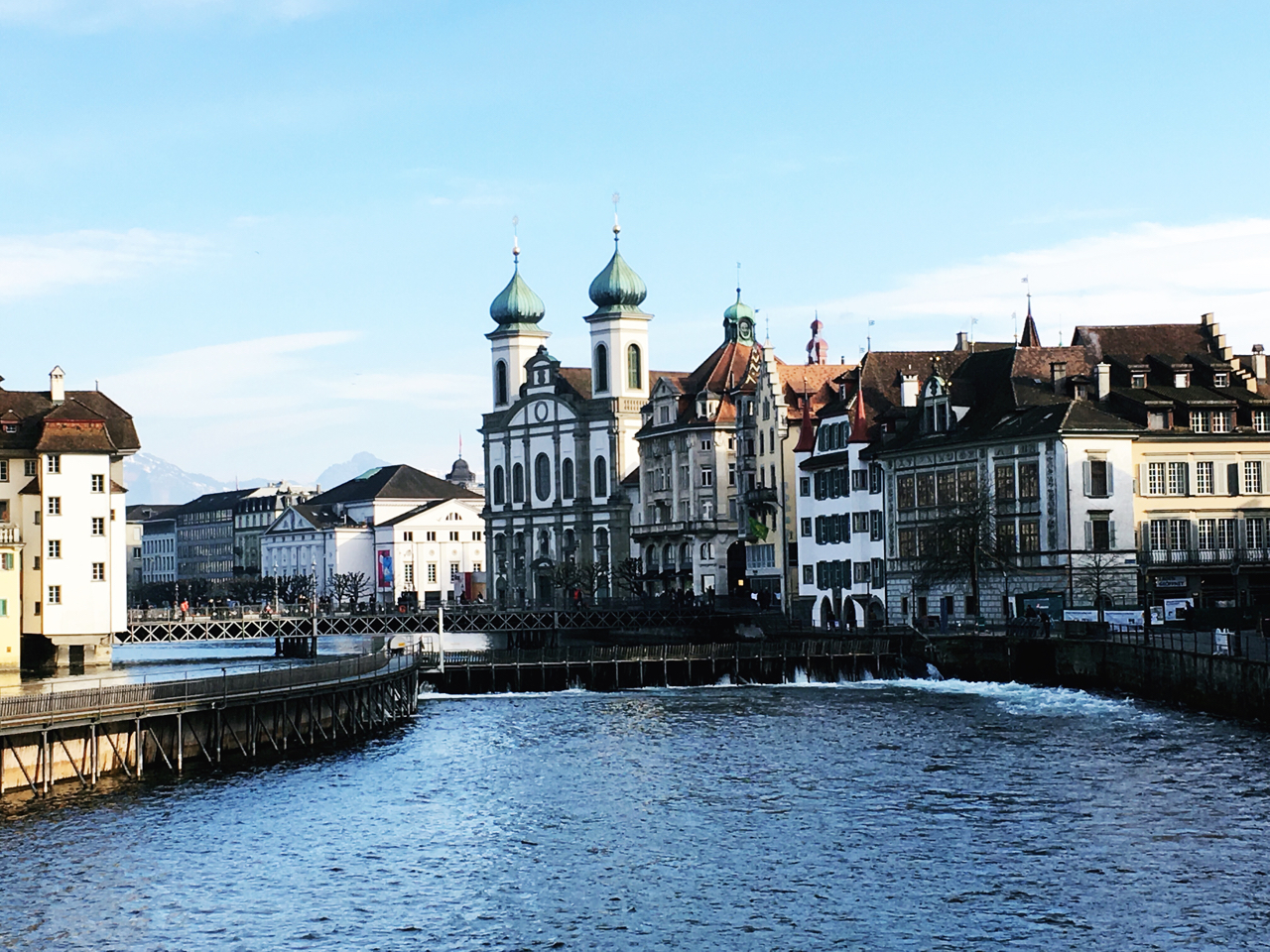 I found a picture like this on Google images, and now I've seen it in person!!
We also visited a castle at the top of the hill (I understand where Ed gets his inspiration; these seem to be all over Europe), and saw a llama enclosure beside an elementary school. This led to a ton of unanswered questions: who raises the llamas? Is is part of some warped school curriculum? Why were they there?!
Another one of my favourite things about Lucerne is that they have Swiss flags EVERYWHERE. So picturesque!!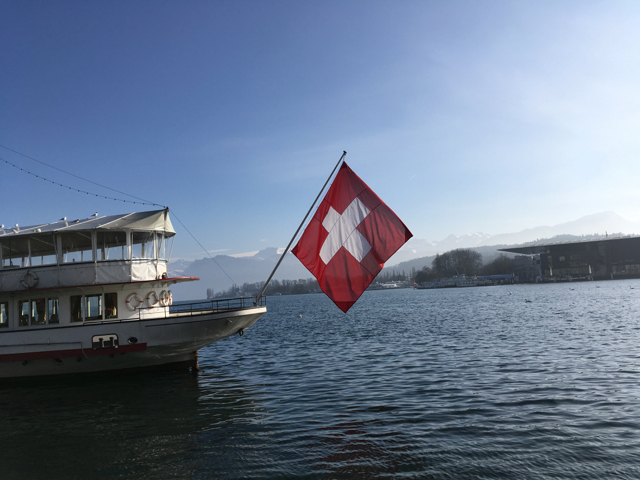 Basel (March 8)
On Wednesday March 8th, I went on a spontaneous trip to Basel with a couple of my housemates, William and Jingyi, for the Basel Carnival (aka "Basel Fasnacht"). I've never really seen anything quite like it. There were huge marching bands of all ages dressed up in Halloween costumes, giant floats with political messages (I saw some for Brexit and Trump, and many more Swiss/German ones that definitely went over my head), and big stands with street-side snacks.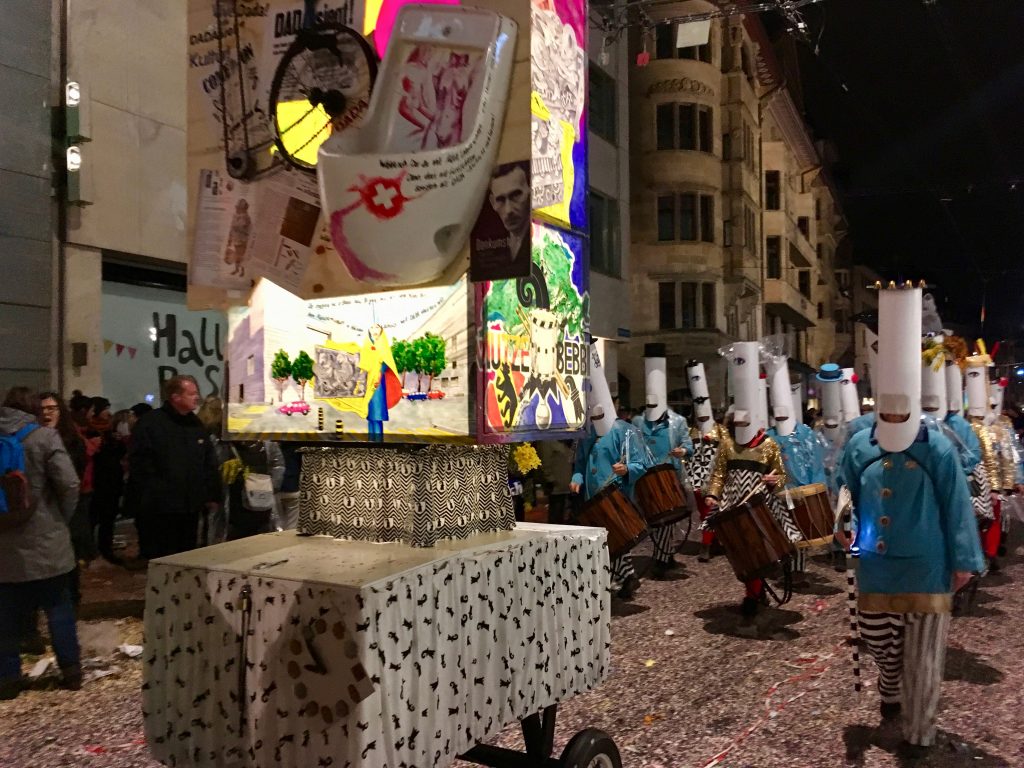 The Basel Carnival kicks off from 4 am – 6 am on a Monday, and concludes on Wednesday night (which is when I went). By the time we got there, the streets were flooded with confetti and swarming with people. I was still finding occasional pieces of confetti here and there all the way until I left Switzerland in June.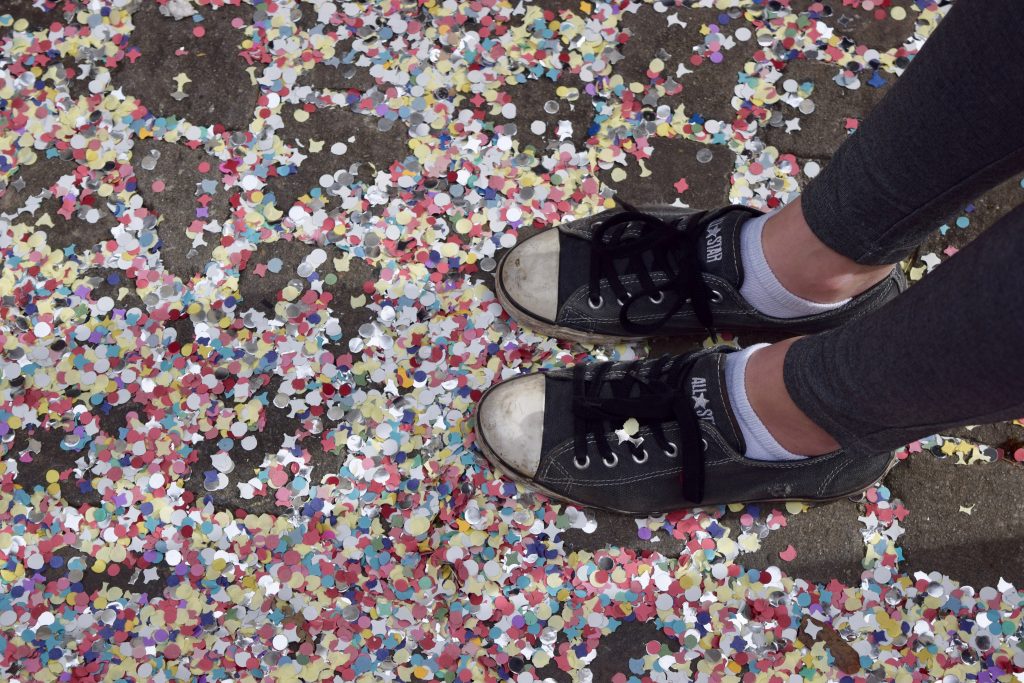 This was the aftermath.
Carnival season is a crazy time that runs through many cities around Switzerland. I've heard that the best ones are in Lucerne and Basel. It has something to do with Catholicism, but I'm not quite sure what! In any case, it feels like a combination between Halloween, Macy's Thanksgiving Day Parade, and Chinese Night Markets. Definitely a cool (if slightly creepy) experience!
Bern (March 10)
On March 10 and 11, I went to Bern, Fribourg, and Lausanne with Sara. Although cities like Zürich and Geneva are larger, Bern is the unassuming capital of Switzerland. For some reason, they're really into bears. Right in the middle of the city, there's a bear sanctuary with live brown bears!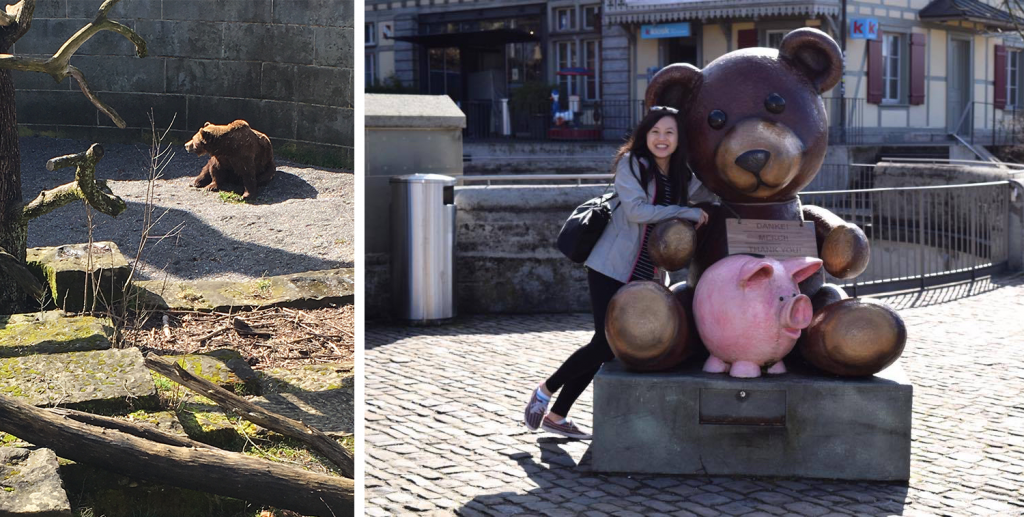 There were also cartoon bears beside the sanctuary and metal bear statues in a separate enclosure. The enclosure lists off all the names of the deceased city bears. Was it a bear graveyard? Not quite sure.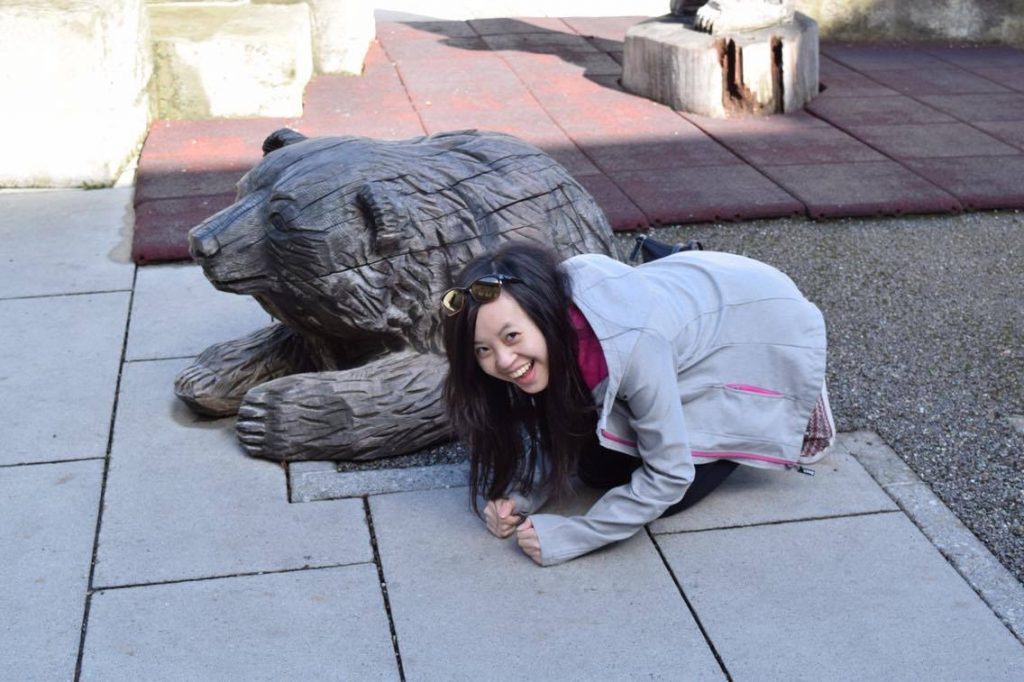 Having a "beary" good time!
Right near the bear sanctuary, there's a pathway that leads to a rosengarten (rose garden) at the top of a hill. I think it's meant to have great views of the city, but Bern wasn't all that impressive from up-top. The whole view was a muddy earth tone, and even the river was a murky brown. I think the garden would look nice in the spring, but we went at the beginning of March when everything was still dead.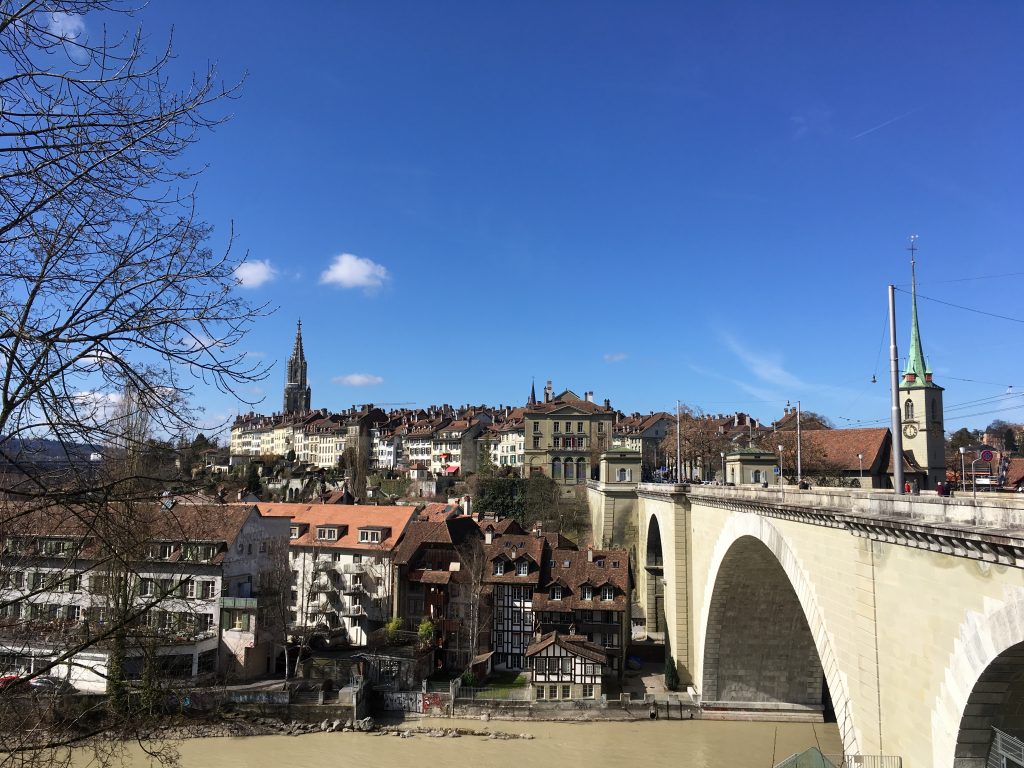 Afterwards, we walked along the shops, got gelato, and checked out Einstein's house. Did you know he divorced his wife to get together with his cousin? #scandalous!!
Later that afternoon, we checked out the parliament, where a session had finished right before we arrived. We didn't think anything of all the old men in suits at first, but should've realized we missed something since they were all exiting the building we tried entering. Oh well, at least we got some nice (muted, earthy) city views near the parliament!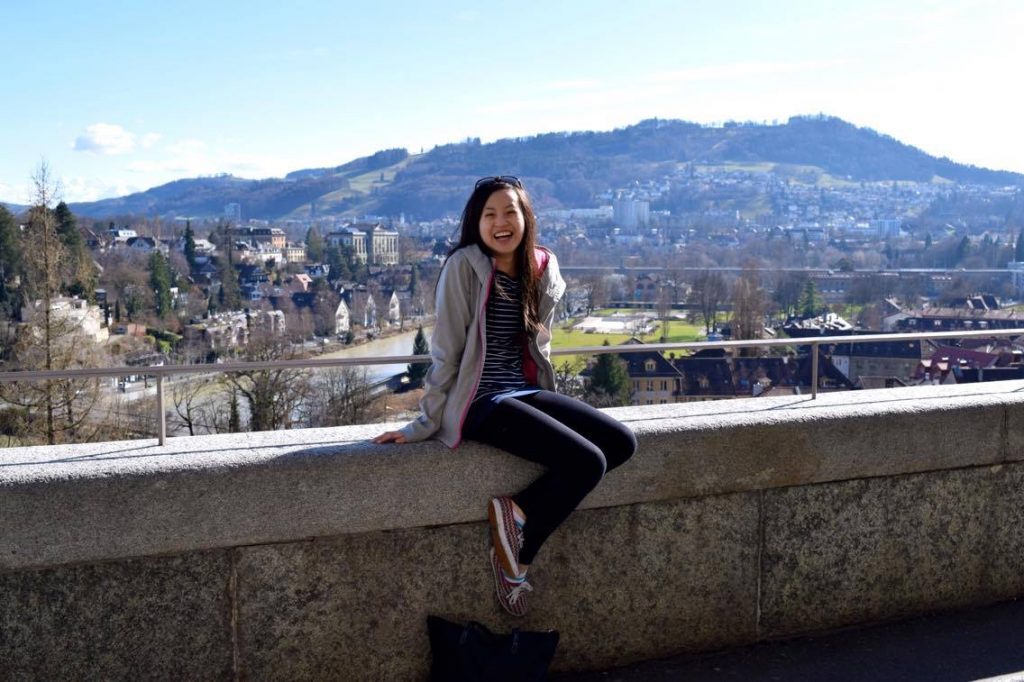 Finally, we ended the day with my first taste of cheese fondue on exchange. It was pretty good, but Levy made us super paranoid about drinking cold water to accompany the meal. The myth is that cold drinks + hot fondue causes a lot of gastrointestinal turmoil. Somehow we made it out okay!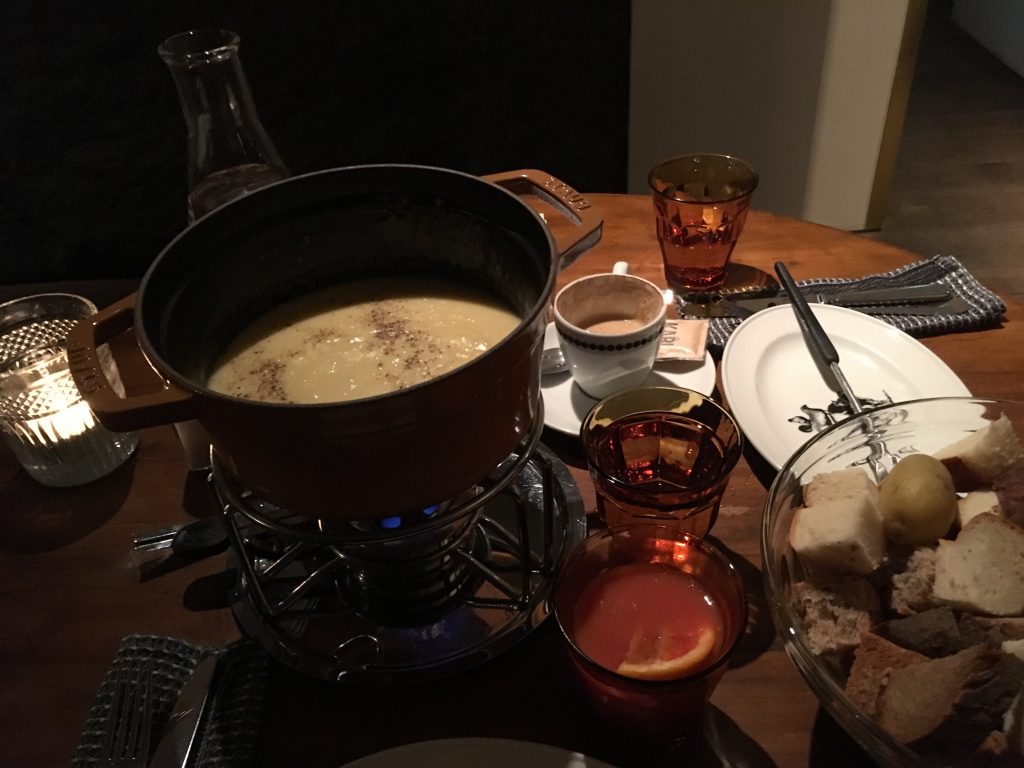 Lausanne (March 11)

The next day, we headed off to Lausanne. I LOVE Lausanne. It's lovely and dreamy, with Lake Geneva creating the most exquisitely turquoise seascape.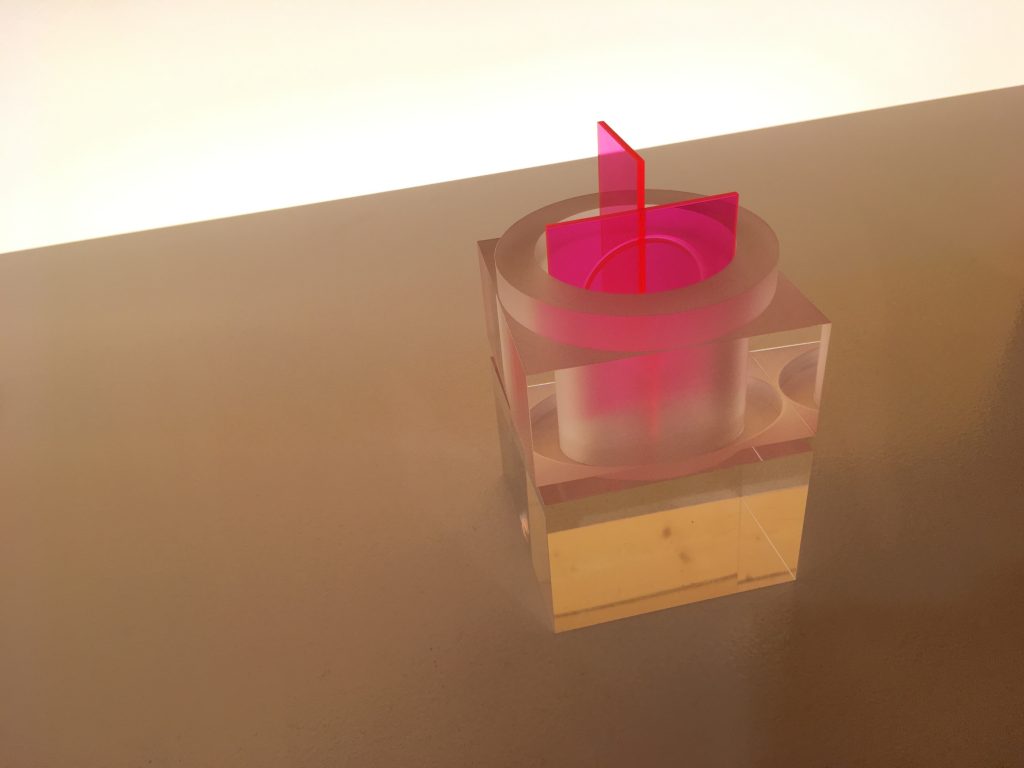 Upon arriving, we climbed a few hills (just casual) to check out a Saturday Farmer's Market, church, and the MUDAC design museum. This was the first design museum that didn't disappoint! Maybe I'm just a total sucker for cool glass art, but I loved contemporary pieces like the one above.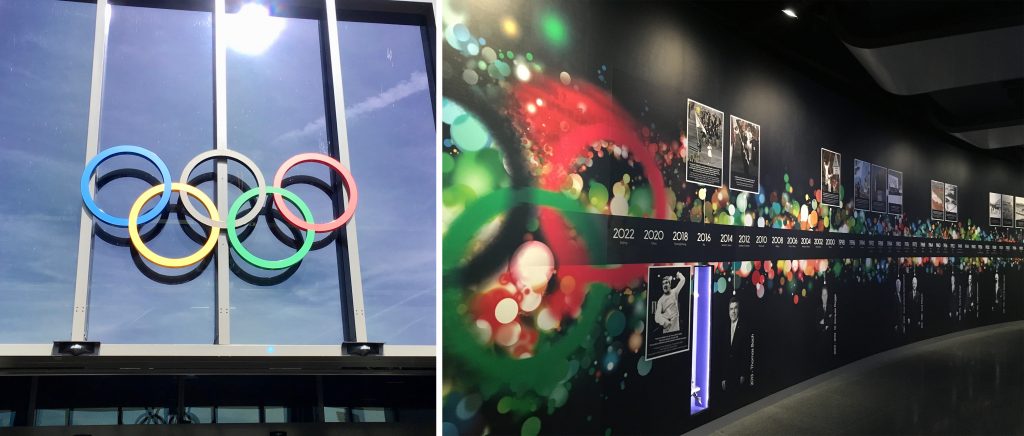 We then went to the Olympic Museum, which had a lot about the history of the games and information arranged in timelines (e.g. timelines of host cities, torches, stamps, and even cute Olympic mascots). Did you know Lausanne is the Olympic Capital of the world? I am a huge Olympic fanatic, so this was the perfect place to soak up the spirit of the games (until I actually attend the Olympic Games one day, of course).
After that, we took a scenic walk by the lake. I'm not even exaggerating when I say that we took thousands of photos there. It was just so picturesque! How can water be that clear and blue? How can water and the mountains blend together so perfectly? LMK.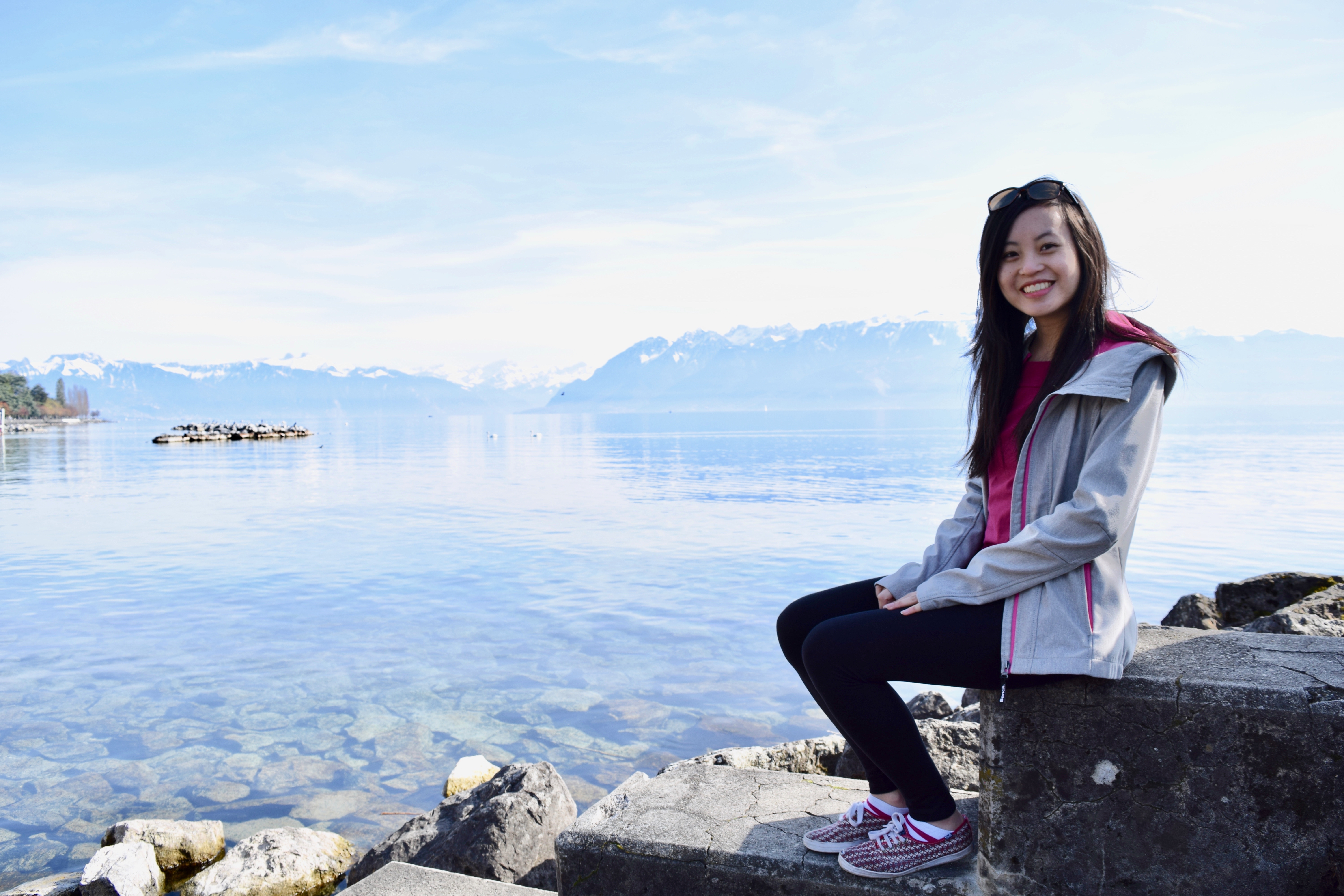 In between photo-taking seshs, we also went to a photography museum nearby that came free with the MUDAC. It had all these old pictures of the alps, which I'm sure were impressive back when photography was a much more expensive craft and travelling to the alps was much more difficult. In the present day though, the pictures a lil grainy and underwhelming.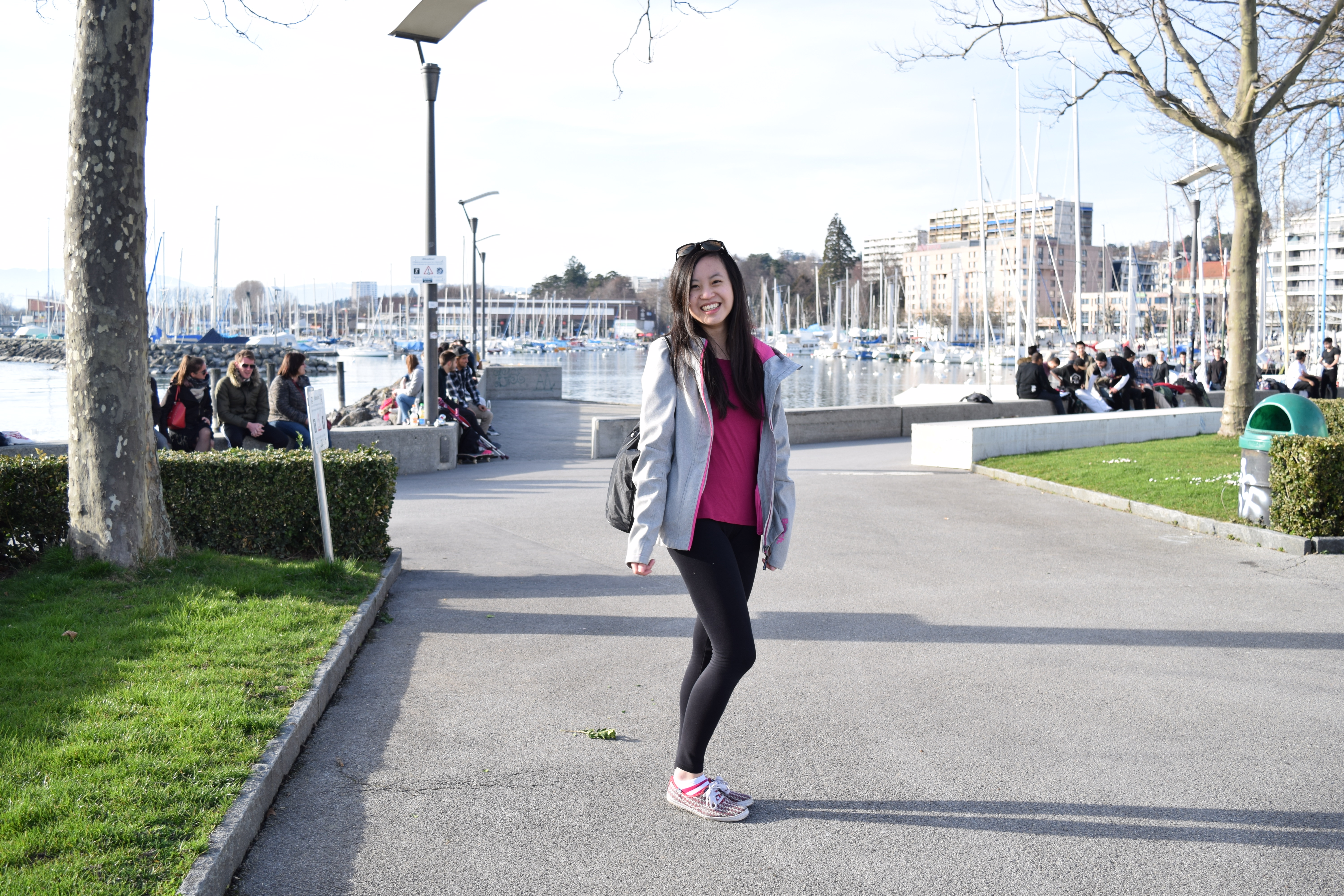 Oakville or Lausanne? Who knows??
This park was really nice. There seems to be a big skater culture around here! A bunch of kids would use those blocks in the background (above) as skateboarding ramps. I've also never seen so many scooters in my life. Lausanne seems to have a ton of ratchet teenagers (see: crew huddling in the pic below, minutes before launching into a dance-off) as well as a lot of elderly folk, but not much in between.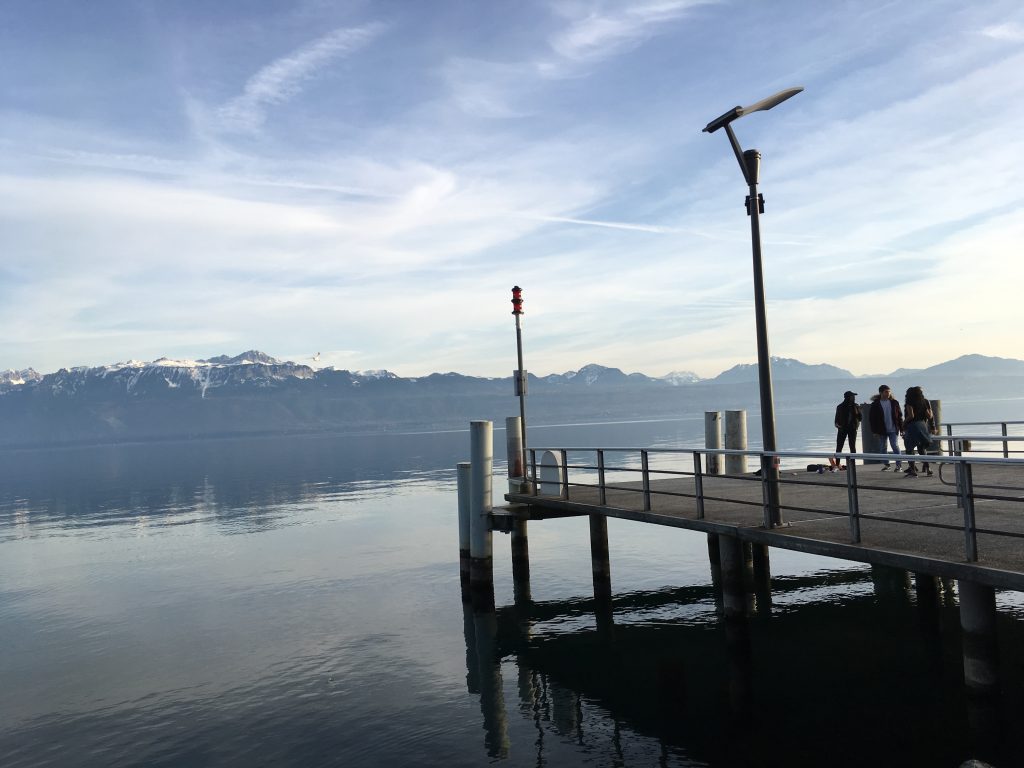 Geneva (May 1)
At the end of April/beginning of May, Jeff Zhang came to visit Zurich. We decided to explore Geneva together on the Swiss National Day (pretty much Labour Day, except labourers actually protest for their rights on that day). We got up bright and early for the train to Geneva, which was pretty tough after marathoning 13 Reasons Why the night before!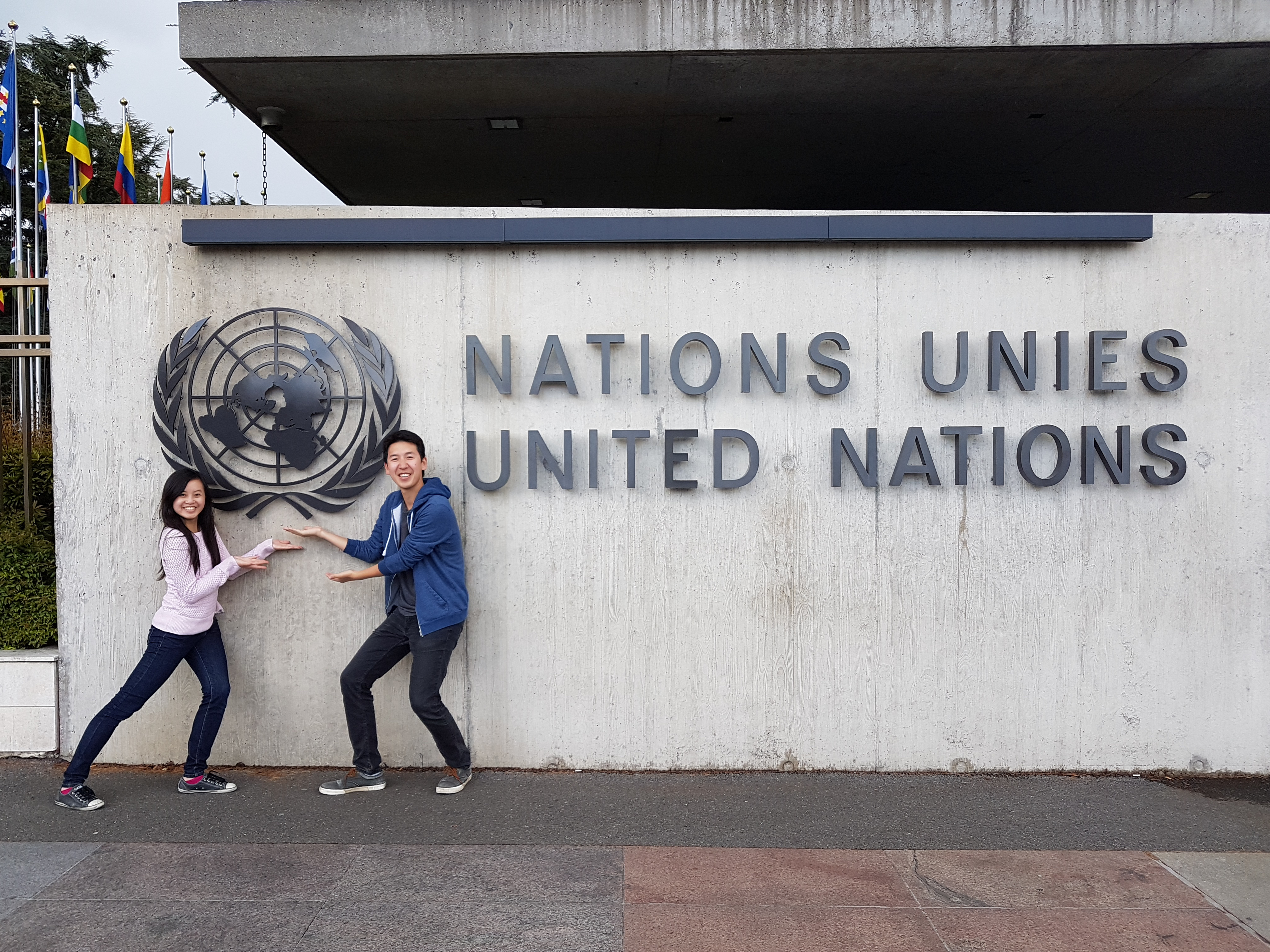 As soon as we arrived, we ran to the UN @ Geneva for a guided tour. We didn't make it in the first time we tried entering, so we grabbed lunch and then went back to line up for ~30 minutes. But the trek was worthwhile! I first saw the Palace of Nations while watching The Amazing Race on TV many many years ago, so it was cool to see it in person.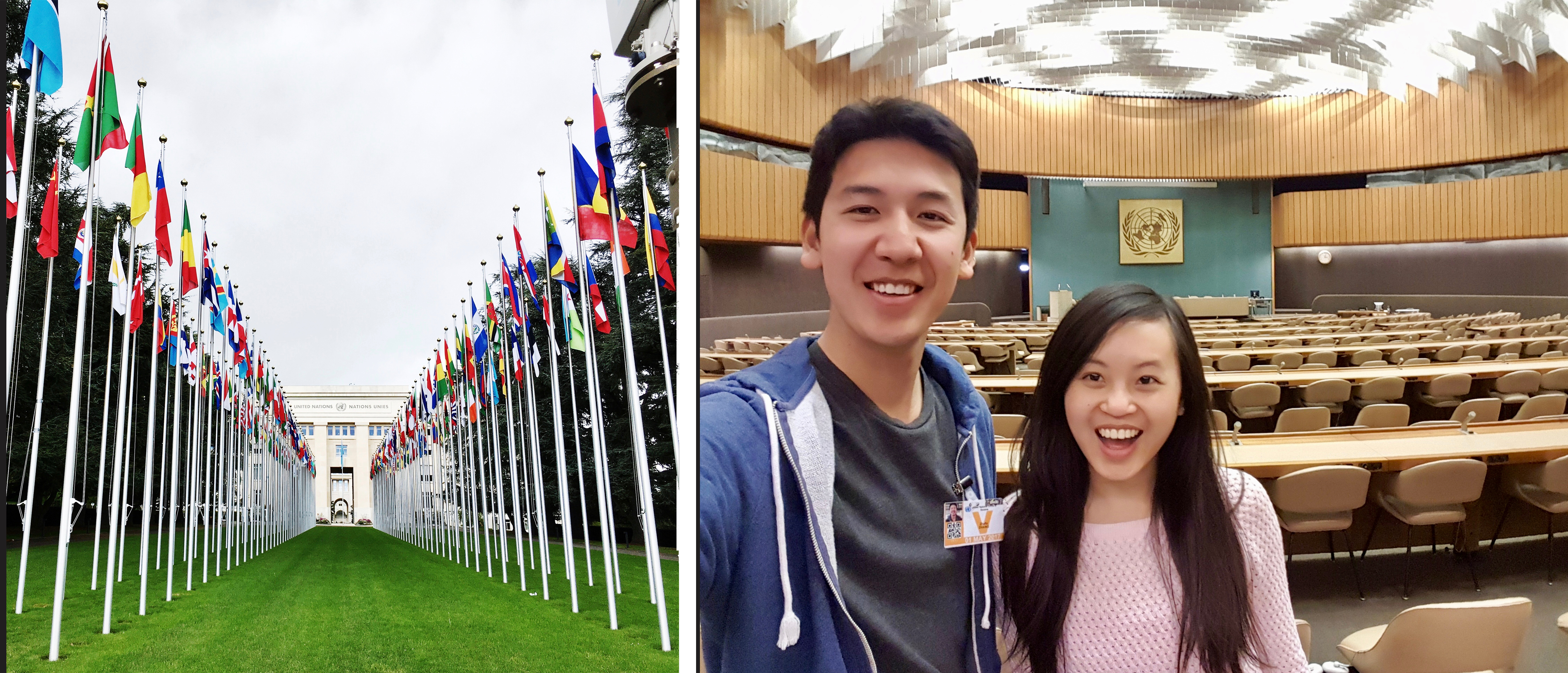 Geneva is a really beautiful place with a lot of "sights" to hit. Unfortunately, a lot of them weren't available when we arrived. CERN was closed for its annually scheduled maintenance. The flower clock was "under construction" (we peeked over the barrier, and "maintenance" actually just meant that none of the flowers were in bloom yet). And the jet d'eau wasn't running due to rainy weather! So what did we do? Well, we made the most of the situation and ran towards the treacherous/restricted platform where the jet stream comes from. To be honest, we could've gotten COMPLETELY soaked if the jet suddenly started working. Lucky break!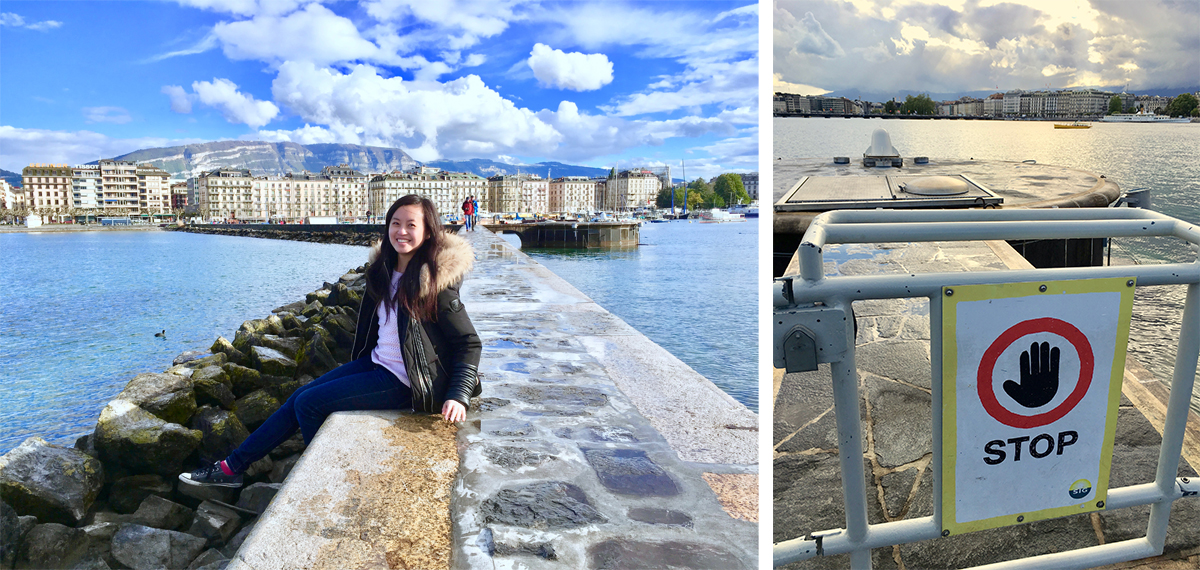 We capped off the day with a water taxi ride (AKA a cheap boat tour!!) and walk by the pier. And then right before I had to leave, the clouds parted, a double rainbow appeared, and the jet d'eau turned on! It was truly miraculous.

Interlaken (May 13)
Interlaken was all about activities and adventure! It is incredibly touristy (think signs in Mandarin and English everywhere), but so, so beautiful. I went with Ali and Stephen from Queen's, so it was a good time all around!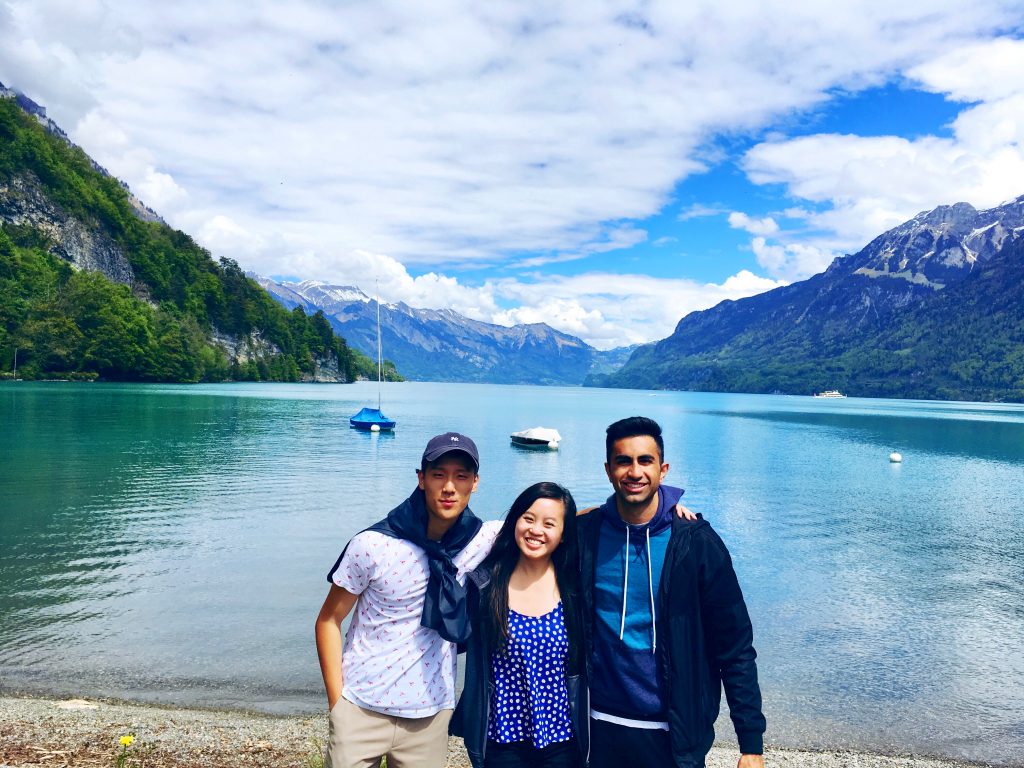 Too bright to see!
Interlaken means "between lakes," because it's situated between Lake Brienz and Lake Thun. The water is an incredibly vivid teal due to melted glacial deposits. Fun fact: fish are actually dying in Lake Brienz because the water is so clean that there isn't enough algae to eat!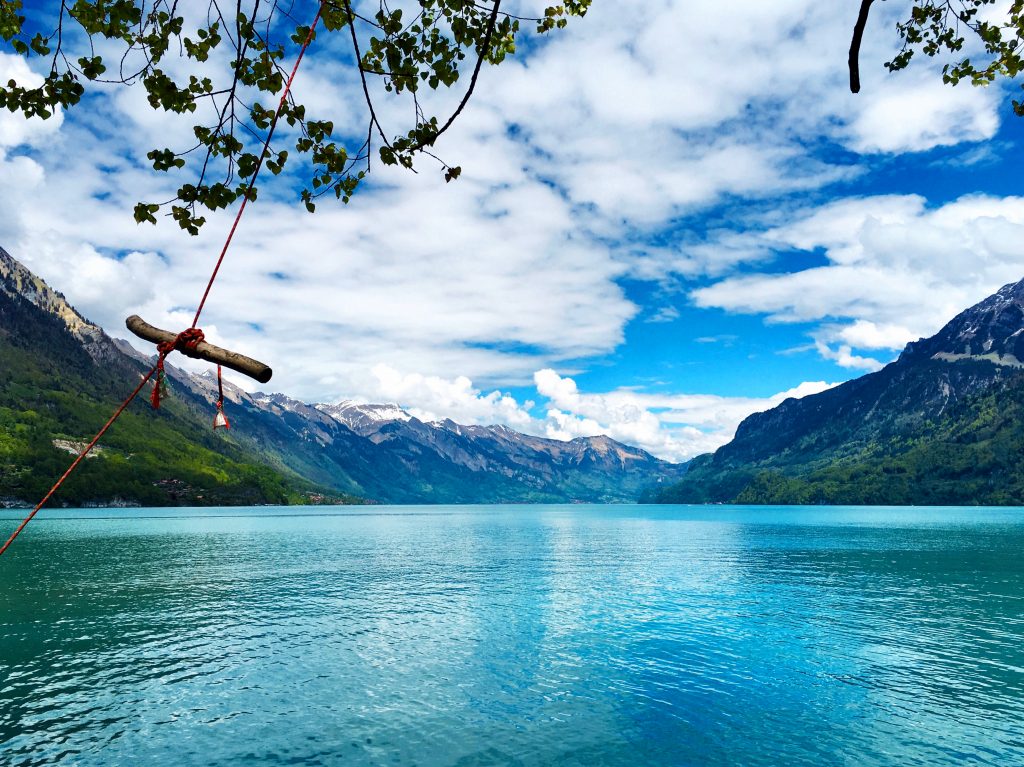 Although we only had one day in Interlaken, we really made the most of it. After lunch, we had exactly one hour before we were scheduled to go paragliding. So, we decided to rent bikes and cycle around Lake Brienz. Farmland, mountains, and calming water — what more could you need? I might've fallen off the bike (#battlescars), but even blood couldn't stop me from paragliding!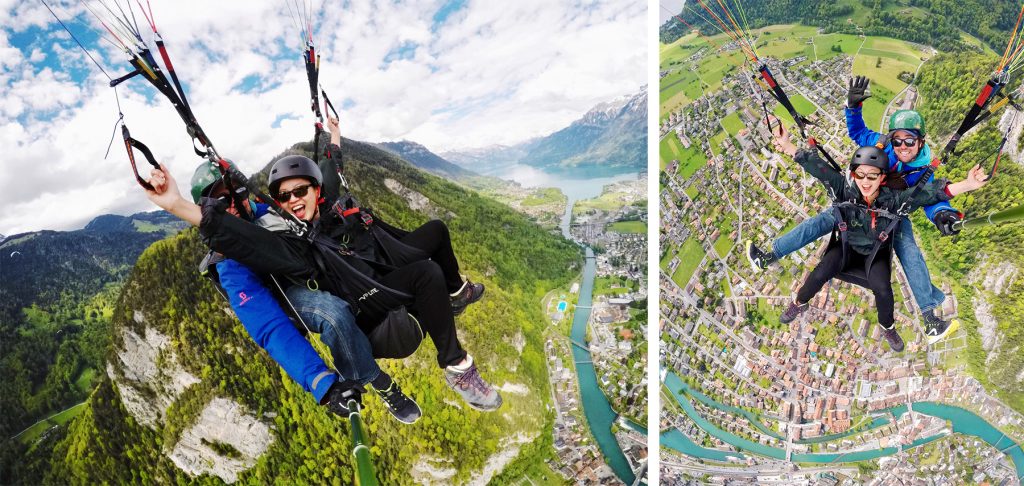 High flying!
Apparently, we had "perfect" paragliding weather, so we got a 20-minute ride rather than the regularly scheduled 15-minute one (but I bet they say that to everyone). When my tandem-paragliding-guide, Luki, found out I was studying in Zurich, he was confident that I had the brains to paraglide on my own… so he gave me the reigns to steer the parachute and even do a 360º! I told Luki this was the coolest thing I'd ever done in my whole life, and he seemed a little sad for me. 🙁 Okay buddy, we don't all live in Interlaken.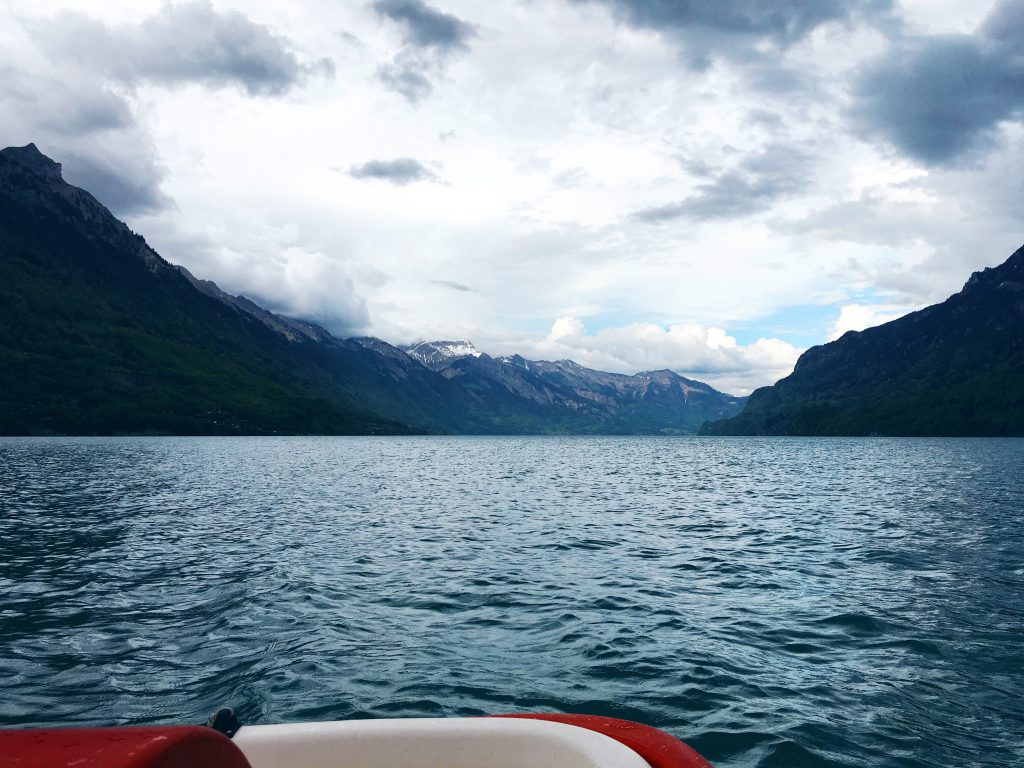 Finally, with the last 1.5 hours we had before our train back to Zurich, we went paddle-boating at a place called Bonigen Lido. At this point, the sky was looking super ominous. Sure enough, it started raining almost as soon as we hit the water, so our 30 minutes of paddle-boating turned more into like… five. Still, hard to believe we packed so much into a day! If we had more time, I'd definitely go canyoning or visit Jungfrau nearby.
Lugano (May 15)
After my last final exam at 8 am on May 15, I took a spontaneous trip to Lugano with William! Lugano is in the Italian region of Switzerland called Ticino, famed for rolling green hills rather than jagged mountain ranges.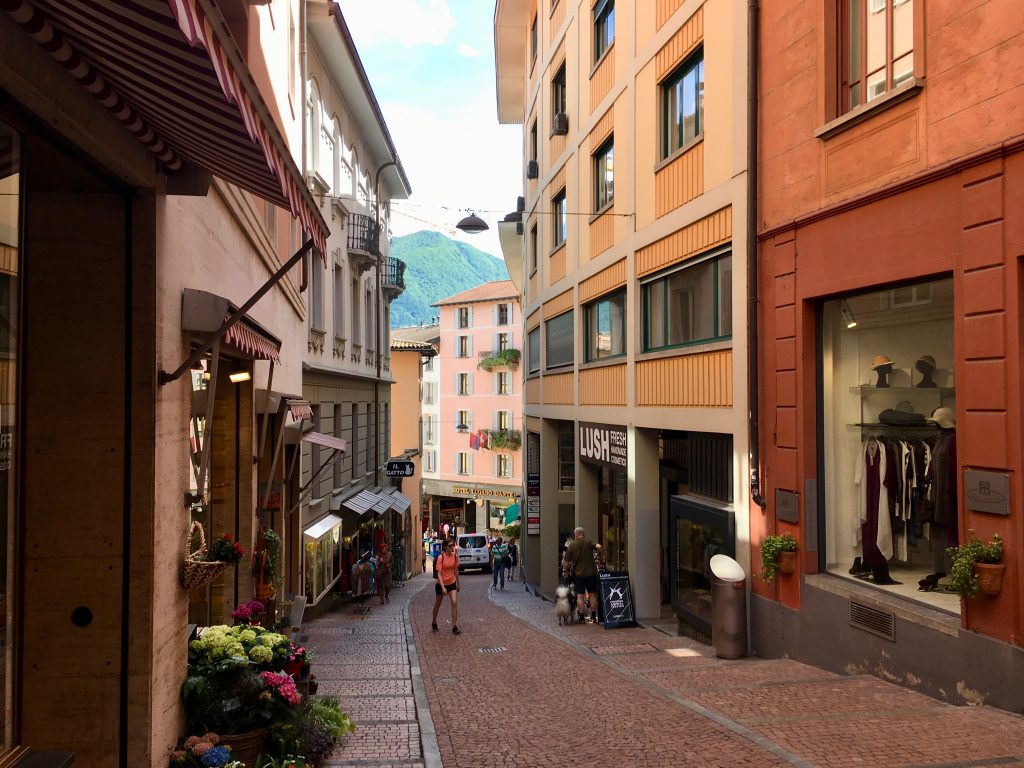 Lugano does not feel like Switzerland AT ALL. It felt like a really clean, safe part of Italy that also used Swiss francs (bonus!!!). Despite being part of pri¢ey $witzerland, everything is cheaper in Lugano, too. I was able to get two scoops of gelato for $5CHF, rather than one scoop for $8CHF back in Zurich. 🙂
If you go in the summer, I would also highly recommend bringing a swimsuit. To get this up-close-and-personal with the water, I had to settle for a boat tour.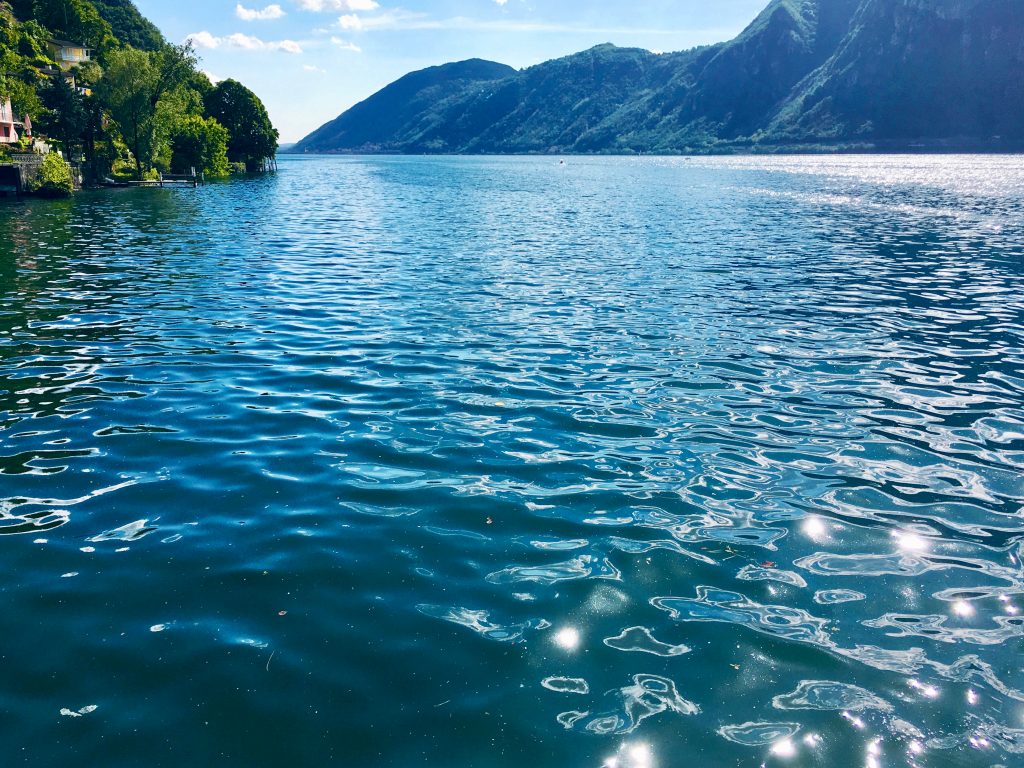 The boat tour passed by a ton of these little grottos. While I imagine it would be super-nice to live right by the water, it must also be incredibly difficult to get around/get groceries/generally meet basic needs at one of these insular islands. They're only accessible by boat!

We ended up getting off the boat on the other side of the lake in a small town called Gandria. If it's a nice day and you aren't pressed for time, consider taking a scenic walk back to Lugano! It takes about an hour, and has breathtaking views throughout.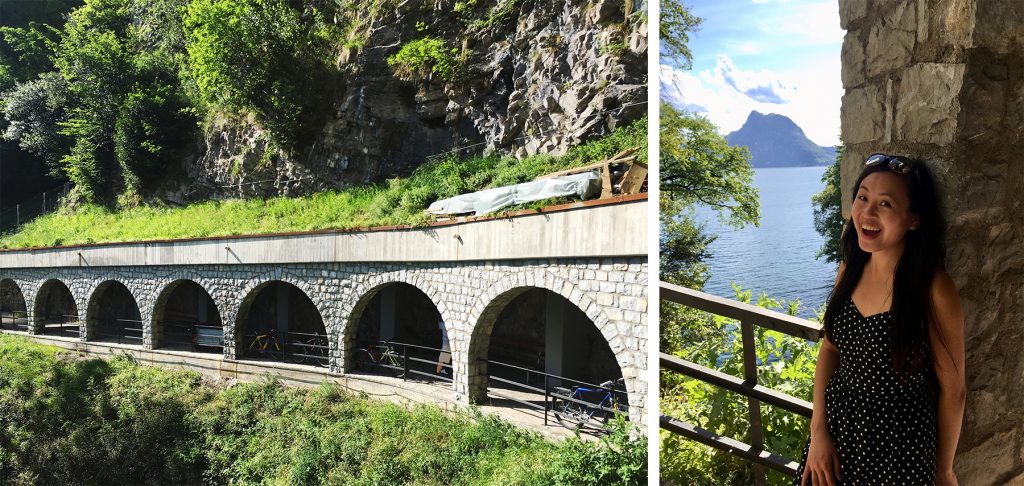 We were planning to take a bus back to Lugano from a small town called Castagnola. But waiting for the bus would have taken so long that we ended up walking all the way back. Lugano definitely has a slower-paced lifestyle, but I kinda loved how calm and peaceful the whole place was.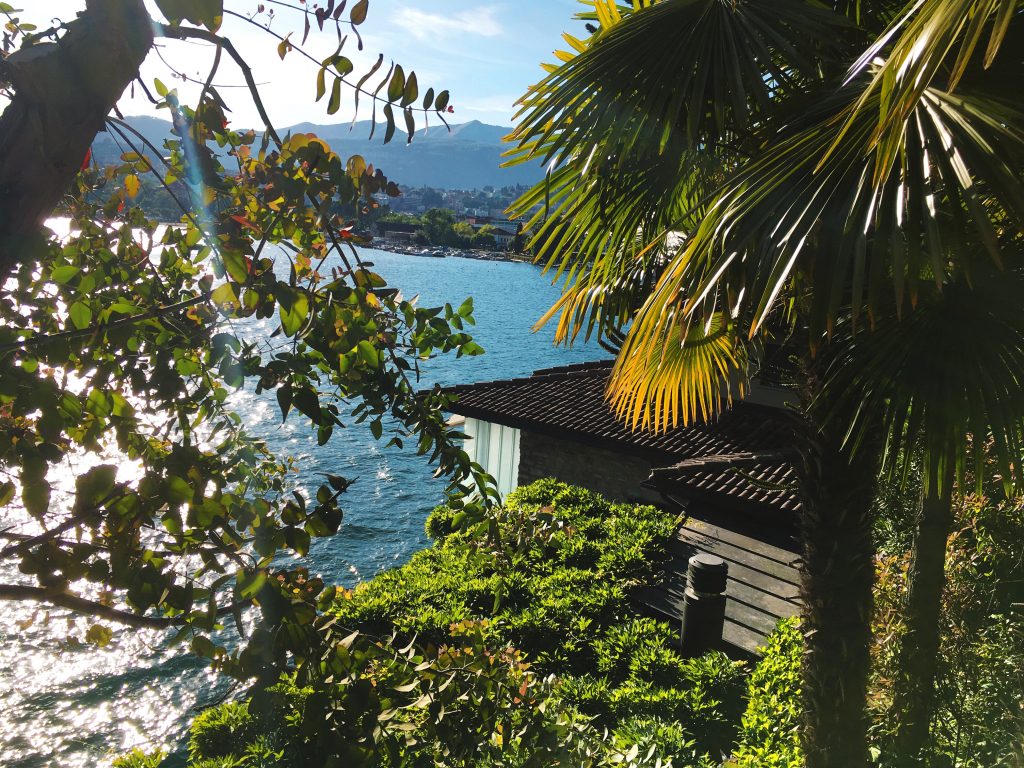 Nothing about this reminds me of any other part of Switzerland!!
I started this post back in early March 2017, and I'm finishing it now in August 2017. It's hard to believe that my adventures around Switzerland are already over. But I still haven't shared anything about the one city I called home for five months: the lovely, fast-paced, and charming Zurich. That blog post is still to come (one day… I hope)! 😉