Greece by Land [April 23-28, 2018]
Grad trip 2018: part I kicked off with a three week tour around Greece with mi madre. This was actually the first time my mom and I ever travelled alone (i.e. without my dad and brother tagging along). I always love travelling with family because of the intrinsic comfort we have with one another. It's nice to be able to crack open a book when we're in transit or otherwise have downtime without having to worry about offending one another or feeling any sort of pressure to entertain.
The first segment of our trip was across the landlocked parts of Greece, starting with Athens. I was skeptical at first, thinking there wasn't much to see by land. Ultimately, I was pleasantly surprised — especially by Delphi and Meteora. But we're getting a bit ahead of ourselves here.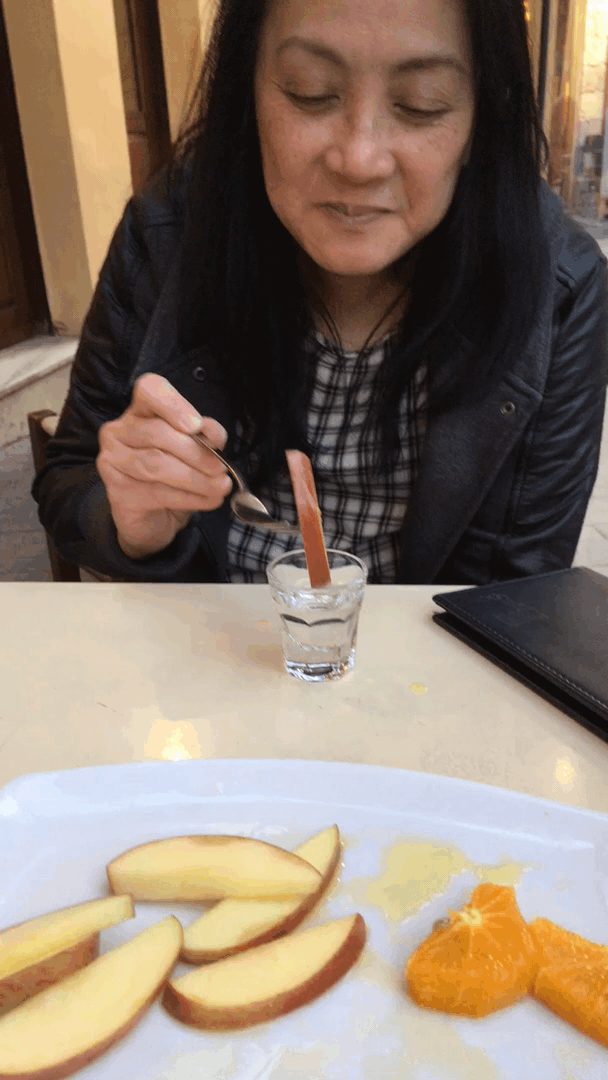 By the time I met my mom at the Athens airport, we just had an evening to explore. We dropped off our stuff at the Lotus Hotel, which was in the nice/hotel-filled Metaxourgeio area. However, to get to the more tourist-friendly dinner hotspots like Syntagma and Plaka, we had to walk through the super-seedy Omonoia area. I would definitely recommend trying to find accommondations in Syntagma or Plaka instead — honestly, we were pretty sketched out, especially as two petite women. Athens was a bit shocking in that regard. There was so much beautiful history and culture juxtaposed against decrepit buildings and stray dogs. Greece's economic troubles were definitely evident. Another random observation: all the toilets here have really old pipes, so you can't flush the toilet paper! Instead, there's a little bin in every washroom stall, which I can only imagine must get really stinky in the dead of summer.
Eventually, we selected a dinner spot called Lithos Tavern. The owner was ALL ABOUT optimizing his Tripadvisor rating. As soon as my mom shared that I blog and write reviews, we got amazing service and a bunch of stuff on the house. ...So hey, HERE'S YOUR EXPOSURE! Hope you're doing well out there. My mother is not a big drinker, but she is infamous for being able to hold her liquor. Just take a look of this clip of her dunking apples straight into some Greek vodka-equivalent.
Day 1

The first stop on our land tour was the Corinth Canal. The sight itself honestly wasn't remarkable. The canal was narrow, and there were these bright yellow guardrails with plastic bags(?) and locks obstructing the view. HOWEVER, this place held a lot of significance for me as an avid fan of The Amazing Race. I have been watching this show religiously since season 7. Bungy jumping in the Corinth Canal was featured on the show in 2007, and I'd wanted to visit ever since. Unfortunately, bungy jumping was still closed for the season... but I'd still say we can check this place off the bucket list!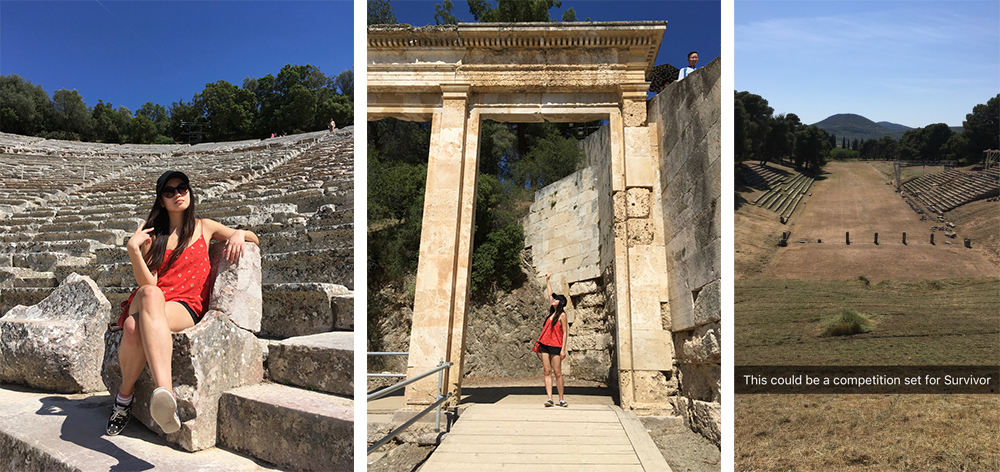 The next stop was the Treasury of Atreus (dingy, dark, and chilly), followed by Epidaurus. There were a lot of archaeological sites to wander through, but they were mostly underwhelming and kind of looked like competition sets for Survivor? Ancient Greek landmarks remind me of all the best CBS reality competition shows, I guess. But then we reached the main amphitheatre, and... WHOA (pictured left). It was grand. A bunch of people tried testing the acoustics from the stage to the top steps. People used to come HERE to entertain themselves here over 2000 years ago!!
Our last stop for the day was a SUPER cute seaside town called Nafplio. I LOVED IT!! We walked around town, took some pictures, and got a smoothie from Chillbox Froyo.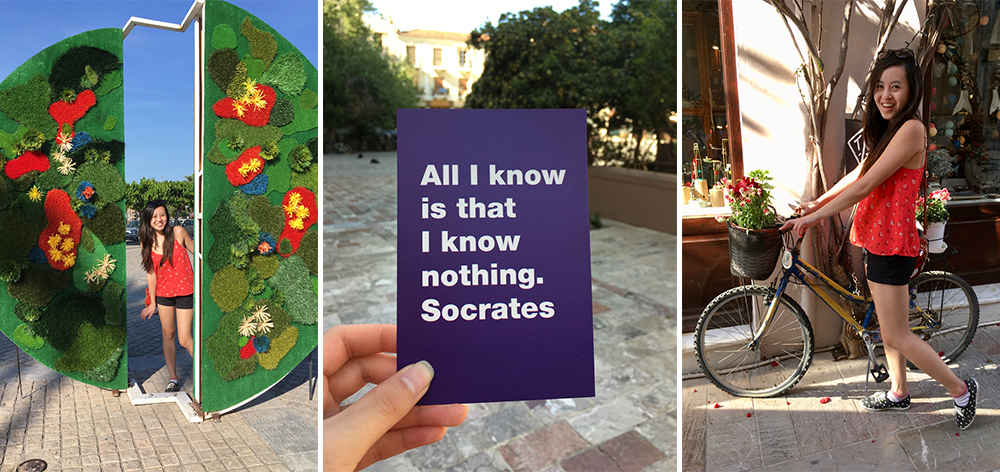 Day 2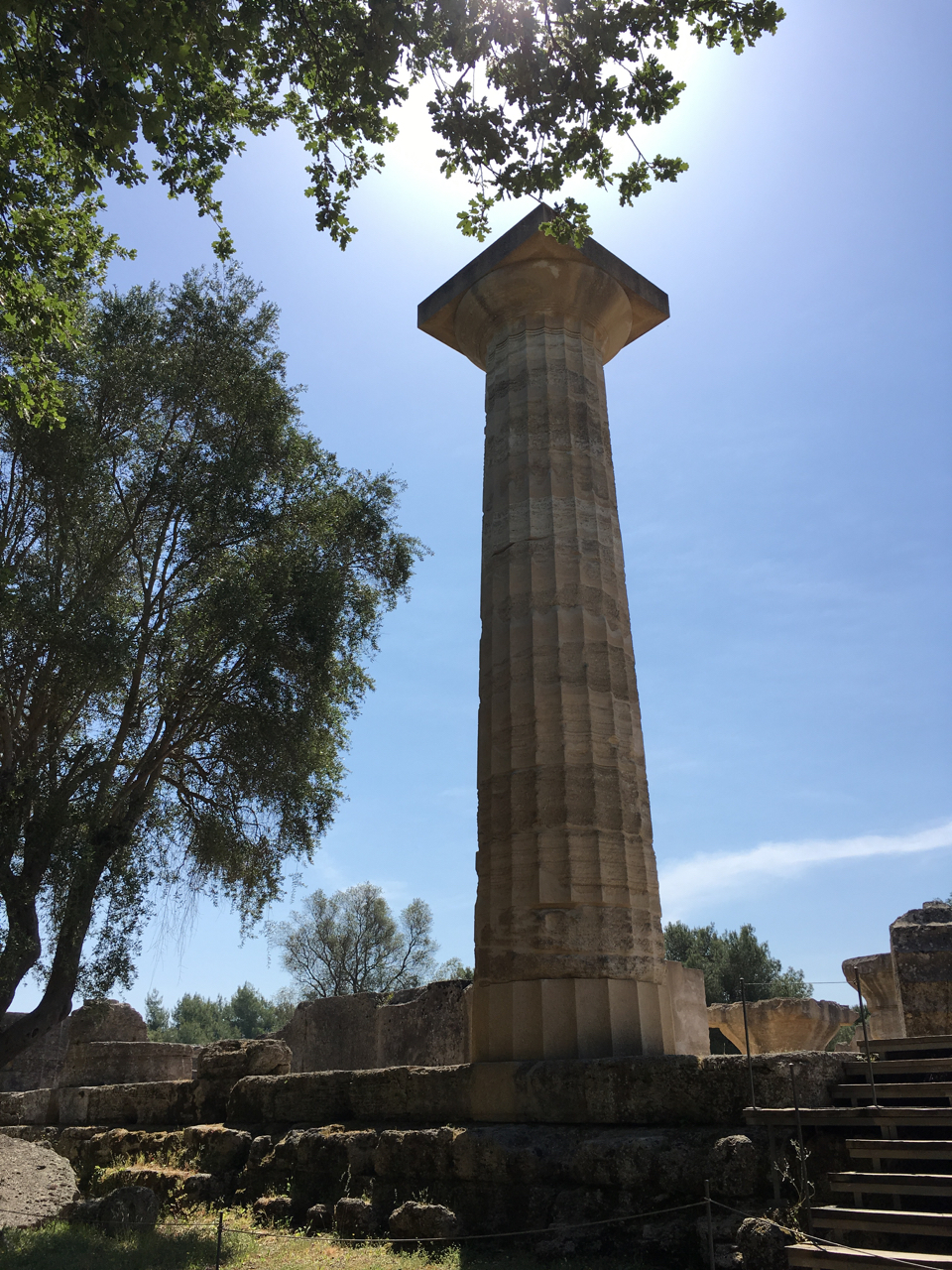 Day 2 was all about Olympia. As someone who had decent exposure to Ancient Greece throughout grade school, it was cool to see such a well-discussed place in real life. Plus, I LOVE the Olympic Games. That being said... there were a LOT of people (and this was in April still!). And a lot of kids in particular loved screaming "Ching chong sayonara" to us. I can't blame the locals though — these were clearly some other tourists.
We then had some yummy grilled lamb ribs for lunch, strolled around a museum, and had one of those "shop stops" that are so characteristic of guided tours (as a way for you to spend your money, of course!). This place had all these cool flavoured olive oils to try though, so I didn't mind the money grab. We didn't end up buying anything anyway; just stuffed ourselves with bread and oil.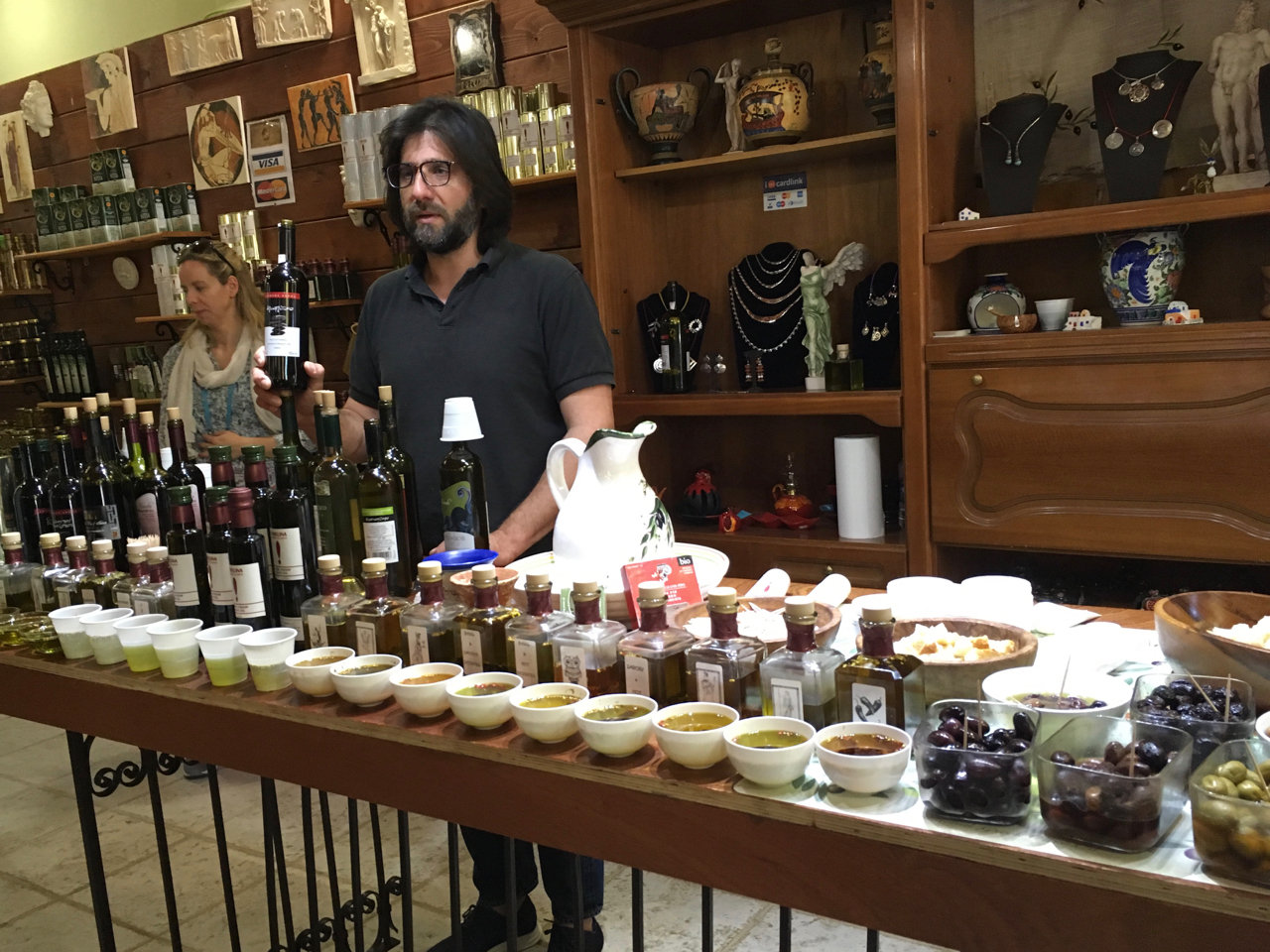 Day 3
We woke up bright and early the next morning in Delphi. I think the Temple to Goddess Athena in Delphi was the highlight of the whole land tour for me. It was STUNNING. Since we went first thing in the morning, no one else was there. We were able to look down on this marvel of rocks and ruins, and it felt so majestic. Morning fog was still dissipating, and it was all so insanely beautiful.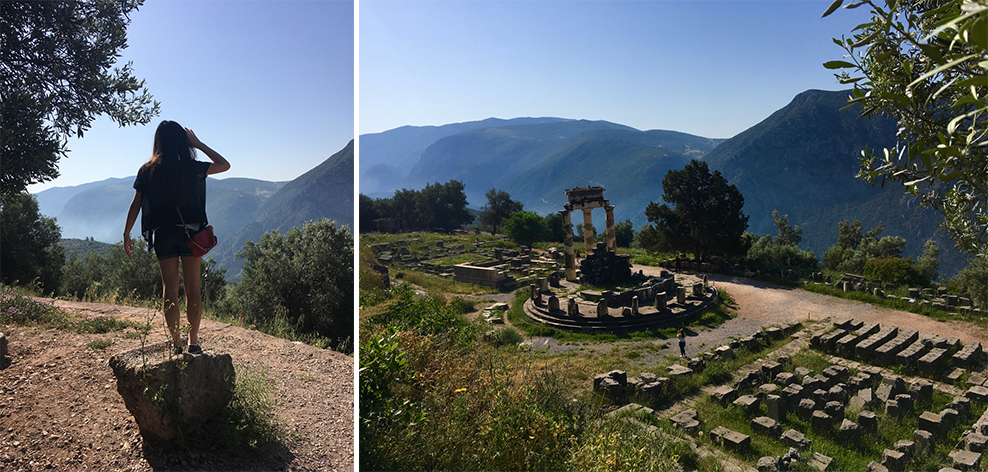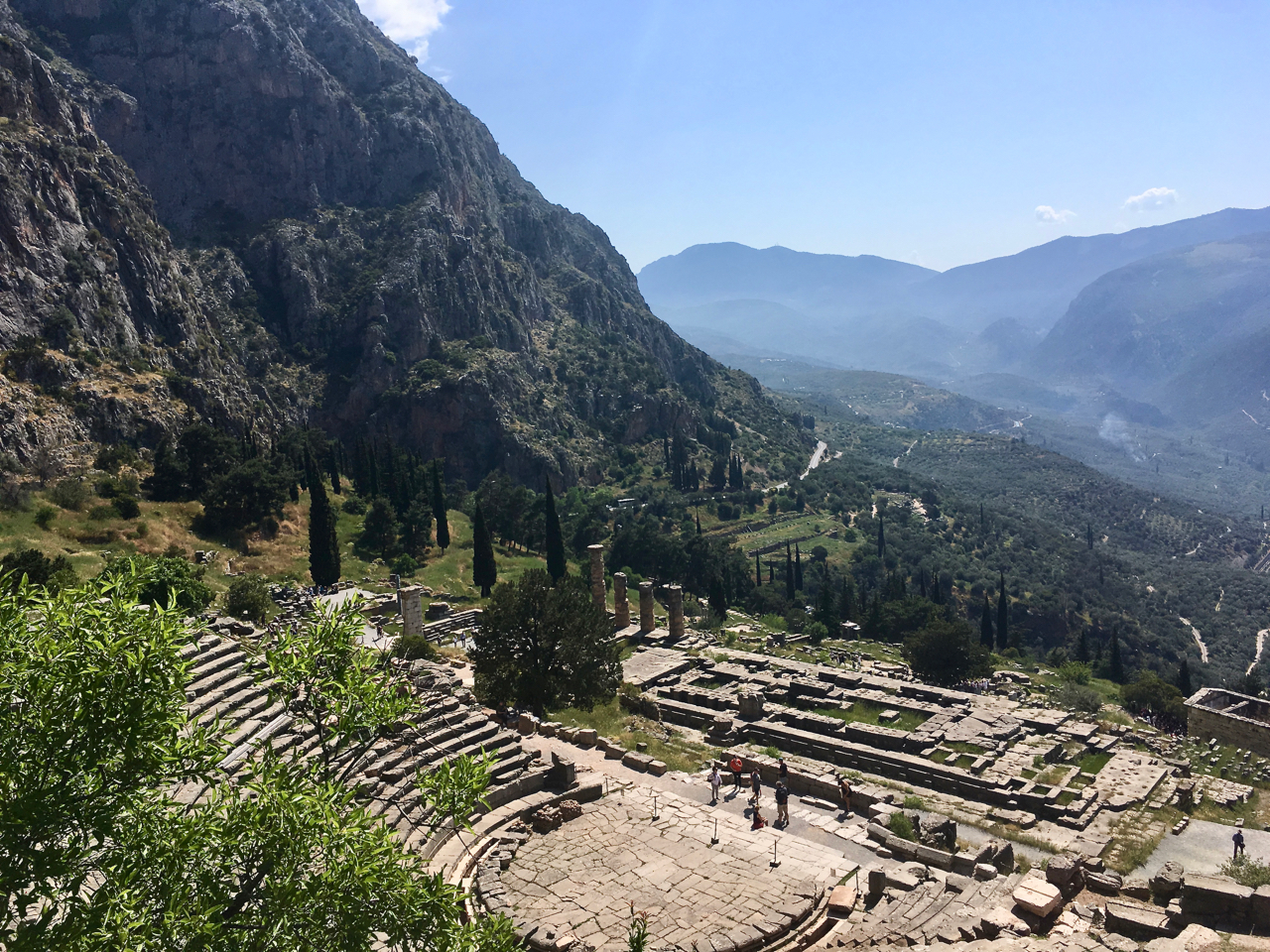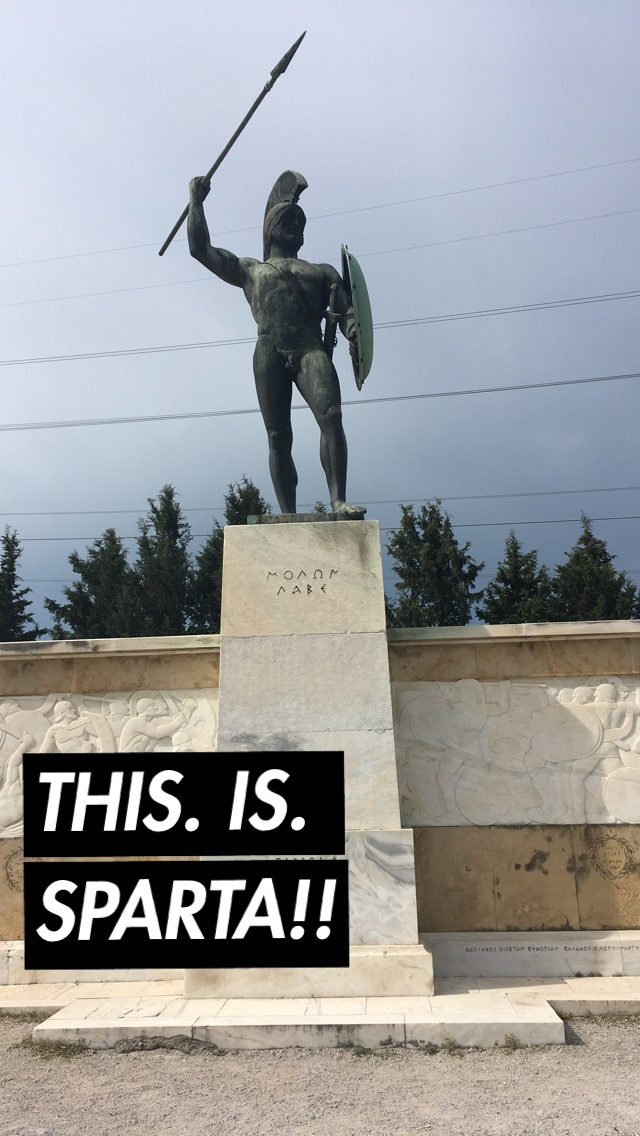 We also visited the Temple of Apollo, which was a bit hotter and a bit more crowded by the time we reached it. It wasn't as awe-inspiring, although the fact these ruins were carved into the landscape was pretty spectacular. At some point, I ended up hiking up and up (leaving my mom behind, at her own behest), only to discover an underwhelming sports track at the top. Don't bother!
Later in the afternoon, we stopped by a statue of Leonidas (300, anyone?) and spent some time in the cute town of Kalambaka. The highlight of this stop was this great artisan shop called Bee Factor. I bought a lip balm there that truly became my SAVING GRACE. It is literally the only lip balm that can save my poor lips, especially in the cold Canadian winters. Truly, my lips only look subtly shiny and healthy when I use this. I especially love the chocolate and vanilla flavours. Despite looking for dupes all over Canada, I eventually had to admit that Bee Factor lip balms are uniquely awesome, and shipped three more all the way from Greece to Canada over the past couple years.
Day 4
The final day of the tour was all about the place that inspired me to take a land tour of Greece in the first place: Meteora. Back on exchange the year prior, I almost went to Meteora with my friend Terry, but the plans fell through. I'd heard so much about these unique monasteries built on cliffsides, and was eager to check them out. And they did not disappoint!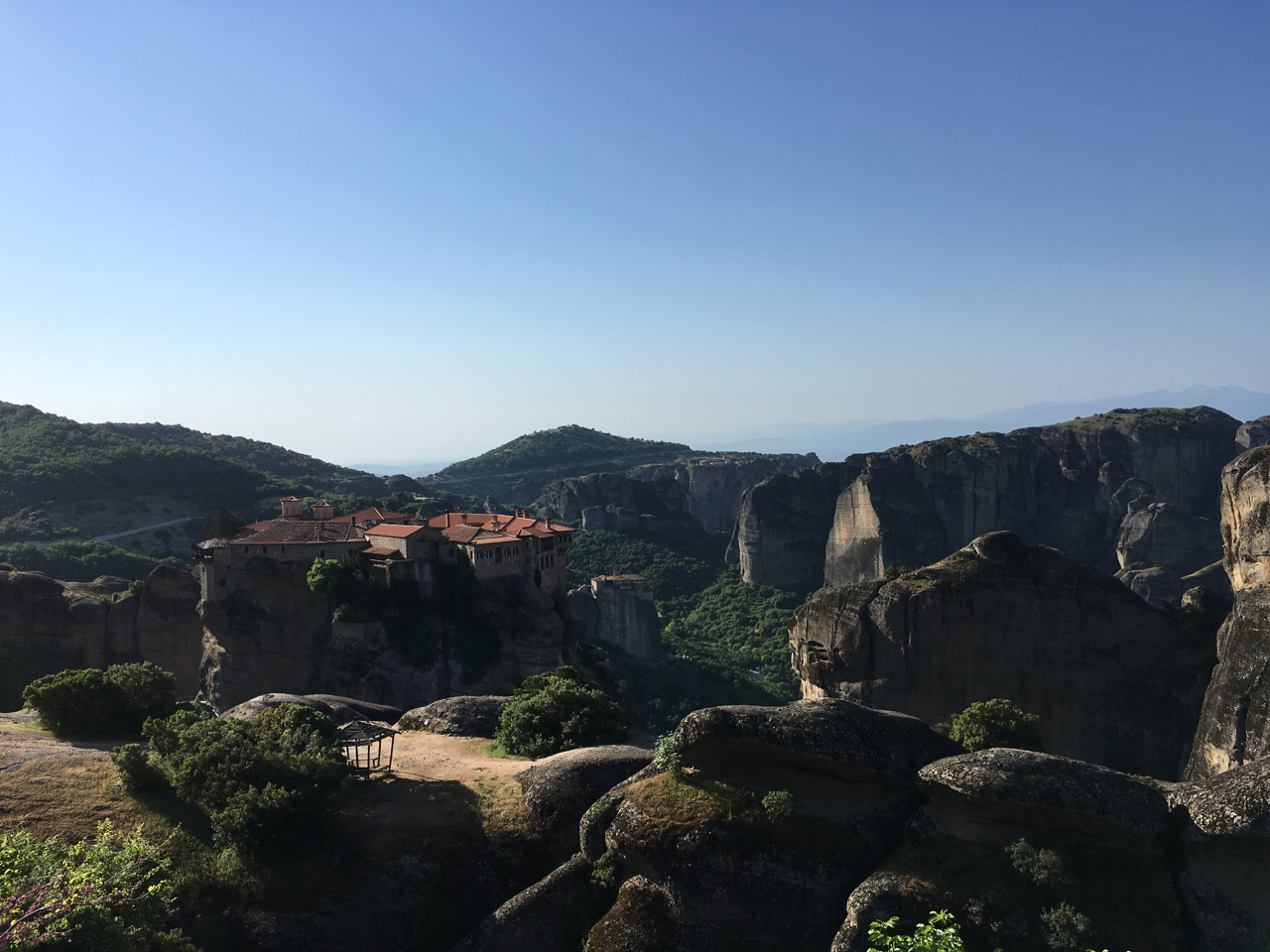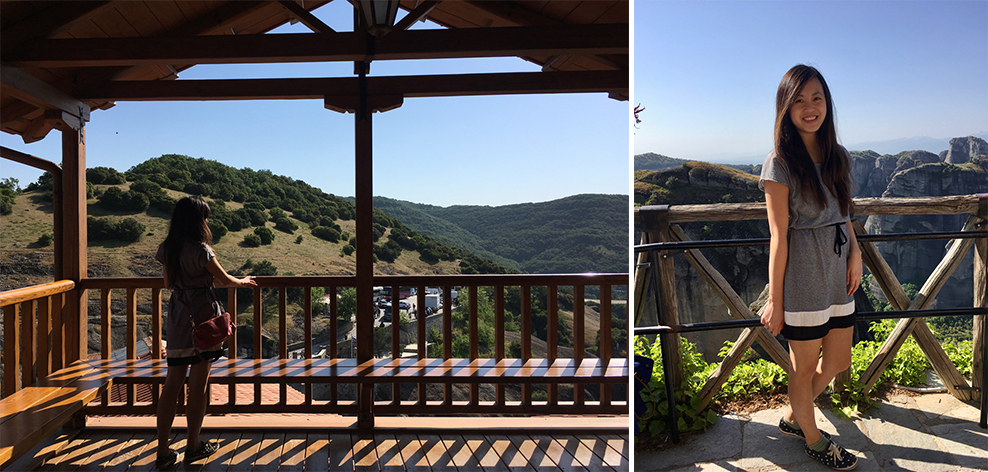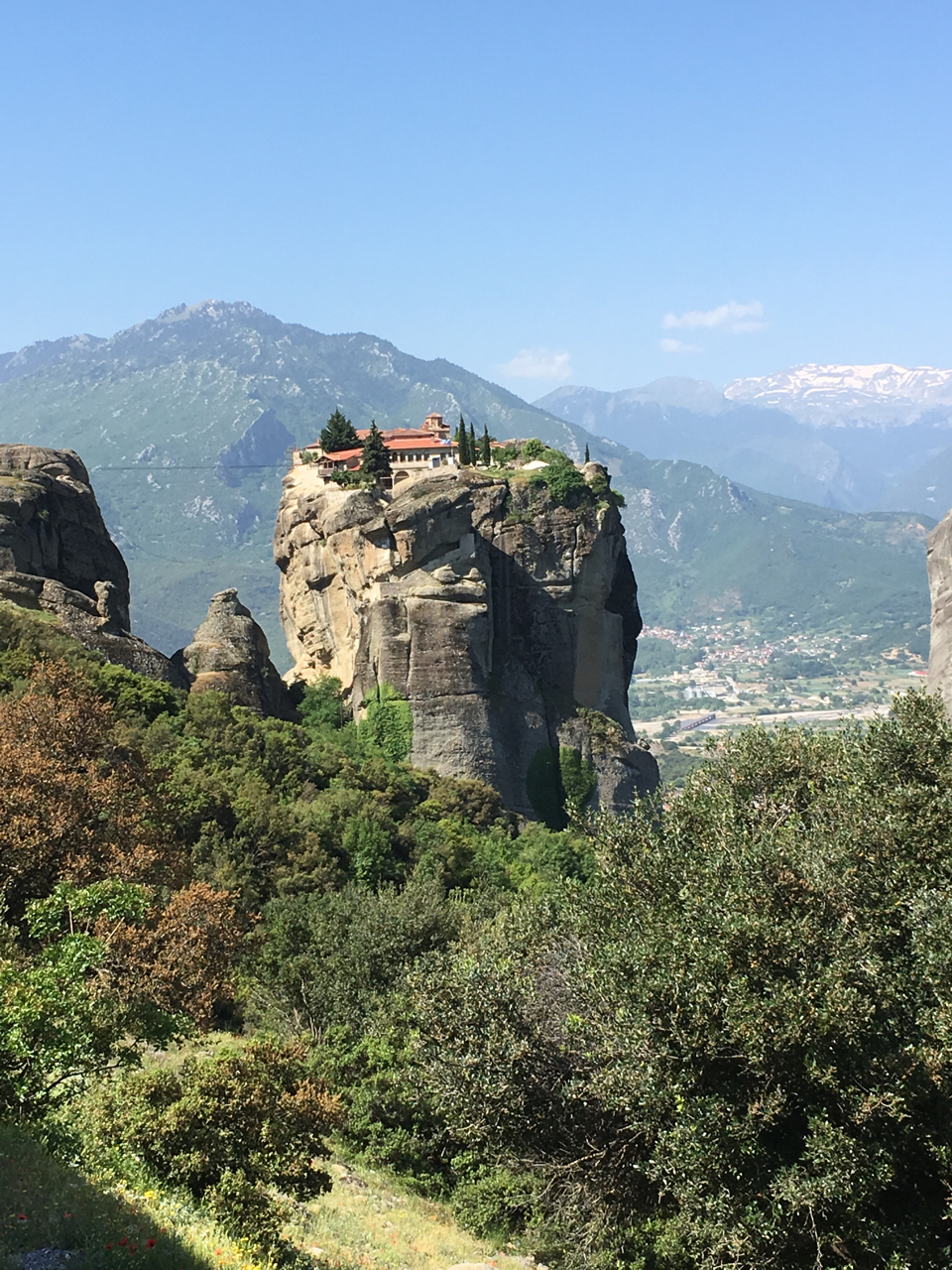 It was such a bright and sunny day, so it was a bit difficult to capture the beauty of these monasteries in pictures (too much glare!). There was a pro photographer on our tour, and he was so frustrated by the lighting conditions. I guess Meteora looks more epic with a bunch of fog shrouding the monasteries? Regardless, I still had to marvel at this feat of human achievement. The monasteries seriously looked like they were plopped in the middle of nowhere.
Although bus tours can be a mixed bag, this one was enjoyable. The stops weren't too far apart, so it didn't feel like we spent the majority of the day on the bus. We were with a good set of calm adults (probably since it was still April), had ample time to roam around, and got to cover a lot of ground across the landlocked area of Greece. The food was decent and varied (aka not a ton of fried food cooked in mass quantities specifically for tours), and the hotels we stayed at were all beautiful and comfortable. I would recommend it!