I came from a land down under... [New Zealand, Jan 23-Feb 9, 2018]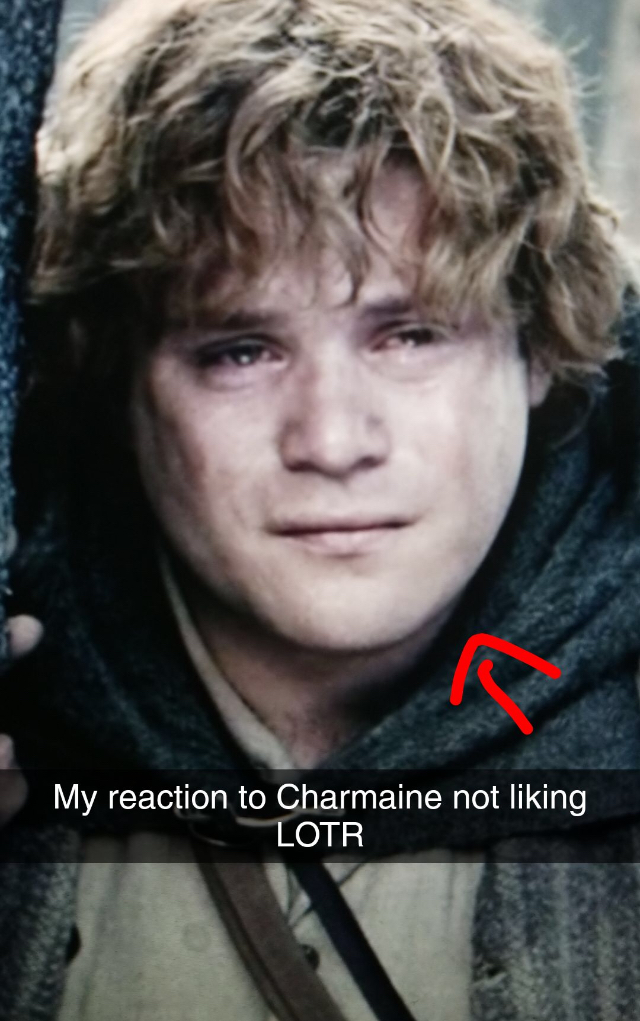 I also didn't bother trying to watch LOTR on the flight, much to the chagrin of my team.
Hey, it's been a while! During my 4th year of university, I fully owe all of my travels to the incredible group of QCCU. The Champion's Trophy competition in New Zealand was the penultimate competition of my university career, but the ultimate one in everyone's hearts. It brought together the 1st place winners from 12 of the most prestigious competitions in the prior calendar year to battle it out. We ended up winning 3rd place, which was a super exciting showing for our first time at the affectionately known "Champs." It was also my last competition with the team that I'd worked with from the very beginning (i.e. alongside Dustin, Eileen, and Jordan), and felt like a fitting conclusion to something special. Naturally, we had to celebrate by spending an extra week in New Zealand. I mean, might as well make the most of the 24 hour flight time, right?
New Zealand has SO MUCH to do. In two weeks, we only managed to make it through the North Island, and I've heard that the South Island has even more for adventure junkies and scenic view enthusiasts (have you ever heard of Milford Sound?).
Auckland
Interestingly, the prevailing belief is that there's nothing to do in Auckland. While that might be true, Auckland is actually a great jumping-off point for many nearby excursions. While our good friends from McGill planned a more extensive excursion to the Bay of Islands, we... well... did not plan anything for the first couple of days there, and promptly remedied this issue by renting a car and driving off to Piha.
Piha is a total hidden gem just an hour or so out of Auckland. Here, we climbed some super slippery steps to find the Kitekite falls, climbed up an even more treacherous rock to a lookout of Piha's black sand beaches, and ate at a cafe with monstrous servings of roasted suckling pork and frothy iced coffee. (Read more about all the food highlights of New Zealand here). Interestingly, en route to the Kitekite falls, we were asked to scrub our shoes with soap. This wasn't to protect ourselves — no, it was actually to protect the trees from dieback disease! New Zealand cares immensely for nature, like BC on steroids. It's what I'd imagine Canada to be like prior to colonization and urbanization.
The next day, we hopped back into the rental car and made our way to Shakespear Park (yes, no "e"). New Zealand is known for having more sheep than people, and nowhere was this more apparent than Shakespear Park. Imagine rolling hills and me, panting in the heat. I only felt a little bad when the sheep were faster than me. It was the weekend, so we saw a lot of families out in the nearby park, called Te Haruhi park. We should've done the same, but hadn't really planned ahead to do this. We did go swimming though! Kind of! It was mostly an excuse to wear a swimsuit in January.
The next day, we did a bit of studying. At some point, we split up to do a little shopping and I discovered my love for Cotton-On. It may be fast-fashion, but gosh darn if it isn't adorable! The team reassembled at a popup street food festival by the water, where I had some paella, ginger juice, and a raspberry popsicle stick. New Zealand has a hole in the ozone layer, and you could tell everyone took this very seriously because they even had FREE SUNBLOCK STATIONS at the festival!
That afternoon, we received a Maori welcome at the competition. I would definitely recommend experiencing Maori culture in some way (heard there are some good options in Rotorua!). If there's one country that treats its Aboriginal Peoples right, it has to be New Zealand.
The Champs Organizing Committee was exceptional at designing social days at the start of the competition to allow all the teams to become friends first. Some highlights included:
Taking a ferry to Devonport, where (mostly) everyone jumped off the pier and only the locals came away unscathed. Turns out you have to be wary of the barnacles, but none of us foreigners knew how to do that.
Jumping from the Auckland Skytower!! The descent was actually pretty measured, so we were all able to do some cool tricks and poses on the way down. Felt very Spiderman-esque.
Playing lawn bowls, a sport that surely only exists in Oceania. To this day, I still have no idea how to play.
Heading over to Waiheke for a wine tasting at Goldie Estate and taking a million pictures among the vines.
Clowning around at the beach in Waiheke as well! We swam to the breakers, did some backflips (like literally flipping off the CBS boys' backs), collected shells across the seashore, and took cute / basic /baywatch-quality pictures.
Contrary to popular belief on online forums/blogs, Auckland actually had a ton of fun activities to do and sights to see. I would definitely recommend staying here for at least a couple of days to get your bearings, maybe take a day trip or two, and eat some high quality food. We didn't even hit up One Tree Hill or Hobbiton!
Waitomo
If there's one thing you MUST do on the North Island, it's booking a trip to check out the Waitomo Glow Worm Caves. Now, I had to make do with pictures taken off the Internet since we're not allowed to bring our own cameras, but I'm not even sure they truly do the experience justice.
We woke up a bit late after celebrating the end of the competition, and had to drive like mad to Waitomo (fully skipping all meals beforehand). As soon as we arrived, we got suited up in blackwater rafting gear. This sounds scary, but blackwater rafting is actually just sitting in an inner-tube inside these caves and paddling with your hands. As you can see, the bodysuits cover our whole bodies to keep us insulated. We were in swimsuits underneath. For the most part, we played follow-the-leader and dragged each subsequent person in the group down through the caves. In the final stretch of the journey, we were also given a chance to paddle on our own, and I might've gone from being at the front of the pack to the very last one out of the cave. My team was worried I got swallowed up and wouldn't make it out. 🙃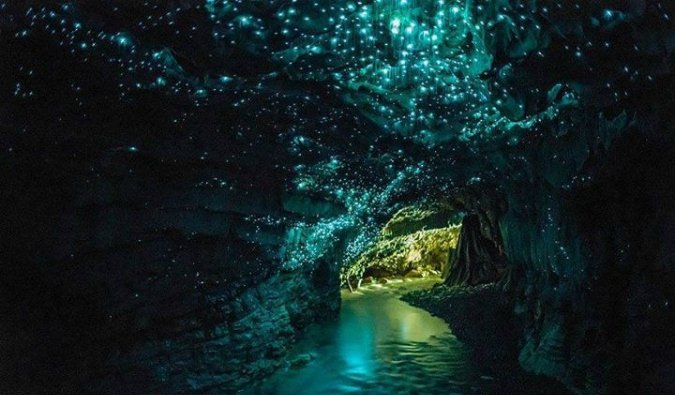 I can't even describe how beautiful and unreal these caves were. I am so glad we made it there on time! It was almost a celestial, spiritual experience for you to spend time musing about life and quietly observing our wondrous world. When we finally emerged from the cave, we were ravenous — and thankfully, the experience included tomato soup and bagels for us to snack on in the gift shop. This was key, because the Indian and Chinese take-out we ordered from 12-year-olds in Waitomo's "downtown" later that evening was questionable at best.
Taupo
The next day, we made a pit stop in Taupo and spontaneously decided to go bungee jumping! (Mic mic bungee?) Reflecting on the experience, I'm really thankful of my travel buddies for being on the same wavelength here — not everyone is willing to entertain such a spontaneous idea, especially one that conquers some people's major fears and comes with a hefty price tag. It was definitely the biggest adrenaline rush and HEAD RUSH I've ever experienced. In typical jokester kiwi fashion, the lads prepping us also joked around by putting ankle straps on my wrists.
Afterwards, we also drove to the Huka Falls, which were so turquoise and incredibly powerful. Fun fact, these falls account for 15% of New Zealand's energy supply.
Tongariro
We ended the day in Tongariro, a destination that only exists for those hardcore enough to do the Tongariro Alpine Crossing. I'll admit that this 21km hike was SUPER intimidating to me, and would probably never be something I'd choose to do on my own. It was definitely a memorable experience though. The first half of the hike felt like walking on Mars (sand and craters everywhere), followed by a valley of fluorescent pools and a second half of lush, green forests.
On the way up, I felt encouraged by a tour group of senior citizens all doing the crossing as well. If they could do it, surely I could too! At the most difficult point, their tour guide yelled at them saying, "Do you want to head back? Because it's lookling like more of you are going sideways than getting up this mountain." But a few hours later, we saw them ascend the summit as well, and I couldn't be more proud.
We spent the evening hanging out with Lainie, Sasha, Corinna, and Karen from McGill, who also happened to be doing the Tongariro Crossing the same day as us! I think they managed to complete it faster than my team (check out @fastlains on instagram for some real inspo). After this hang-out, I also managed to DRIVE ON THE LEFT SIDE OF THE ROAD for the first time in my life, as the only available DD to bring the McGill gals back to their hostel. We survived, but I think it was also the most harrowing 5 minutes of Eileen's life.
Rotorua
After leaving Tongariro, we made our way to Rotorua. This area is famous for its sulfuric pools, which was evident at our cottage -- called Rotorua Thermal Holiday Park, which had super dangerous-looking pools of bubbling water chilling beside children's playgrounds, as well as a touristy spot called Wai-o-Tapu. Our only gripe with Wai-o-Tapu is that it has become so tourist-friendly that the payout was almost too easy to attain. It's a must-visit for less mobile people for sure, but we got a bit restless after all the adventuring we'd done in the days prior. The sulfuric pools also looked way better in pictures (and post-editing).
To salvage the day, we went to the Rotorua Skyline Luge where we raced each other down a hill, saw some alpacas, and did another wine tasting.
Coromandel Cove
The last stop on our trip was to the Coromandel, on the North side near Auckland. The drive here was very long and windy, but with killer views and spotty internet connection. If I were to do this trip again, I'd probably skip Rotorua (especially with the hindsight of knowing I'd go to see giant sulfuric pools in Iceland just a few short months later) and spend more time out in Coromandel Cove. The weather wasn't the greatest while we were there, but I could totally imagine some fantastic days kayaking and enjoying other water sports by the beach.
In Coromandel, we grabbed some steak and cheese pies at the local gas station, which were surprisingly decent. What's with convenience stores and gas stations having banging food everywhere in the world except Canada? Seems like a miss on our end. We then made our way to a hidden gem that was recommended to us by some locals from the competition: New Chums Beach! Here, we took a long, treacherous walk (typical, with this crew) over knee-high water and precipitious edges, before making another steep climb to the top of some hill. We had Martin Garrix's song So Far Away blasting on speakers, and I'll always associate that song with that peaceful moment sitting on top of the world.
We ate dinner at The Pour Room, a restaurant with good pasta and fries but nothing remarkable. Although it was rainy and near the end of the day, we also made our way to Cathedral Cove, and I'm glad we got to see the famous arch. It was big and nearly empty, since no one else was crazy enough to hang out at the beach on a weekday in the rain. Lucky us!
During the last evening of the trip, we settled in for a "campfire by the stars" on hot water beach, where we could legitimately borrow shovels and dig holes à la the book/movie Holes until we found hot water to dip our feet into. There's nothing quite like real talks in the dark with waves crashing right in front of you. It really felt like a sunset to our case competition career — from floundering at JMUCC in February of second year to earning a podium finish at the Champions Trophy in our fourth year, I really shared a lot of memories with these three crazy and brilliant people (because only crazy people willingly sign up to stay awake for 24-40 hours straight to solve business problems). Granted, all four of us still had another competition left at the end of the school year, but this was our last hoorah as the team I'd been with from the very start.
Back in Auckland, we spent our final day shopping in a cute area that was honestly too couture to handle, and then made the 24 hour trek back to Canada. This blog post is probably the longest one I've ever written (I had to recount a two week trip! Cut me some slack!), but if you've made it this far, hopefully you've taken away some good tips (because yes, you should definitely try to make it out to New Zealand if you get the opportunity to do so. The things you can see and do are definitely worth it, even if the trek is a once-in-a-lifetime kind of thing).