Waffles and Fries, oh my! [Brussels, February 18-19]
My first flight out of Switzerland on exchange was a spontaneous trip to Brussels, Belgium! We flew using Swiss Air, which was a GREAT experience. Good airplane food and Swiss chocolate as you disembark? Sign me up.
Brussels is very contradictory — there's tons of frenetic construction in the city, but it's also really calm and peaceful during the day. There's a ton of colourful grafitti, but just as much classic architecture. Grand Place is elegant (and it sure is grand!), which contrasts sharply with the cartoon murals around the city. Fun fact: you'll find a lot of renderings of Tintin and the Smurfs, because they both originated in Belgium. It's also super commonplace to find comic book shops on street corners!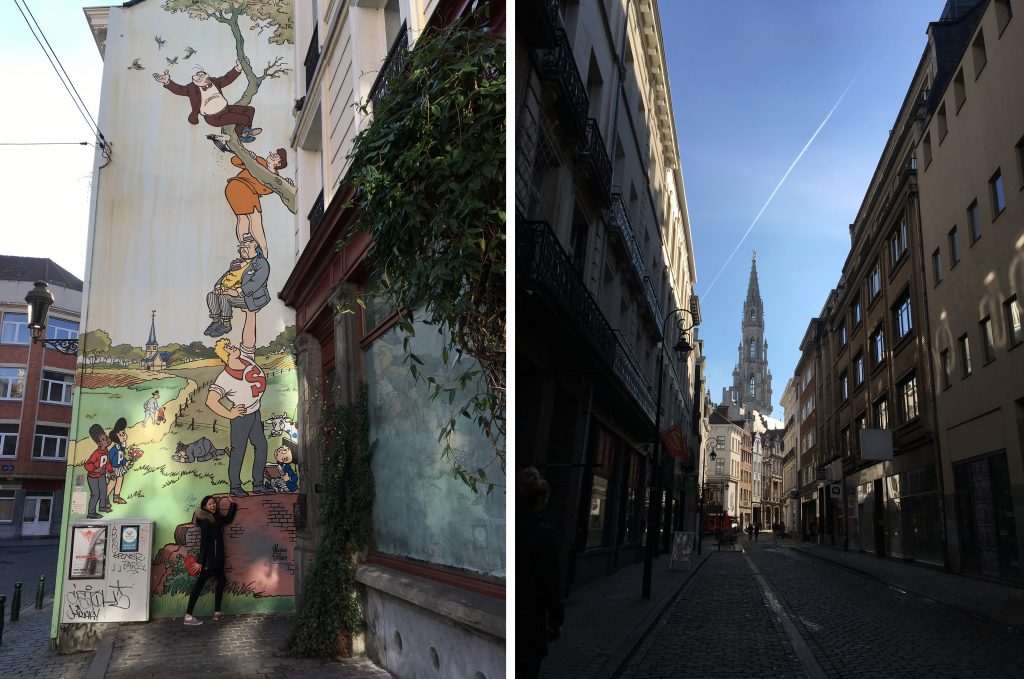 These contrasting streets are right beside each other!
Exploring Brussels
One of the first things we did was order some Liège waffles at Maison Dandoy. Liège waffles are the authentic Belgian ones, and are characterized by thicker batter and rounded edges. Shh don't tell, but I prefer the light and crispy ones. Nevertheless, my waffle with raspberry and lemon sauce was delicious.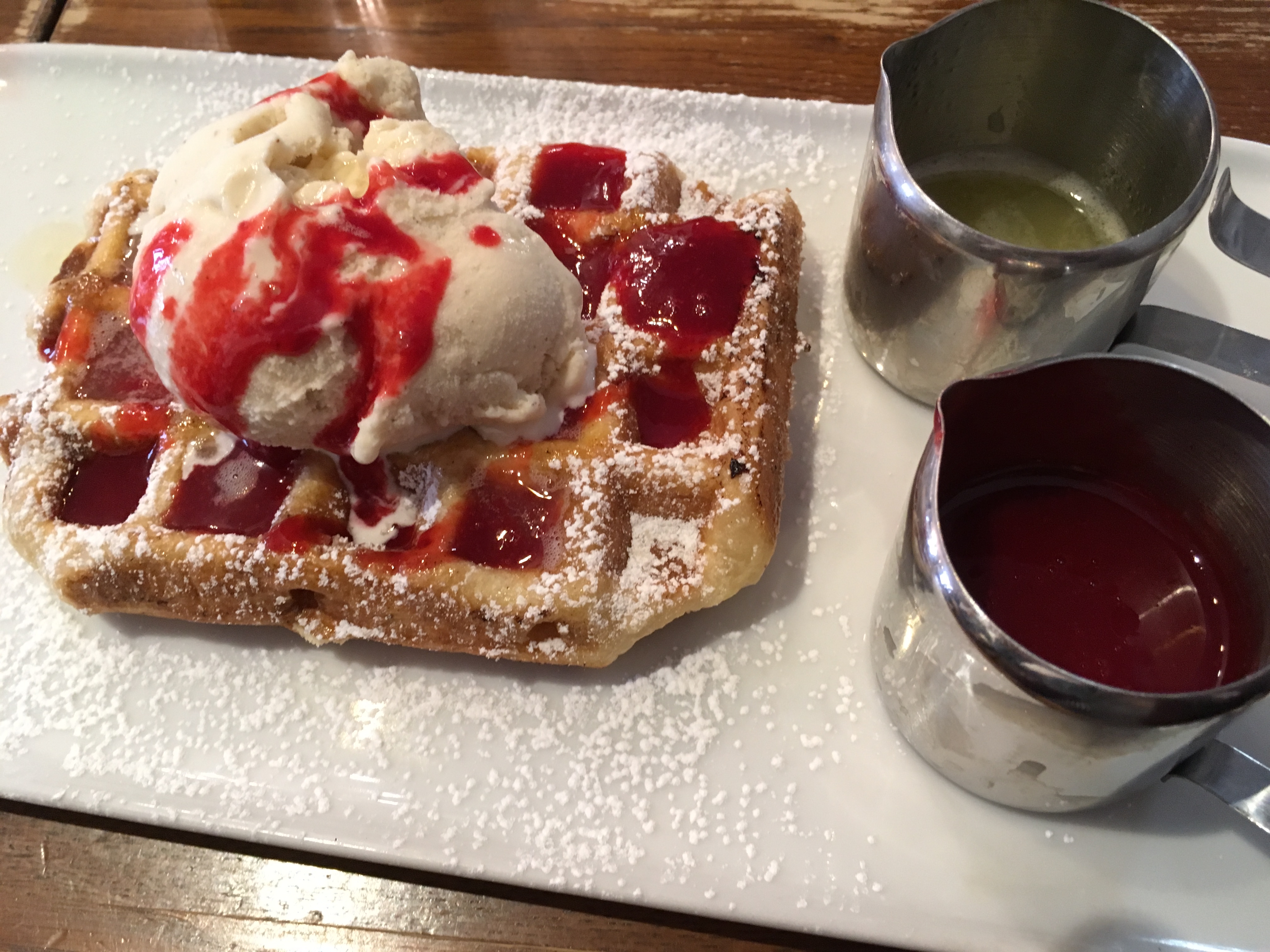 We walked around for the rest of the afternoon, checking out the Cathedral of St. Michael and St. Gudula and some gardens. Right after I took the picture below, a wedding procession blasted its way through the streets. A bunch of cars started honking like crazy, and a few seconds later, the sound was followed up by the wail of police car sirens. Oops!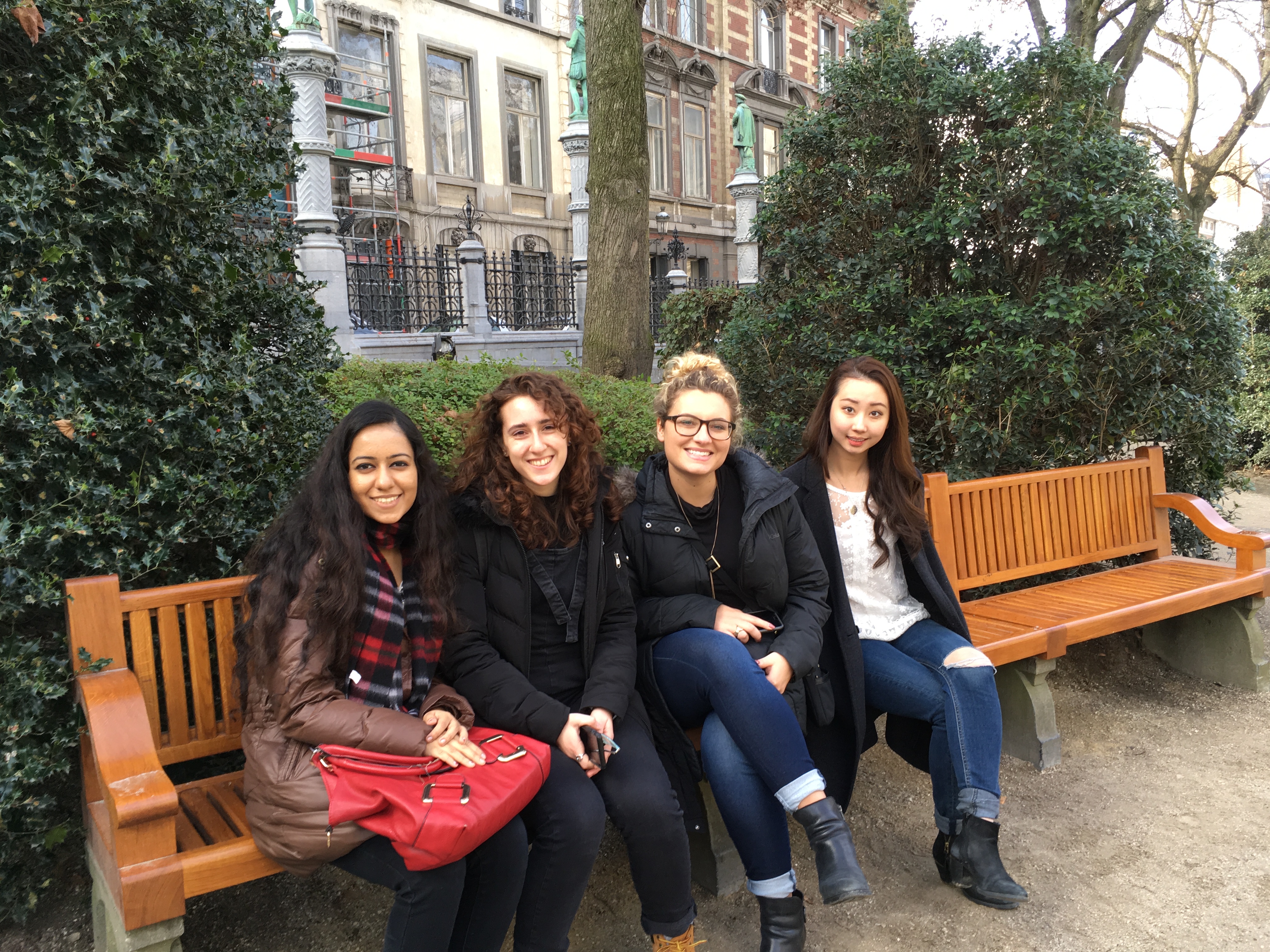 These were the gals I travelled with! (L-R: Deepika, Lilly, Morghan, and Sara)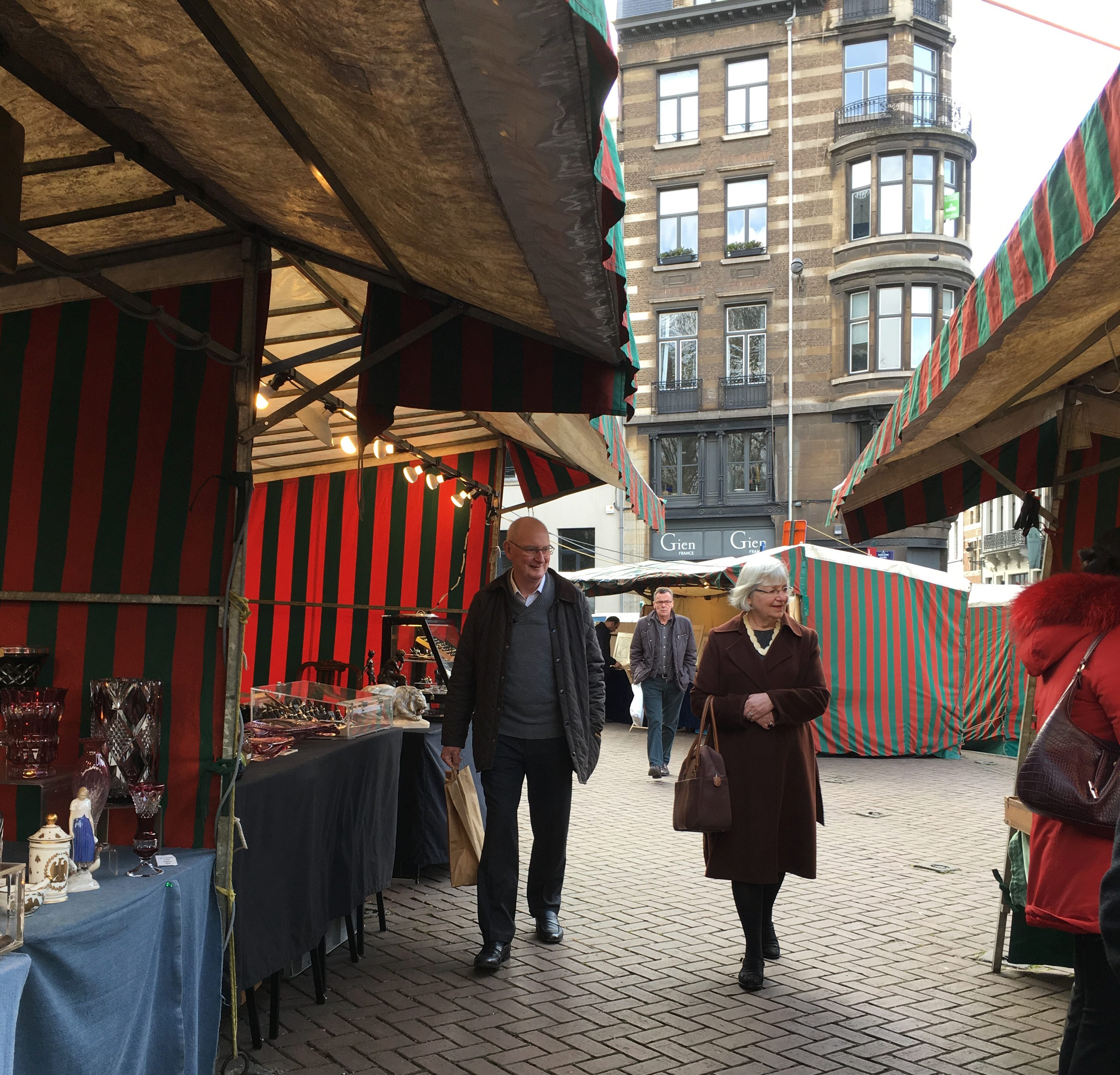 We also browsed through a flea market on the streets, which reminded me of Kingston in the summer. There were tents, antique trinkets, paintings, and sweet elderly shopkeepers all along a cobblestoned street!
Museums
We wandered into an inconspicuous-looking store, and it turned out to be a museum that housed super-cool "detached" statues. For example, this one depicts a man with a missing torso!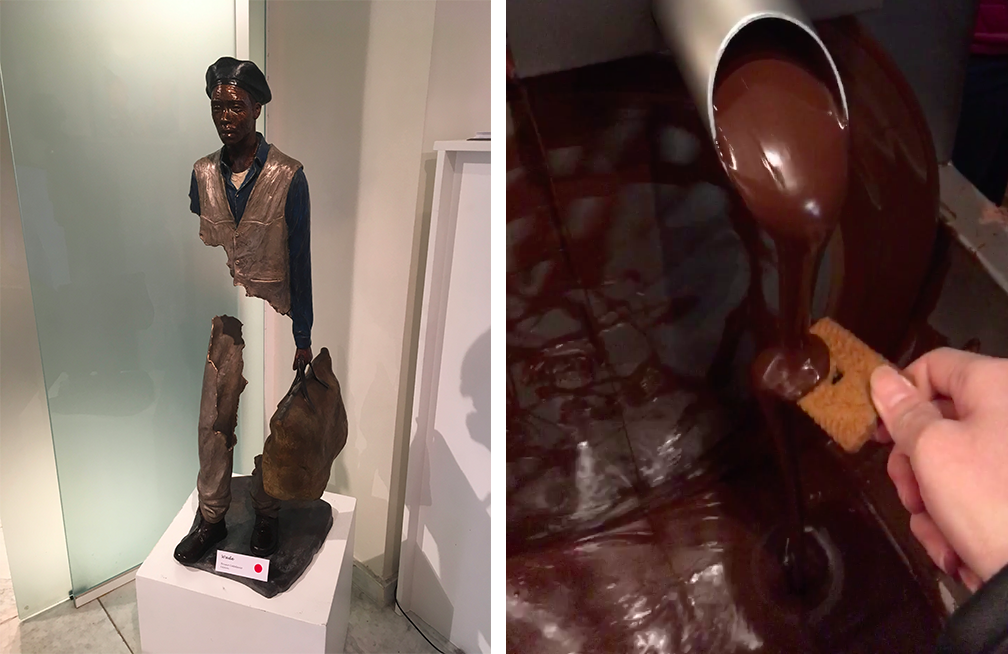 The other museum we went to was a completely intentional stop: Le Musée du Cacao et du Chocolat, or the Museum of Cocoa and Chocolate. It's a pretty small museum, but an inexpensive way to watch a chocolate demonstration and consume infinite (∞!!) free samples. I would actually recommend signing up for a chocolate-making workshop in Brussels if you get the chance — we looked a little late, and they were all booked up by the time we tried finding one.
If it wasn't already apparent, the biggest highlight about Belgium was THE FOOD. Aside from Belgian chocolate, I found a new love: Belgian fries. Fritland, you have my heart. Well, maybe Primark gets some love too — we did a little shopping as well, and I could not believe the prices!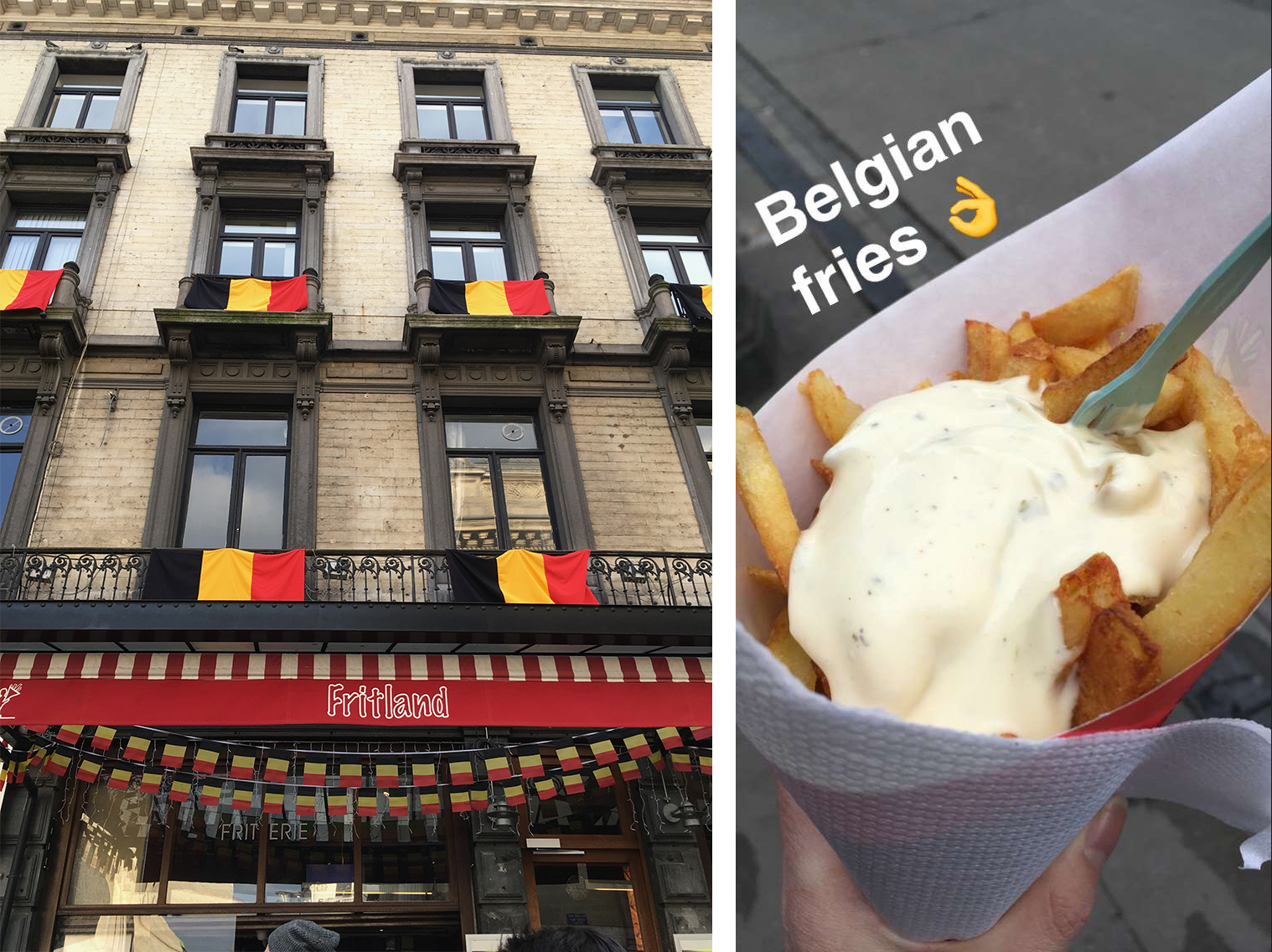 The Atomium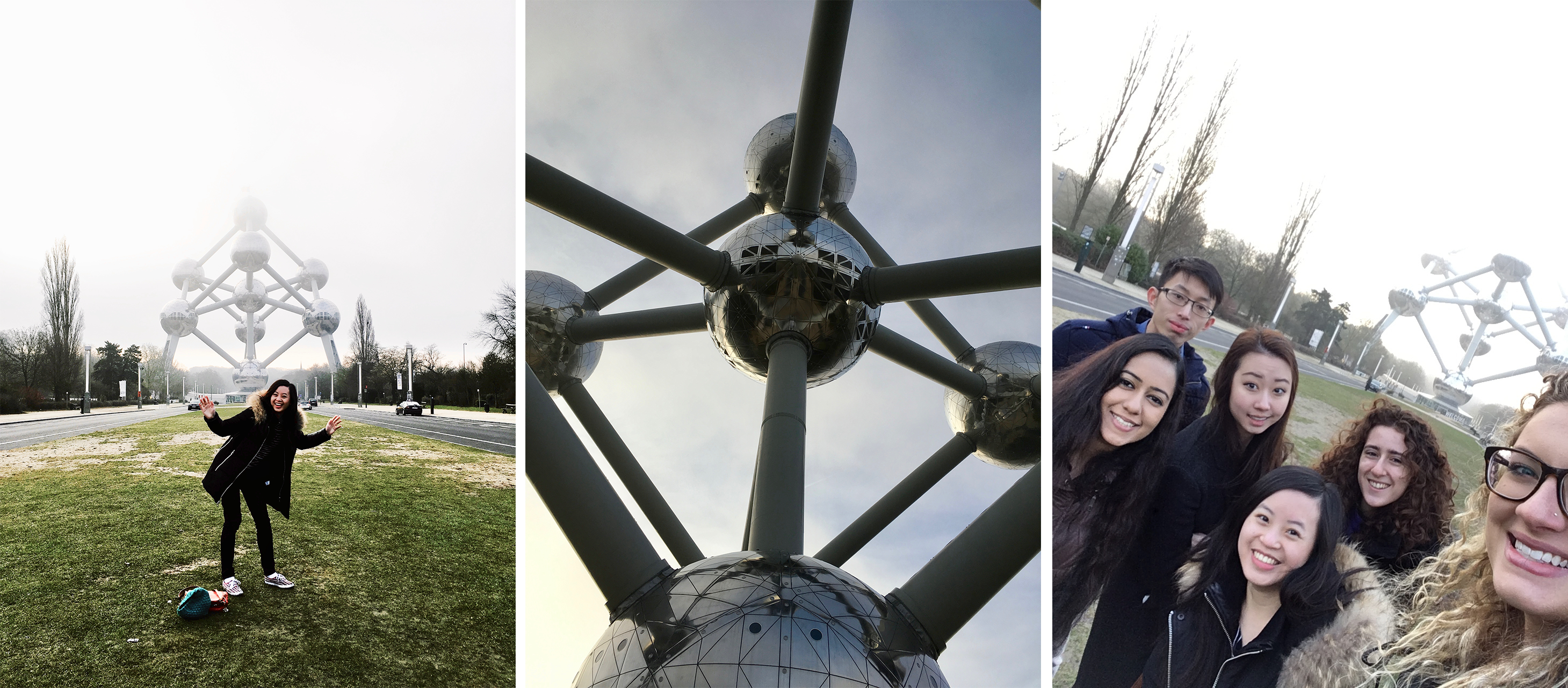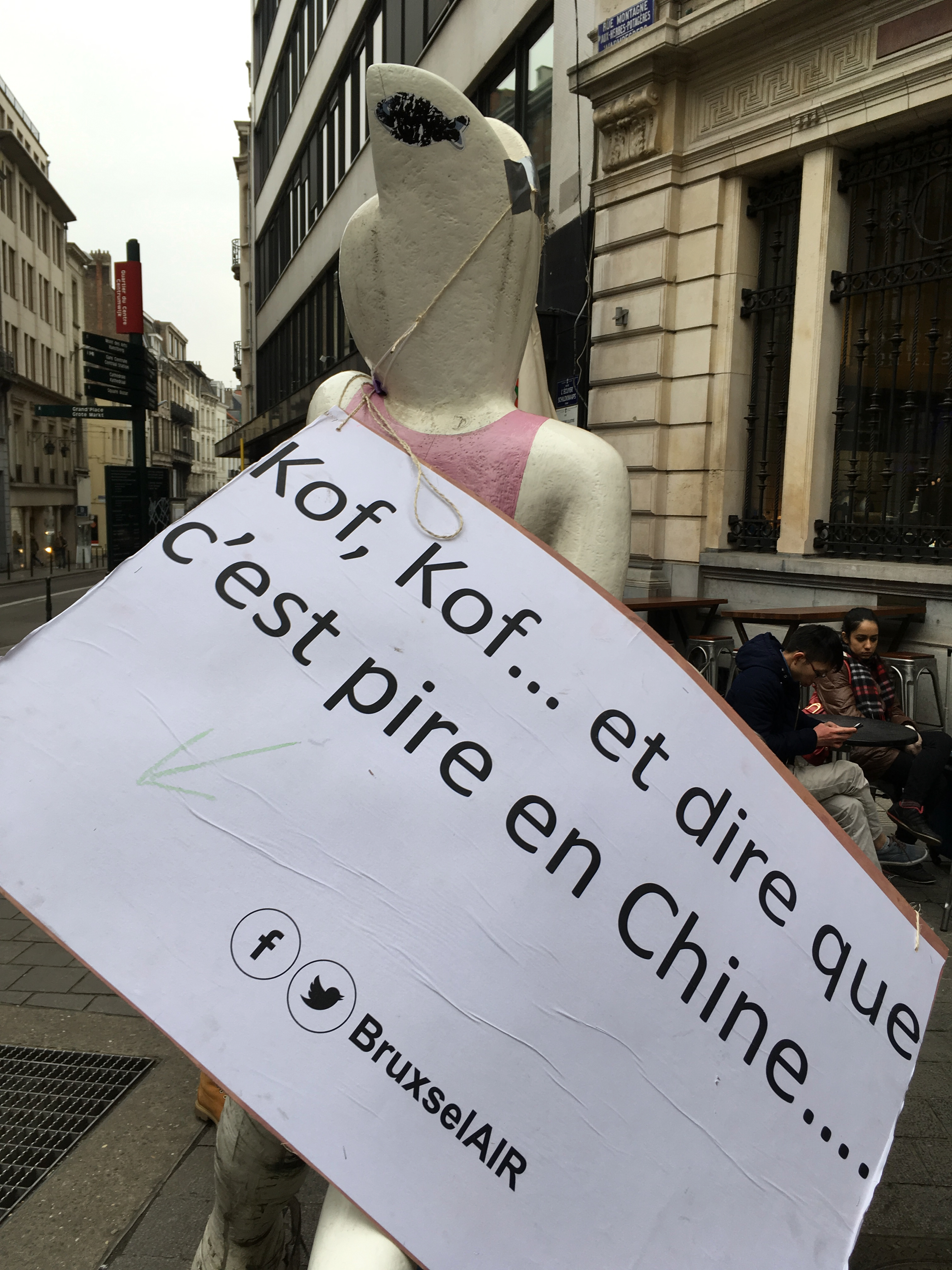 "Cough cough… and say that it's worse in China" — one part of the many clean-air protests in Brussels. 🙁
Deepika and Aaron were in the same marketing class as Sara and me, and Lilly and Morghan are from my residence! Friendship!
On Sunday, we got up at the crack of dawn to check out the Atomium, a giant iron unit cell built in the 1950s for the Brussels World Expo. Because we didn't do our research, we arrived too early to actually enter the building. But at least that meant we were early enough to get some #sickpics without anyone else around.
Finally, the last thing we did was go on a Sandeman free walking tour of the city. We saw the Mannekin Pis (overrated and overly crowded with tourists) and some interesting protests, but had to leave early in order to  catch our flight. Would definitely recommend doing one of these in order to learn a bit more about the historical significance of everything around you!
Although Brussels is a little dirtier and less charming than Zürich (but hey, I might be biased), it will be remembered as a cheap weekend getaway with ah-mazing food. Au revoir, Brussels!