Acting like a tourist in Zürich
On the eve of my 4th and final year of undergrad, this post serves as an opportunity to commemorate my time on exchange during winter/spring 2017 by featuring some of the highlights of day-to-day life in Zurich. At the time, there were all sorts of hurdles like culture shock and "wallet shock" (is that even a thing?). Now, months detached from the experience of 3rd year exchange coupled with another jaunt across Europe (I'm writing this from a boat in the Baltic Sea RIGHT! NOW!!), I can't help but look fondly upon the experience and the place I called home from January to June 2. Zurich will forever have a special place in my heart.
February: Early Exploring
The day after getting back from Lucerne, I ate at a brunch place in Zürich called Zum Guten Gluck. Would highly recommend — the prices were reasonable, and they had a great variety of savoury and sweet treats.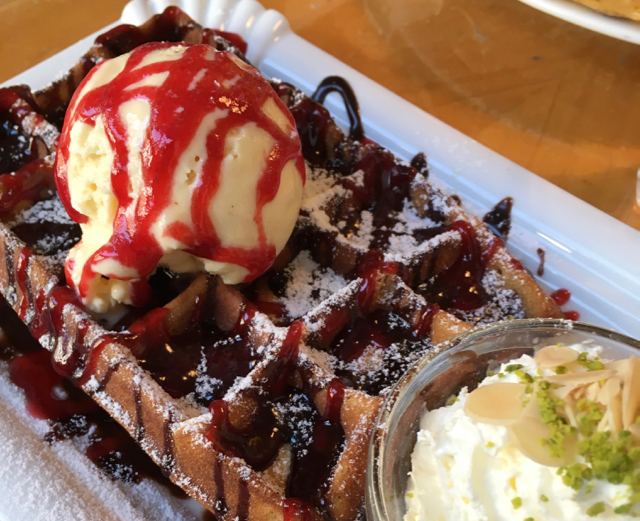 March: From the Altstadt to Hip$terbrücke
I didn't really get a chance to tour much of Zürich until Dirong and his Mannheim friends (hi Emma, Jess, Laura, Sara, Evelyn, and Wilson!) visited in the first week of March. It was nice being a tourist in my own city! We did a free walking tour, climbed to the top of the Grossmunster, and walked by the boardwalk.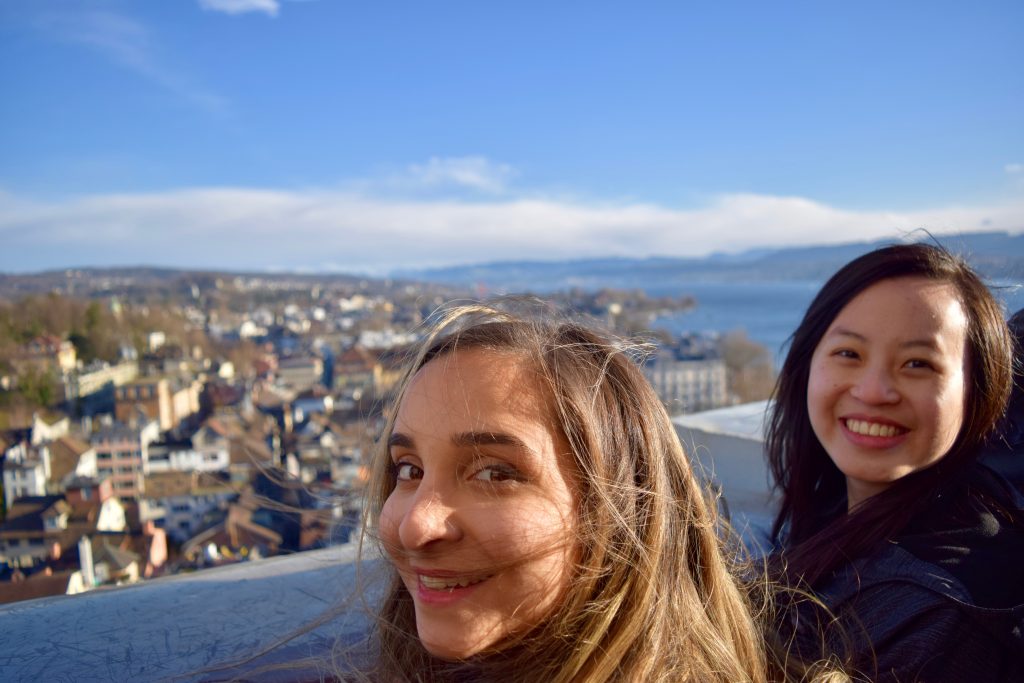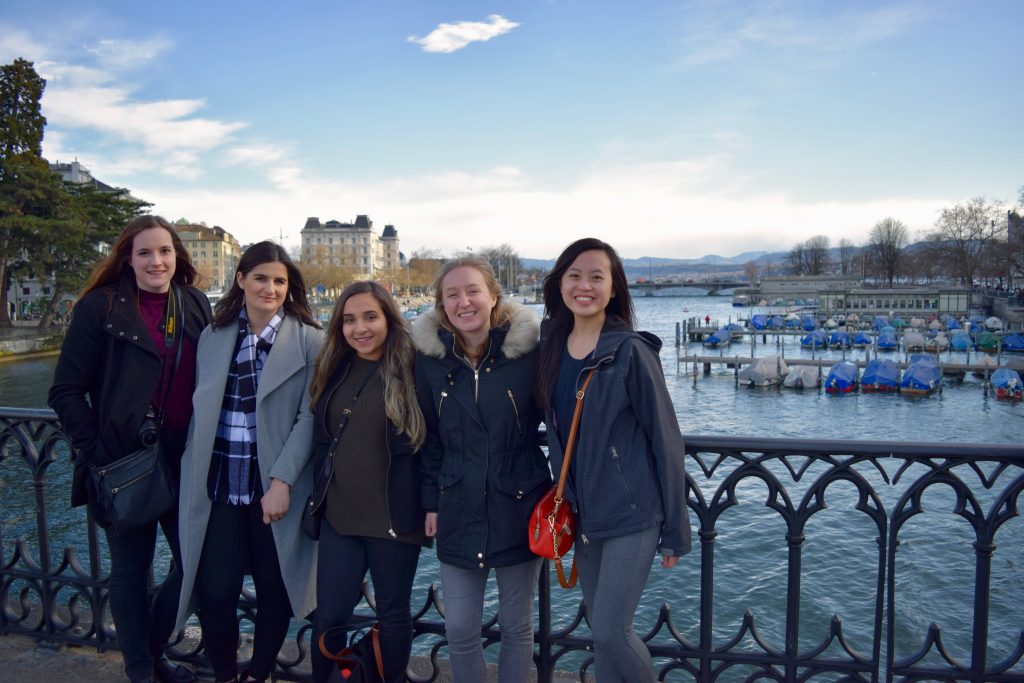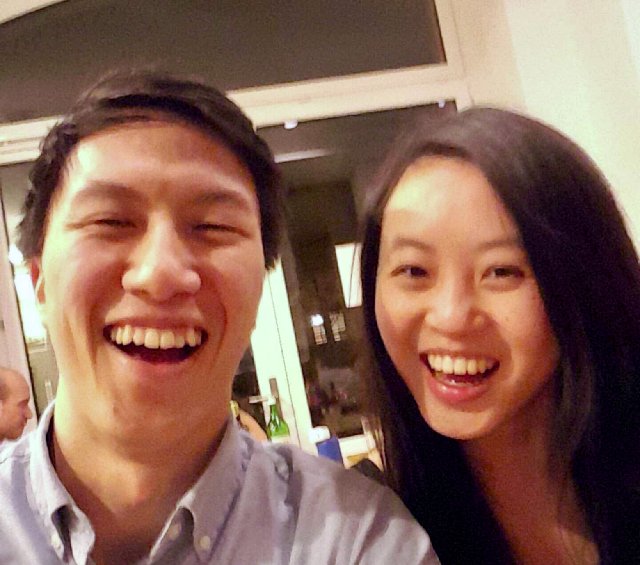 Friendship!!
I also got to tour around the more industrial/hipster parts of Zurich with Lily L., who I met through my friend Tyler. We went to the Freitag Flagship Store (saw some #views) and the Frau Gerolds Garten. I am sure it's beautiful in the summer!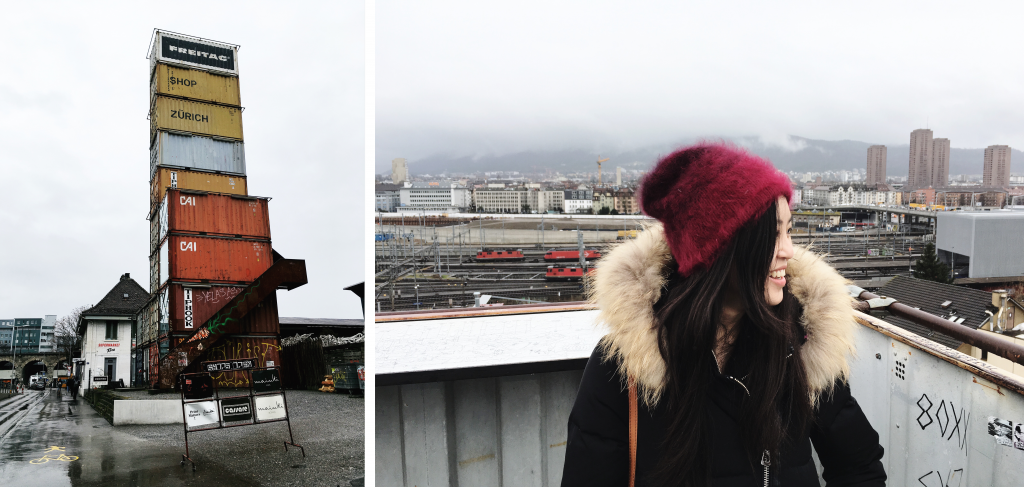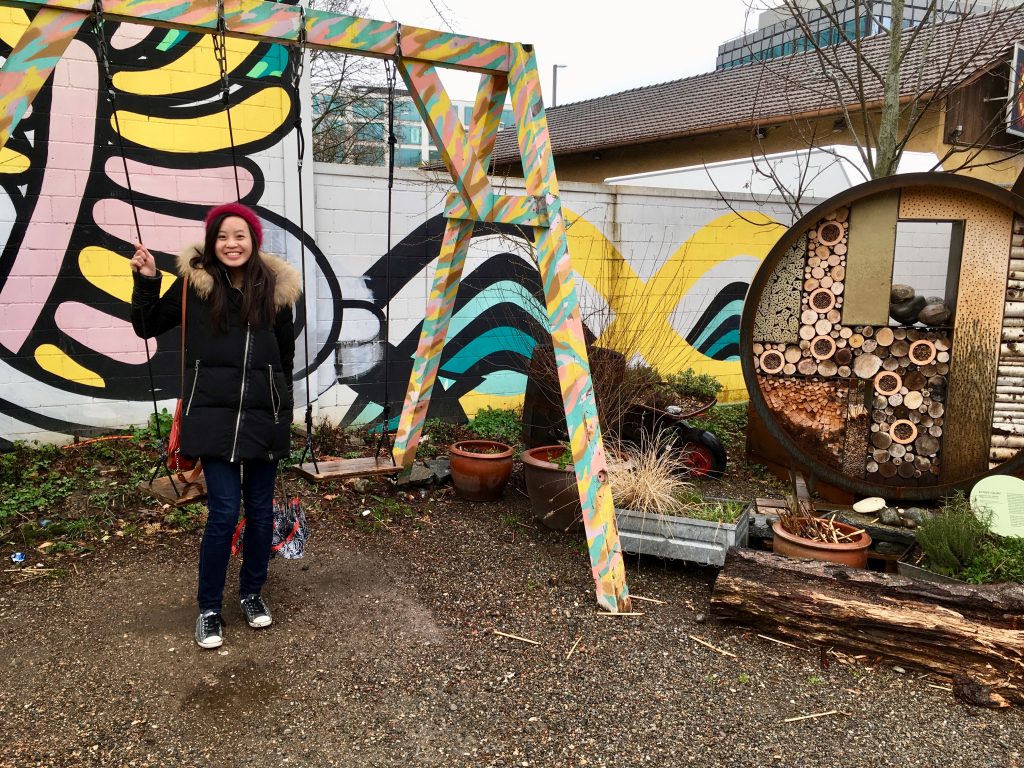 Sabrina L. from Queen's also visited me for a night in March! We didn't get to do much together, but it was nice to see her.
April: Festival szn in Bloom
Spring definitely sprang in Zürich in April, and with that came barbecue season! My housemates and I gathered on the roof of our building for a nice cookout right at the beginning of the month.
The next day, Shun (or as I like to stylize it, Shün) also came to visit. Although I had a time-consuming block course around that time, we got a chance to attend a disappointing hot dog festival and walk by Lake Zurich, which I hadn't seen yet.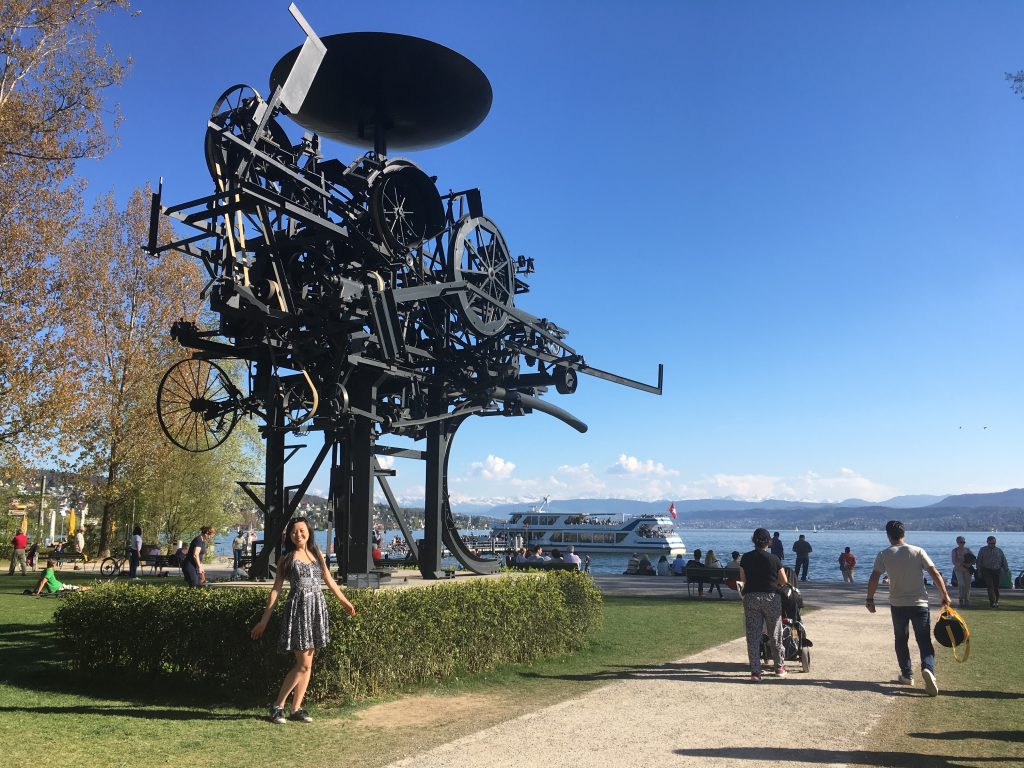 I'd always wanted to see this mechanical structure at the Parkanlage Zürihorn, and this was the perfect day!! There were people everywhere: blasting music, taking boat tours, and chilling by the Limmat River/Lake Zurich.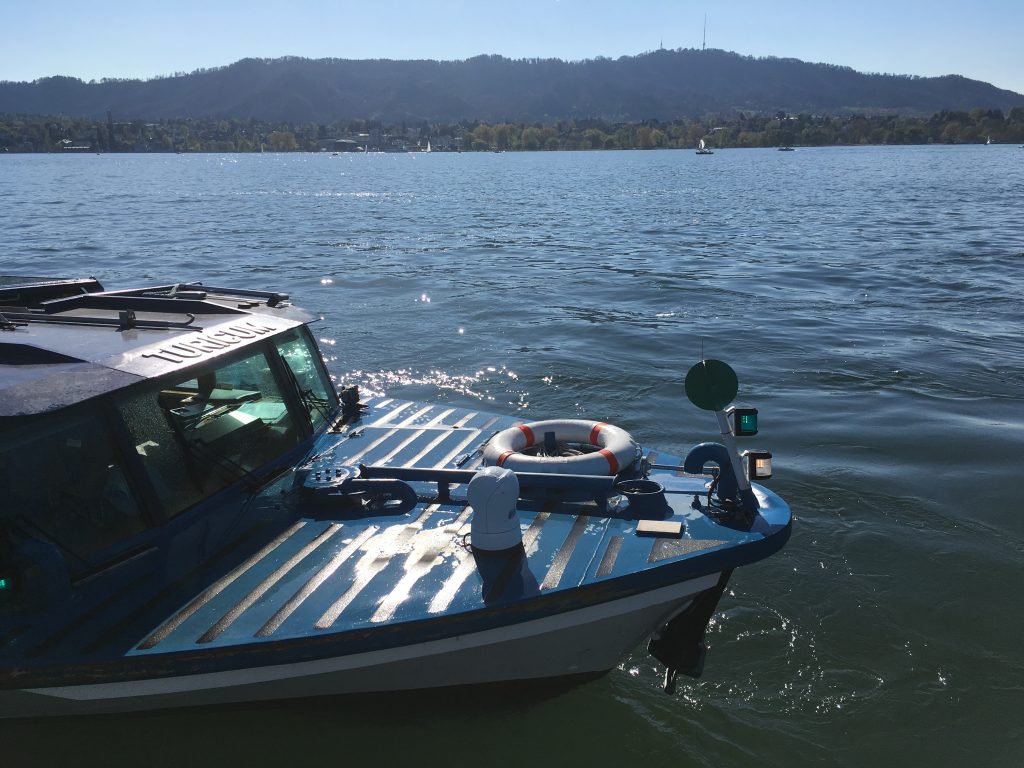 We also tried checking out the UZH botanical gardens, but they unfortunately closed like 30 minutes before we got there. Oops!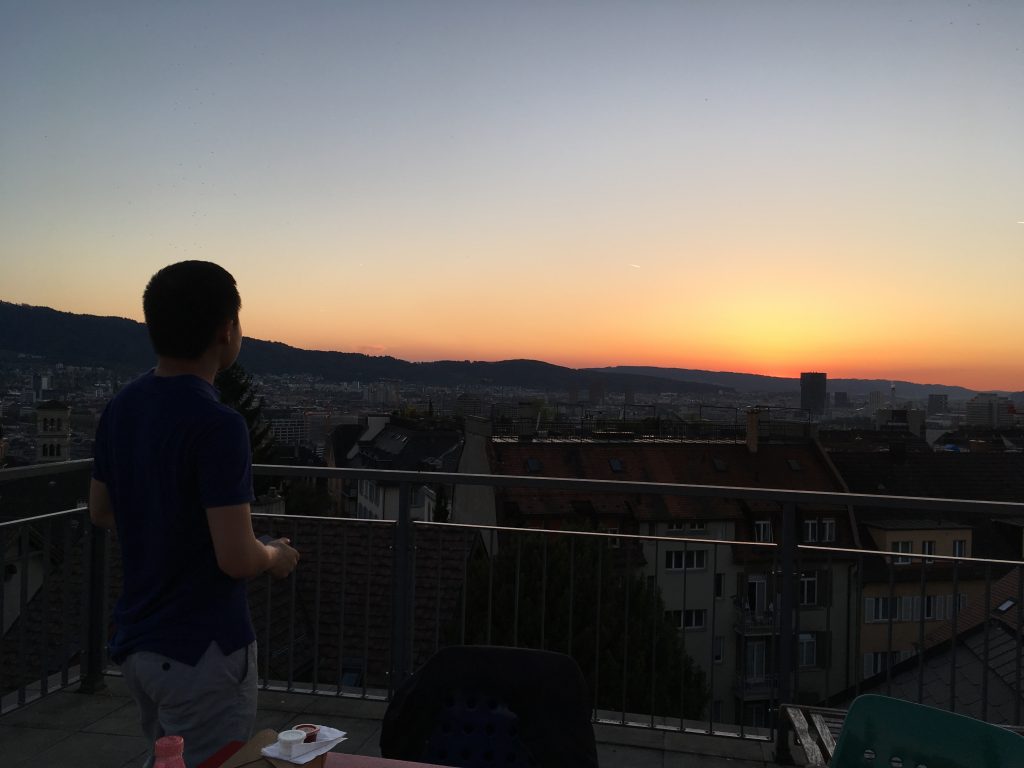 Shun catching the sunset #views on the roof of my residence!
Right after spring break (literally the next day), I also got to experience the Sechseläuten, a national holiday in Zürich. The Sechseläuten is a festival that culminates with the lighting of the böögg, aka Groundhog Day for pyromaniacs. The böögg is a giant snowman sitting atop a pyre. If its head blows up quickly, that indicates a long, hot summer ahead. This year, the böögg exploded in under 10 minutes. 🙂
Joke's on us though, because it snowed two days later in Zurich!!
At the end of the month, Jeff Zhang also came to visit. I unfortunately had to work on a paper, but he and his friend Flora (from high school!) came to keep me company on the roof of my building. They brought some (kinda underwhelming) Chinese food with them. It's cool because Flora was also on exchange in Zurich, but seemed to have such a different experience at Bulachof (a different building).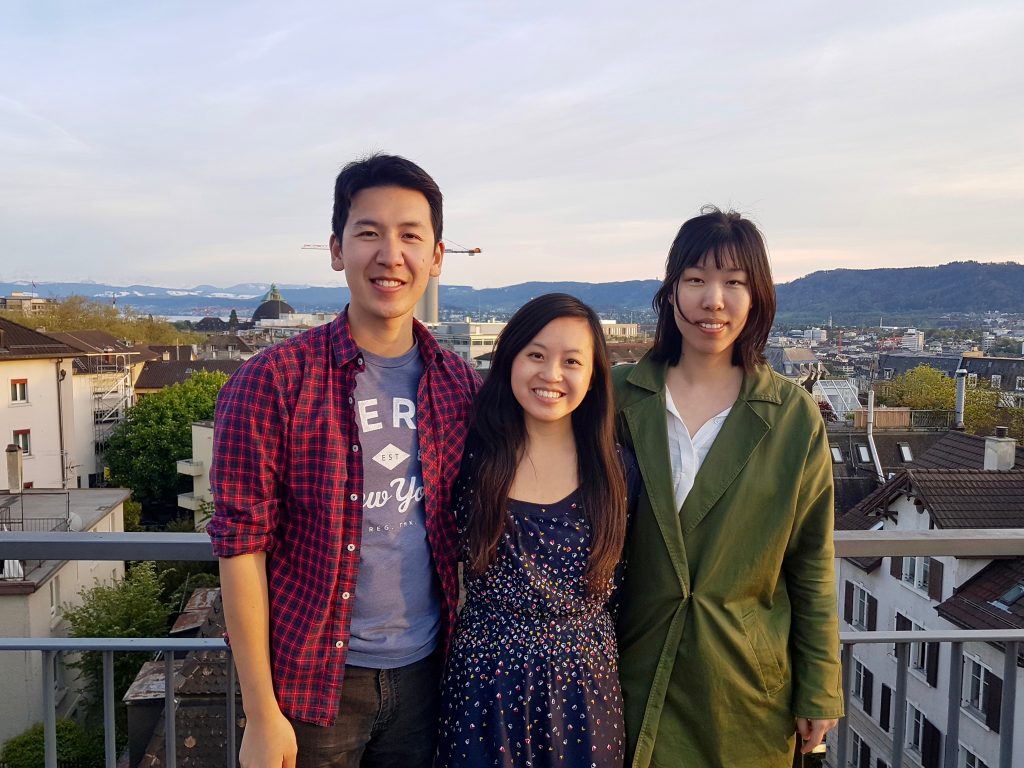 May: Lakeside Vibes
In May, SUMMER ARRIVED in Zurich. Think sunshine, dry heat, and temperatures hitting 30ºC. It felt a lot like Canada in the summertime (thank goodness; I am not down for humidity). In that kind of weather, all you want to do is dive into a refreshing lake. Thankfully, Zurich delivered on all fronts. One of our top spots was the Chinagarten (yes, there's a Chinese garden in Zurich). When I went with Aisha, Carlos, and Marcus, we swam pretty far and ended up dragging/sitting on/trespassing on some private boats to catch our breath. Another time, I just chilled on the grass with Will, Niclas, and Han.

Fun fact: You can drink from all public fountains in Zurich… even the decorative ones!
Our exchange network also had an International Dinner in May. This was such a great event to attend. I was in a weird spot since I wasn't sure whether to make something Canadian or Chinese. I ended up going for Canadian butter tarts, solely because I can bake pretty well 😉 and had most of the ingredients on hand.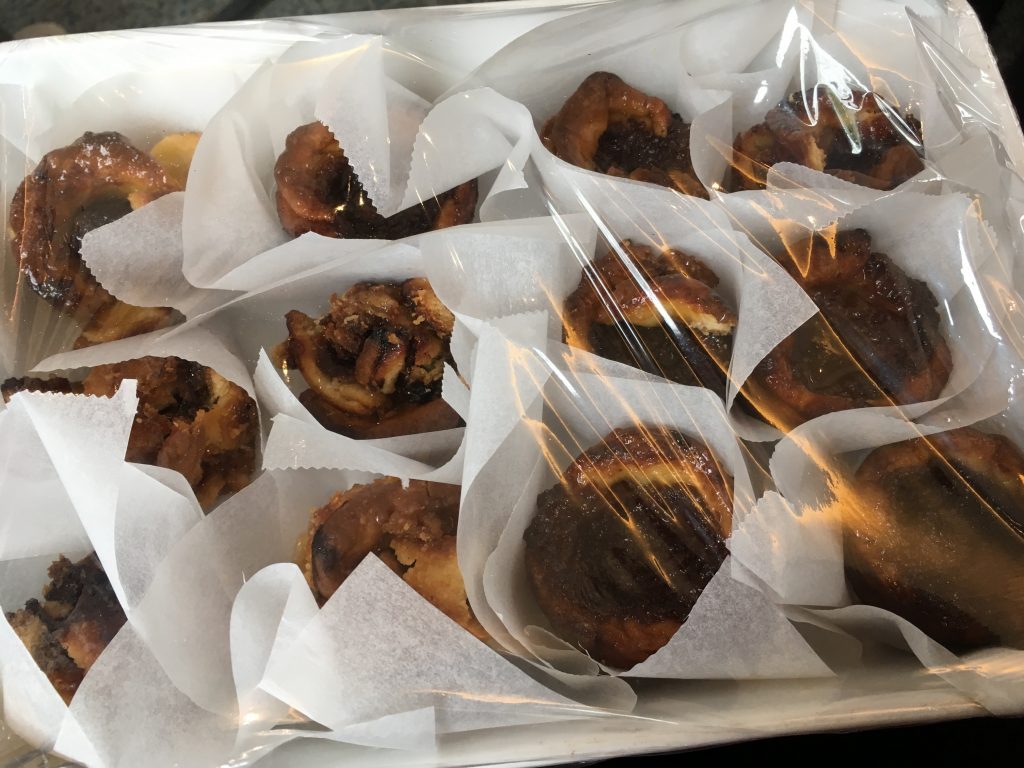 I also finally got over my phobia of hiking (cue: wartime flashbacks to Cape Split in the rain during Shad 2012) and hiked up the Uetliberg one afternoon with William and Lilly! The Uetliberg is Zurich's local mountain. I think this hike should be classified as the bunny slope of hikes (What's the opposite of "black diamond"?). The path was paved with gravel the entire way, and was relatively flat. We arrived right before the rain came, which made for some really cool pictures. From the Uetliberg peak, you can see a populated city on one side and pristine farmland on the other.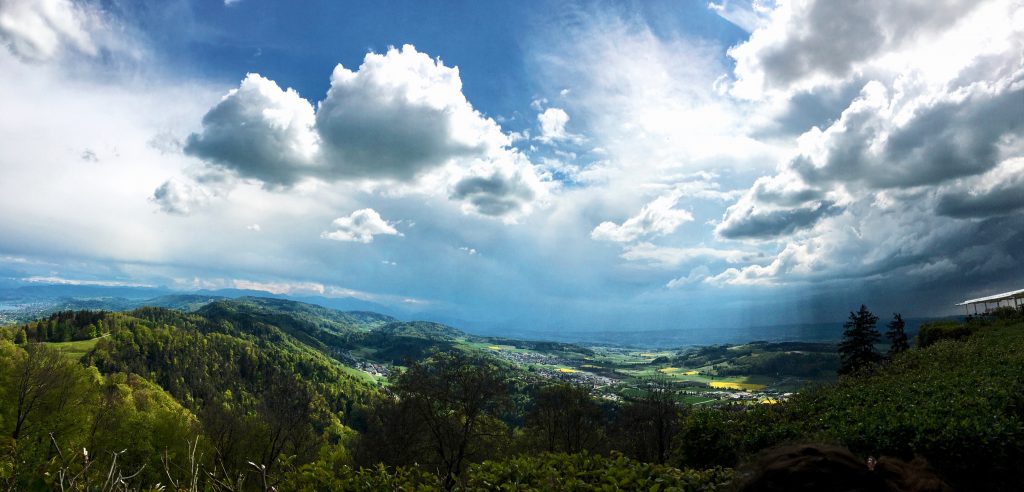 An even cooler lakeside spot was Oberer Letten. You walk through this big overhang/park (like, an overhang over a highway that was converted into a beautiful park), and the Limmat river has a big section cordoned off like a pool and boardwalk. Think graffiti, beach volleyball courts, and shimmering, warm blue water. There was even a rave going on when we arrived!

The dynamo bridge was a prime spot for diving.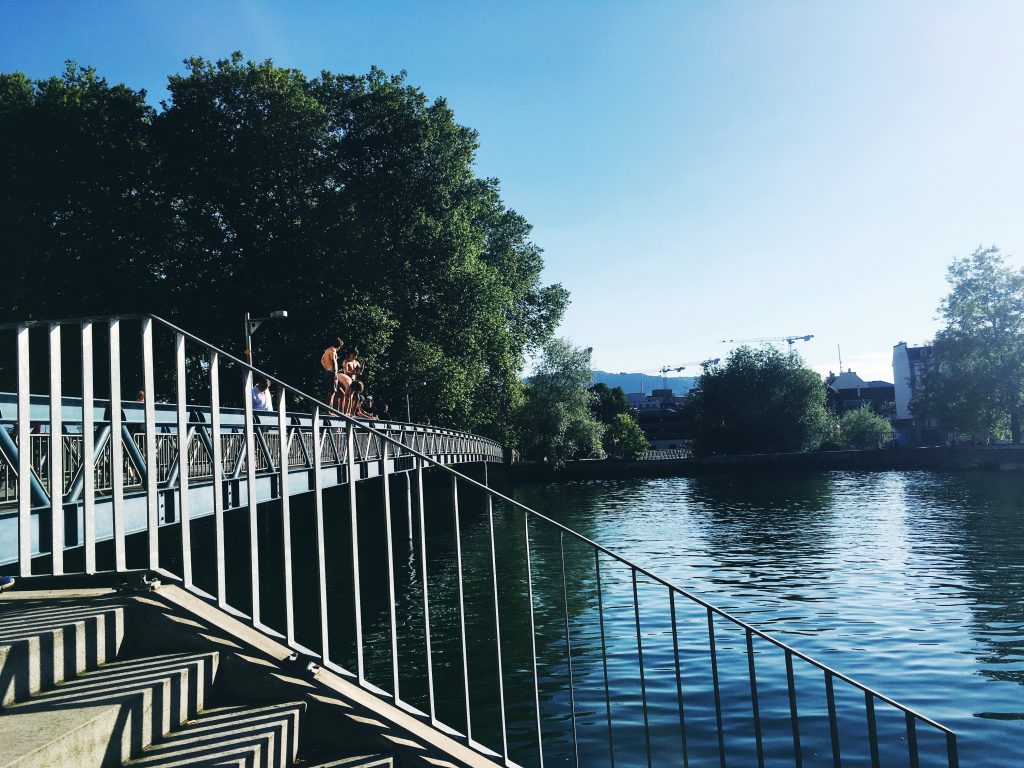 That same evening, we also went to a barbecue birthday bash at a different WOKO house. This one was pretty far away and a lot more run-down, but their rent was half the price of ours (#tradeoffs). We met a lot of cool people there! And I'll never say no to BBQ.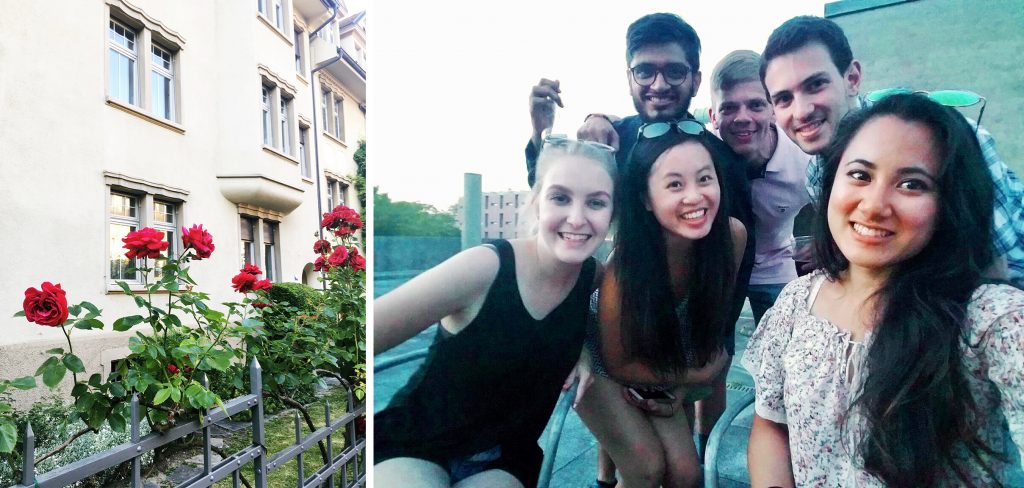 The last few weeks flew by in a whirlwind of final exams, papers, presentations, and day trips squeezed in between. During my last week, I ran through a ton of errands. For example, UBS gave me a $40CHF (approx. $55 CAD) voucher to spend in designated stores, so I did some shopping. I also had to dispose of a lot of ingredients which led to…

THIS MONSTROSITY. Why does our residence have a baking pan of a man's torso? Who knows, but the girls at Culmannstrasse knew we had to take advantage of the opportunity. This was one of the most fun nights we had all term! The only bittersweet part was that it happened on my second-to-last day of exchange.
Overall, studying abroad was an incredible experience, and I wouldn't change it for the world.