Austria by Rail [February 22-27, 2017]
To cap off a frenetic first month of exchange, Sara and I went to Innsbruck, Salzburg, and Vienna (where we met up with many friends!). I totally forgot that I'd been to Innsbruck and Salzburg before, but quickly remembered as soon as we got off the trains. Speaking of: the Austrian train system (ÖBB) is everything. Even with the half-fare discount, Swiss prices were more than double the Austrian ticket prices for the same trains. Getting to Innsbruck for €19, Salzburg for €14, and Vienna for €24 is as good as it gets!
Innsbruck
We arrived in Innsbruck in the evening, and went for some authentic Austrian food. Unfortunately, Austrian cuisine isn't my favourite — in this case, the flavours were just too strong! I might even contend that this was the saltiest meal I've ever eaten (ribs + garlic bread), with the sweetest apple juice around.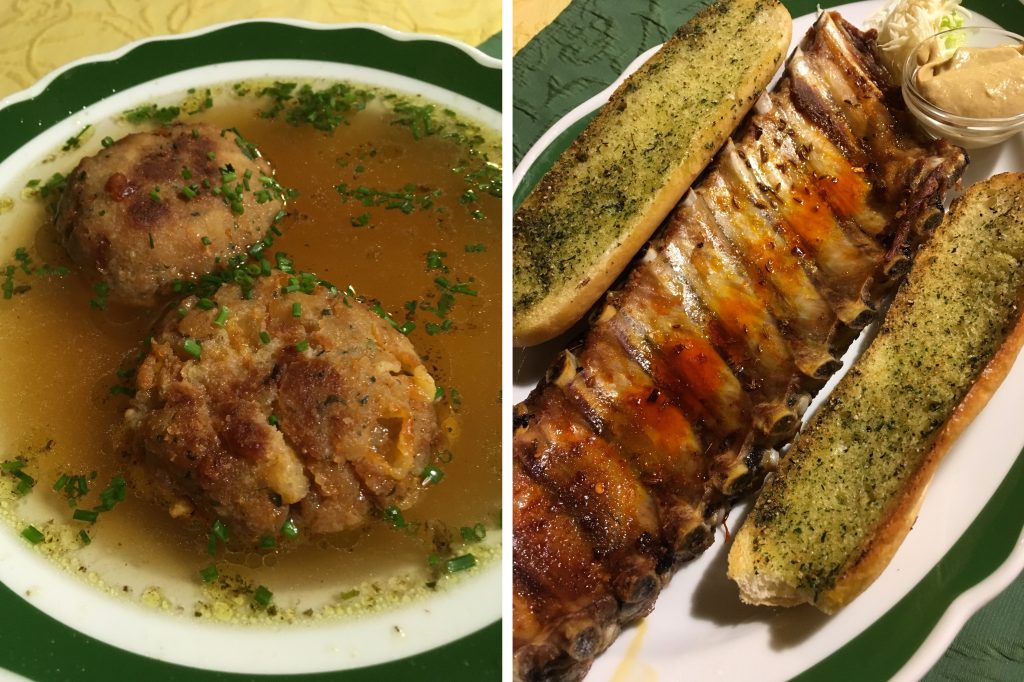 Those are Austrian "dumplings" on the left, aka balls of meat with cheese inside.
Luckily, we checked into a wonderful 4-star hotel. They even gave us chocolate, a free drink, a fragrance, robes, and slippers.
As a whole, Innsbruck is a very quiet and peaceful city. It has that perfect Swiss combination of mountains and water nearby. I think it would be super-beautiful in the summer (we passed by a bunch of dead gardens and courtyards). I do regret not visiting the mountains, and would definitely recommend stopping by if you have more time. I've heard there's a cool igloo bar somewhere in the mountain! As we walked through the city, we also saw lots of cute school groups heading off for some ski trips.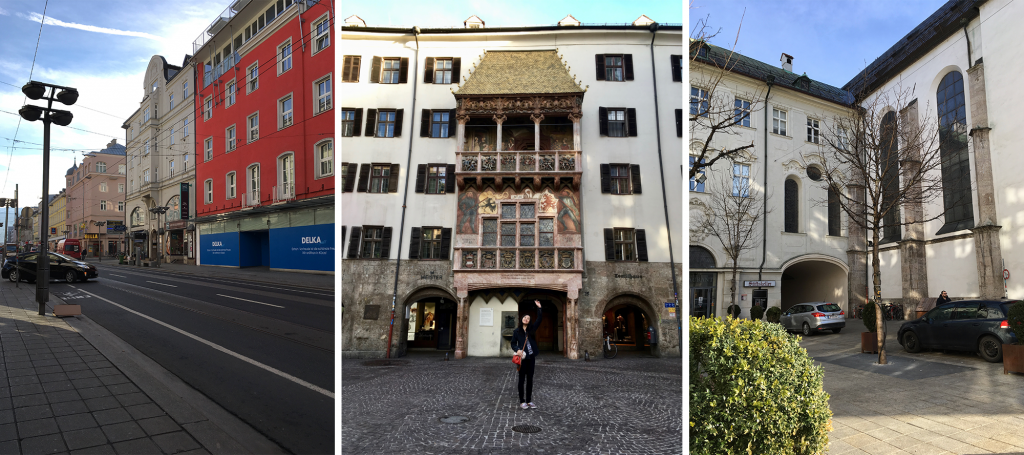 At the crack of dawn, Sara and I visited the Golden Roof and took some pictures before anyone else arrived. To be honest, it was a little underwhelming! We then visited the Swarovski factory, which felt like major deja vu — I definitely remember going there before.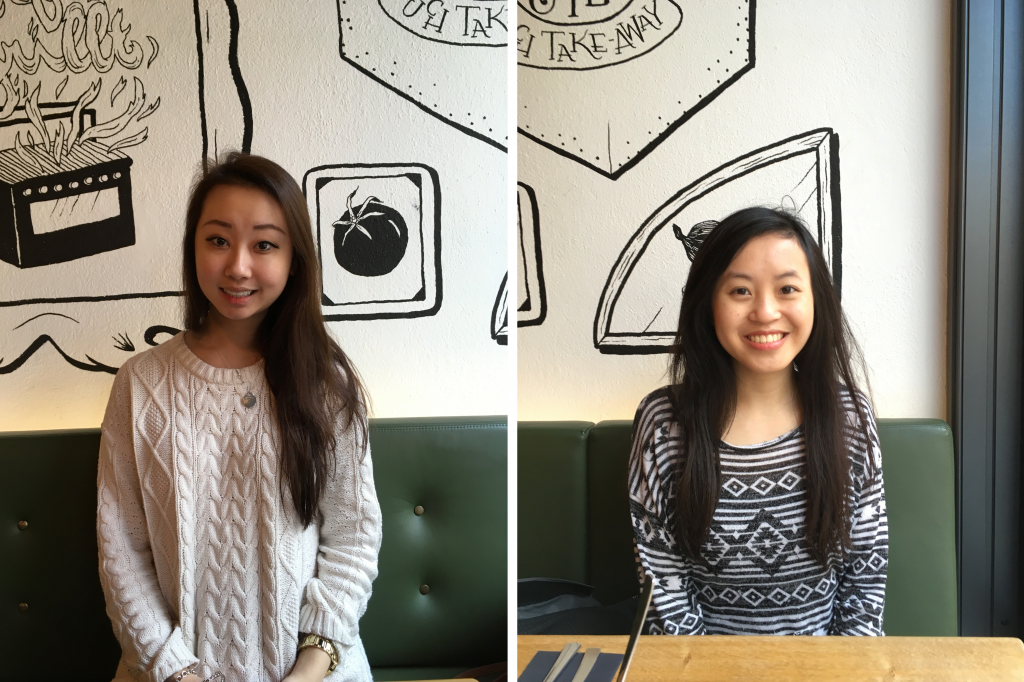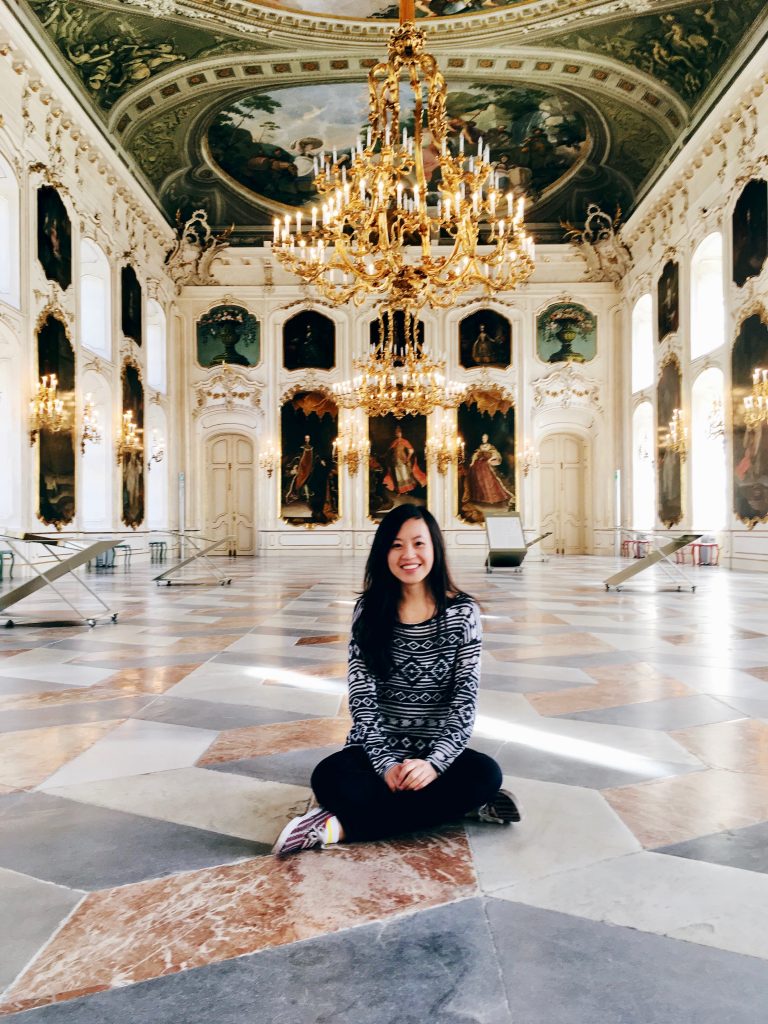 Afterwards, we grabbed some breakfast at an artsy place called Ludwig. The backdrop and the lighting were better than the cuisine, which was pretty standard brunch food (or I'm just not much of a brunch person).
At that point, we loped back to the Imperial Palace. Let me tell you, the museum staff were like nothing I'd ever experienced before. They lurked us constantly, creeping around corners and peering through small cracks in the doorways. I don't know why they didn't just walk into the same room as us to make sure we weren't disobeying the rules (e.g. no photography). As you can see, we blatantly rebelled against those rules anyway.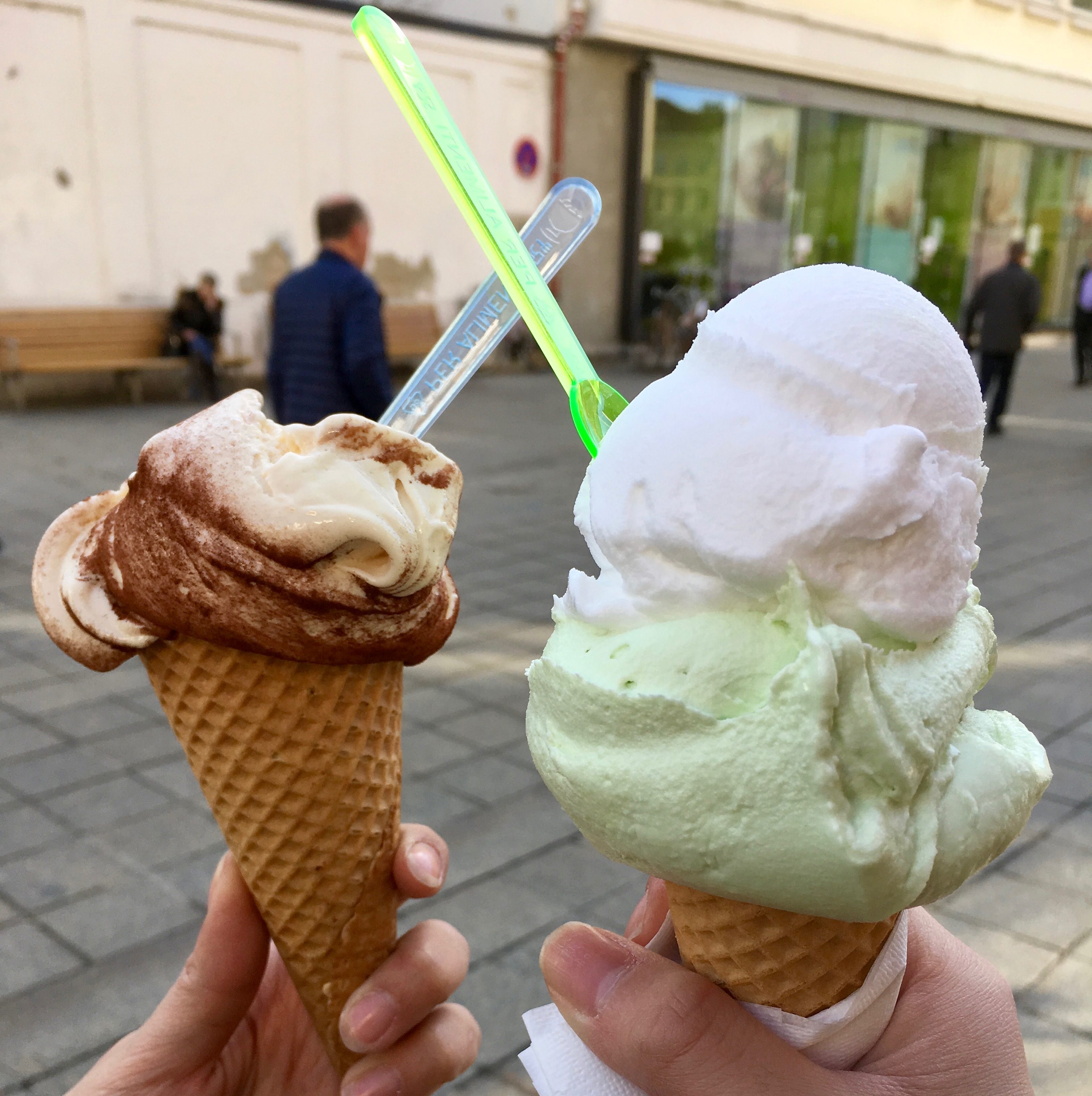 Finally, we walked around a bit more, ate a suprisingly good lunch near the Golden Roof, and finally resumed the Gelato Tour of Europe, this time with wonderful green apple, lemon, and tiramisu scoops!
Salzburg
Honestly, Salzburg was my least favourite leg of this trip. I think the weather makes a huge difference — it was quite rainy for the whole time we were there. Furthermore, everyone I know had hyped up the beauty of Salzburg so much that I felt disappointed once we got there.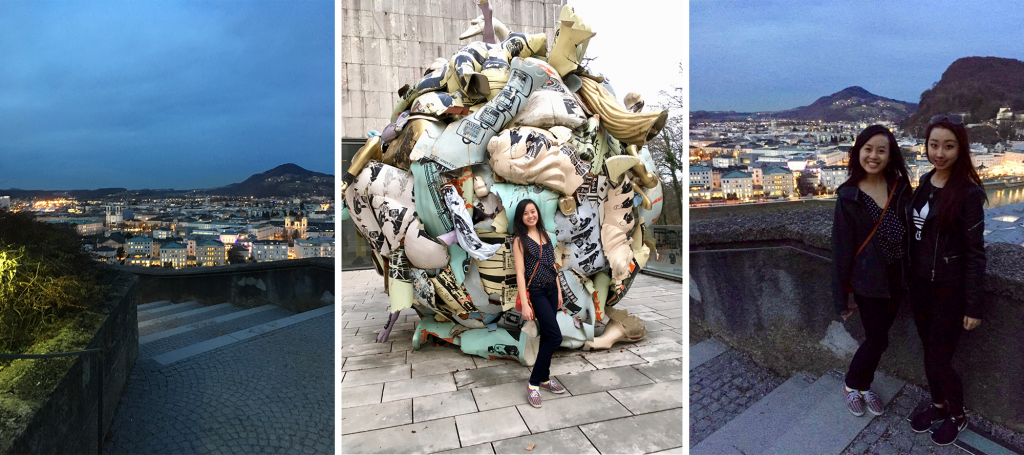 Let me tell you about the "museum debacle" we experienced upon arriving. Our train arrived at 4:30 pm, and we wanted to visit the Museum der Moderne (a modern art museum) before it closed at 6:00 pm. The museum was a 30-minute walk away, so we really booked it to the museum. What we didn't realize was that this museum was at the TOP OF A HILL. Imagine the longest, most grueling speed-walk on sketchy-looking stairs. And then we arrived with 45 minutes to view the exhibits, only to realize that the museum was extremely sparse and basically straight out of a horror film. Some exhibits included: rooms with nothing but creepy music, clicking slide projectors straight out of an optometrist's office, phallic "futuristic home" sketches, and a giant inflatable ball (much like the kind you'd use to play bubble soccer). What a disappointment!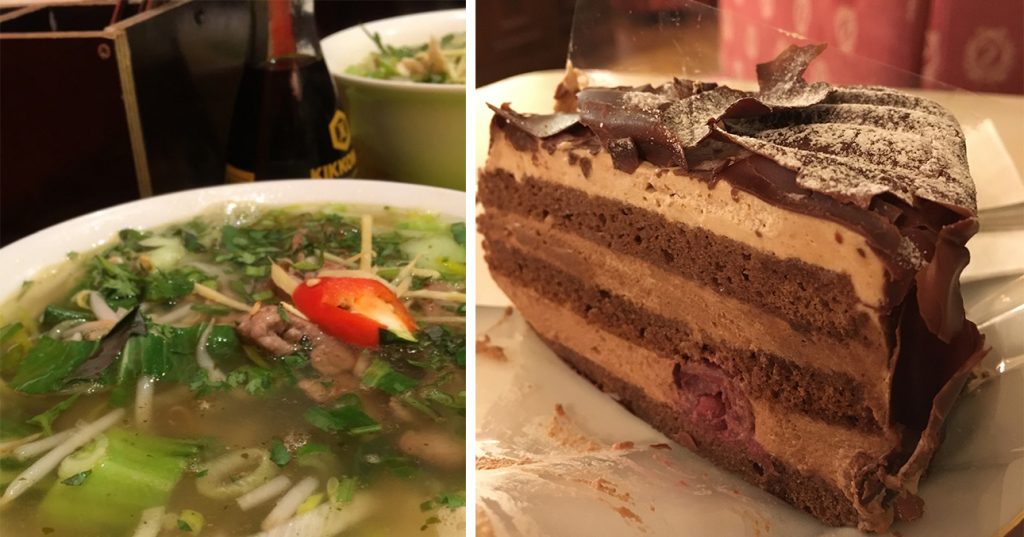 Even the meals weren't the best. We went for some pho due to desperation for Asian food, but the noodles were too thick and the soup base wasn't very good. We ate at a well-known cafe called Cafe Sacher, but I personally wasn't a fan of the mix of cherry/other fruit and truffles. We didn't eat a Sacher Torte though (since I don't like apricot), and I've heard that's the dish you want.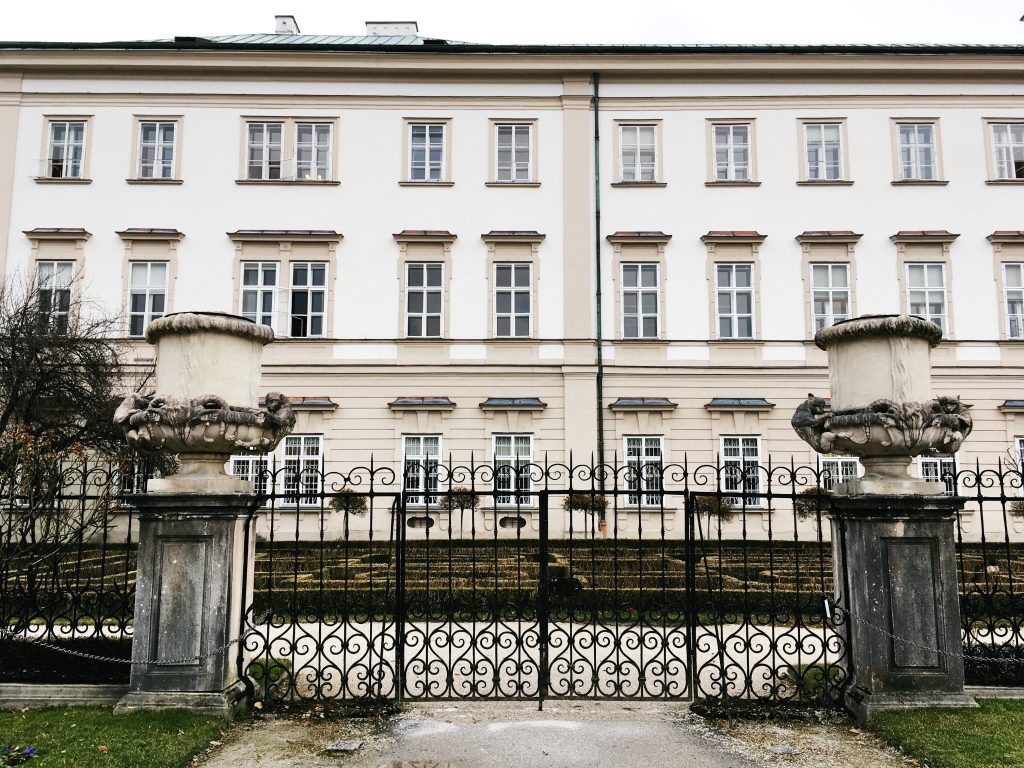 The next day, we went to check out the Mirabell Palace from the Sound of Music, which has now been converted into an office building?? All the gardens were dead, and we weren't allowed inside anywhere.
The next day, we decided to walk up another mountain to check out a fortress. It was fine, but once you've seen one fortress, you've honestly seen them all. Also, we hiked all the way up thinking we would avoid high tram fees, but it turned out the entrance tickets included a round-trip using the tram. Oh well.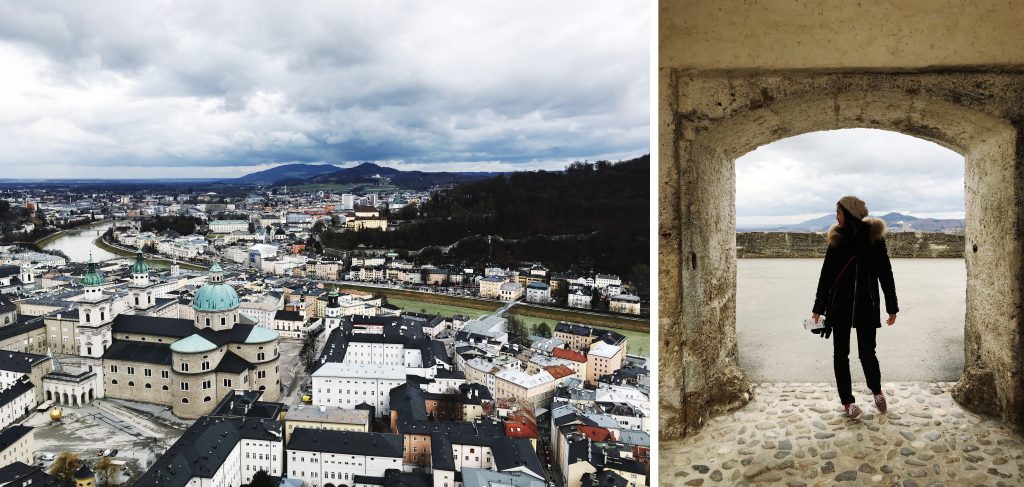 Looking on at the ominous skies of Salzburg.
Needless to say, by the end of the second day, Sara and I were RUNNING out of there!! I don't recall such a bad experience in Salzburg before, so I'm just going to blame it on the rain and poor tourist-attraction choices.
Vienna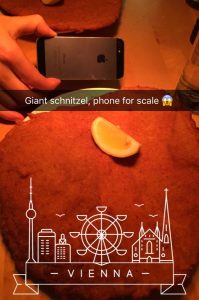 Vienna was all about meeting up with FRIENDS! After linking up with Maddie and Danny at the hotel, I went to a schnitzel place called Figlimüller to get dinner with Jordan. He was heading off to Berlin later that evening, so that was the only time we were able to meet. I quickly realized that Vienna definitely isn't walkable — it's a big city! We took Ubers to get around at first, but you should definitely get a metro pass if you're in the city. It's quite convenient.
The next day, I walked around Ringstrasse with Sara, Maddie, and Danny. It was pretty nice, but all the architecture around Europe was starting to blend together. Is it possible to get church'd out? I will say that the #views from the top of St. Stephan's Cathedral were spectacular though!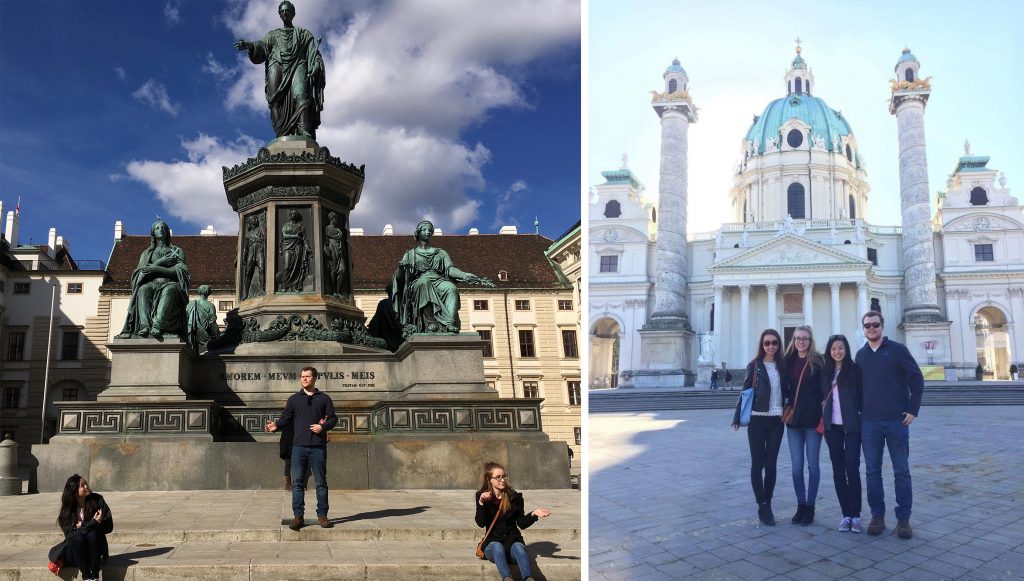 Statue shenanigans and European buildings.
In the afternoon, we met up with Terry! He showed us around the city. It was nice to walk around, but Vienna probably isn't the place for me since I'm not too keen on museums or operas. Such a shame too, since the Opera House and the whole "Museumsquartier" are major tourist attractions for most!  We then went to Belvedere Castle, which I was a huge fan of. While in line for Belvedere, we heard an astonished voice in the background: "Is that… is that CHARMAINE AND TERRY?" Lo and behold, we happened to go to Belvedere at the same time as Poter, Allison C, and Olivia, who are all from Queen's as well! It was nice to tour around the palace with them and hear all about their time in Slovenia!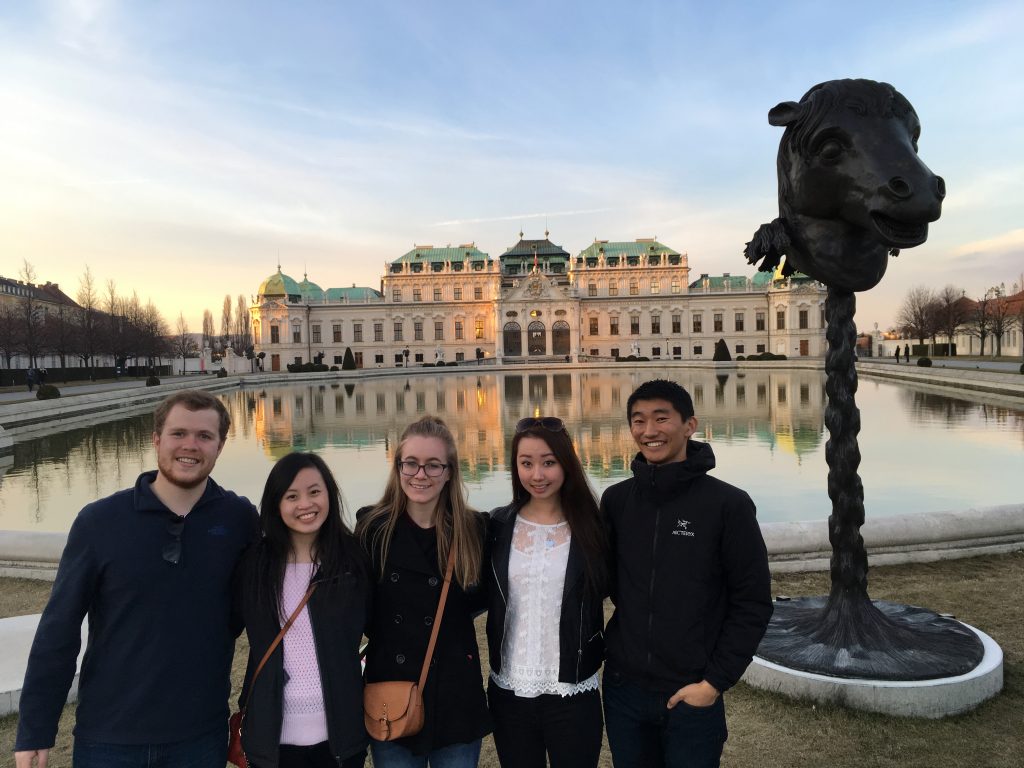 In the evening, we then went skating, which was one of the main reasons why we went to Vienna in the first place (side note: Sara was a competitive figure skater, so she literally skated circles around the rest of us). I LOVED this, and a key takeaway from the experience was that we should seek out more activities and do less sightseeing… especially in the winter, because gardens tend to be pretty dead!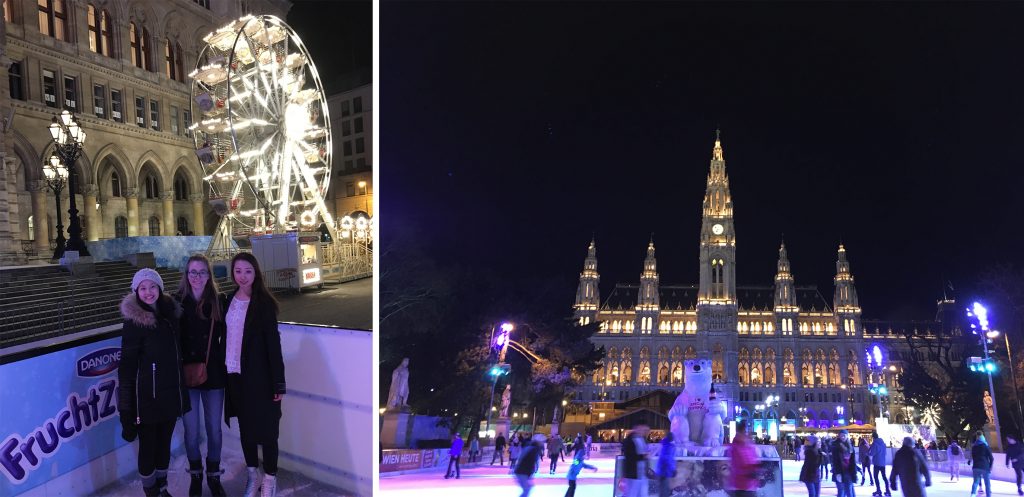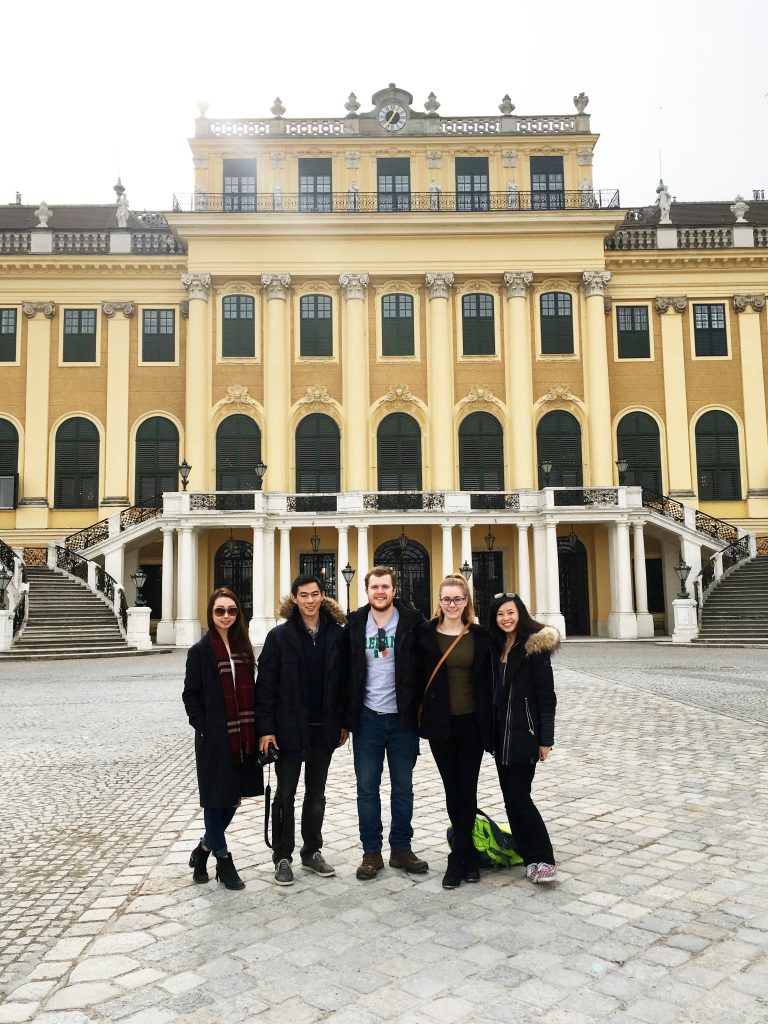 For the last day of the trip, William from my residence joined us as well! We visited Schonbrunn Palace and the somehow wound up eating FIVE MEALS in a row. We ate at a brunch place called Ullrich, then got some gimmicky fries at the Roller Coaster Restaurant in the Prater Amusement Park (novel but not delicious), got some baked mushroom schnitzel (way better than the fried stuff) nearby, then went to Cafe Central for a snack (Get the "himbeere harmony"!! I'm all over raspberry desserts) and Nguyen's Pho House for some actual, good pho.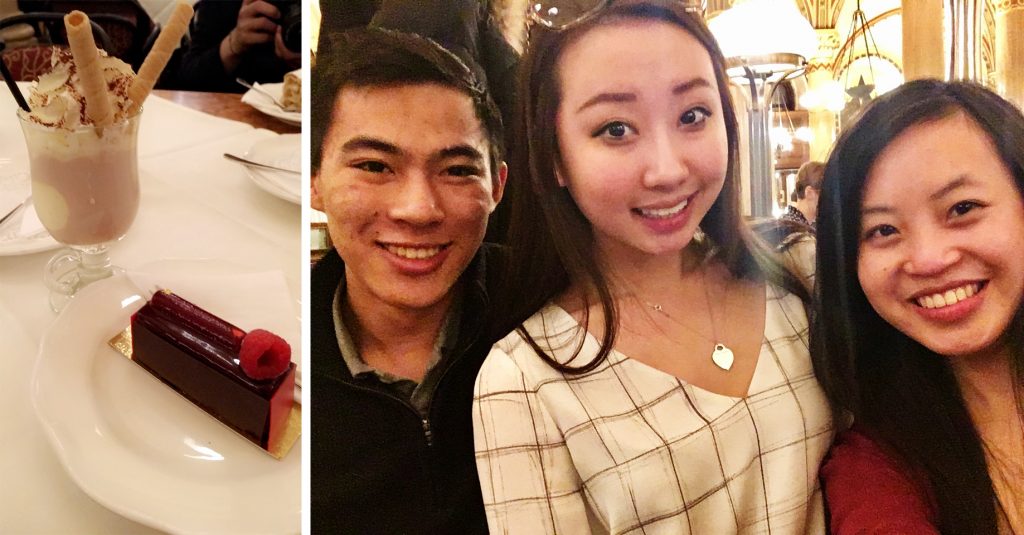 To end the trip, Sara and I got on a sleeper train back to Zurich. We were supposed to be in a six-person "couchette" coach, but they double booked our beds. As a result, we got put into a cabin for ourselves! It was a surprisingly good experience (they even gave us breakfast!). I had to rush to a block class 40 minutes after my train arrived, and I made it there with time to spare. It was a great way to end a fun trip in many different parts of Austria.