This heel was made for walking [Italy, March 31-April 3]
At the end of March, I went to the Puglia region of Italy (aka the "heel" of Italy) with Lilly and Morghan, who are two friends from my residence in Zürich. It was a rather spontaneous trip — for once, we didn't travel with specific locations and attractions in mind. We chose to fly into Brindisi because the flights were cheap, and we booked an Airbnb in Specchiolla since it was close to the beach. We were specifically looking for a place that looked different from everywhere else in Western Europe, and we definitely got what we were looking for!
Specchiolla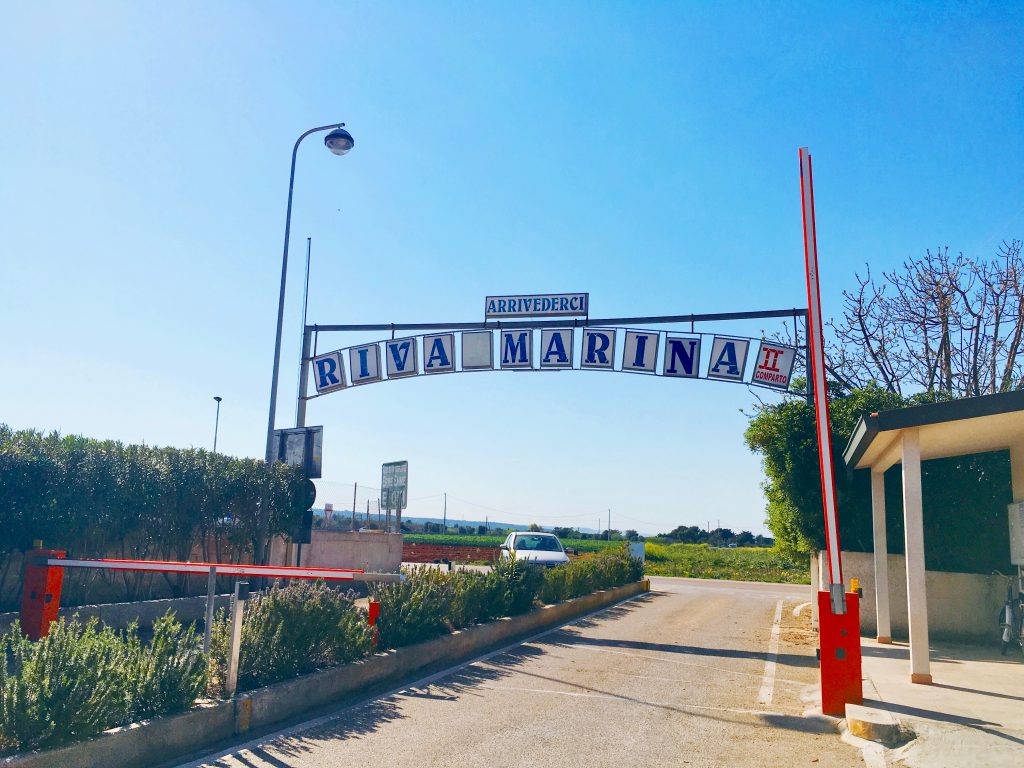 Upon arrival, our Airbnb host (Pietro) picked us up from the airport. Although he drove around in circles for a bit, he was a great host and really went above and beyond to take care of us throughout the weekend. Eventually, he dropped us off in a residential complex in the middle of NOWHERE. It felt like a resort villa in Mexico! Instead of driving around in golf carts though, we had some bikes at our disposal.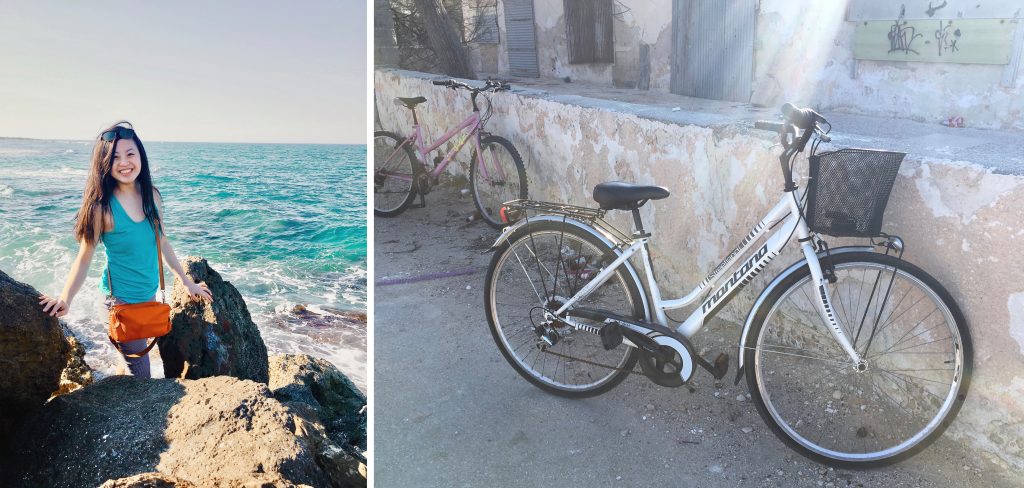 Biking along the coast was perfect. There was sand, coastline, and a great sea breeze. There were also some little shops dotting the coastline. Specchiolla felt like a vacation town for nearby Italians, untouched by the great tourist machine. Everyone worked according to their own timeline, and no one spoke English! There was a convenience store nearby, but it didn't have any fresh food, so we biked on the highway to get to a farmer's market. This was probably the first time I had to bike to get from point A to point B rather than just for pure leisure's sake.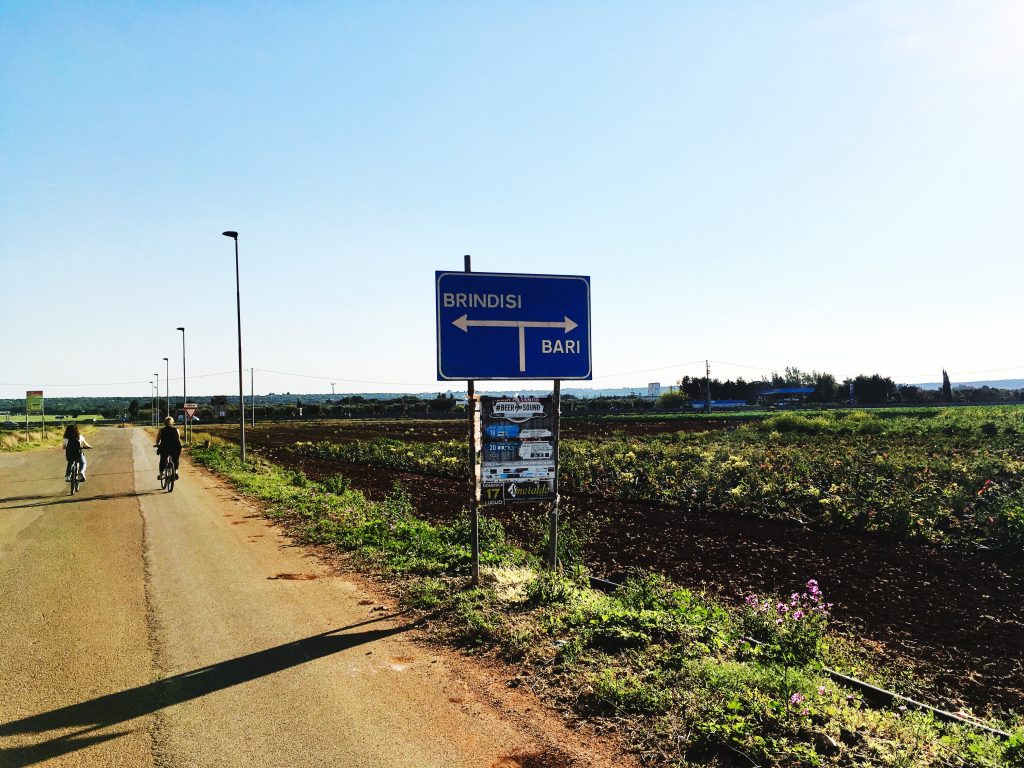 There weren't many restaurants in the area, so we ended up going to the same seafood restaurant three nights in a row. It was right on the water!! They had Puglia specials like orecchiette pasta, candied orange slices, and tons of seafood.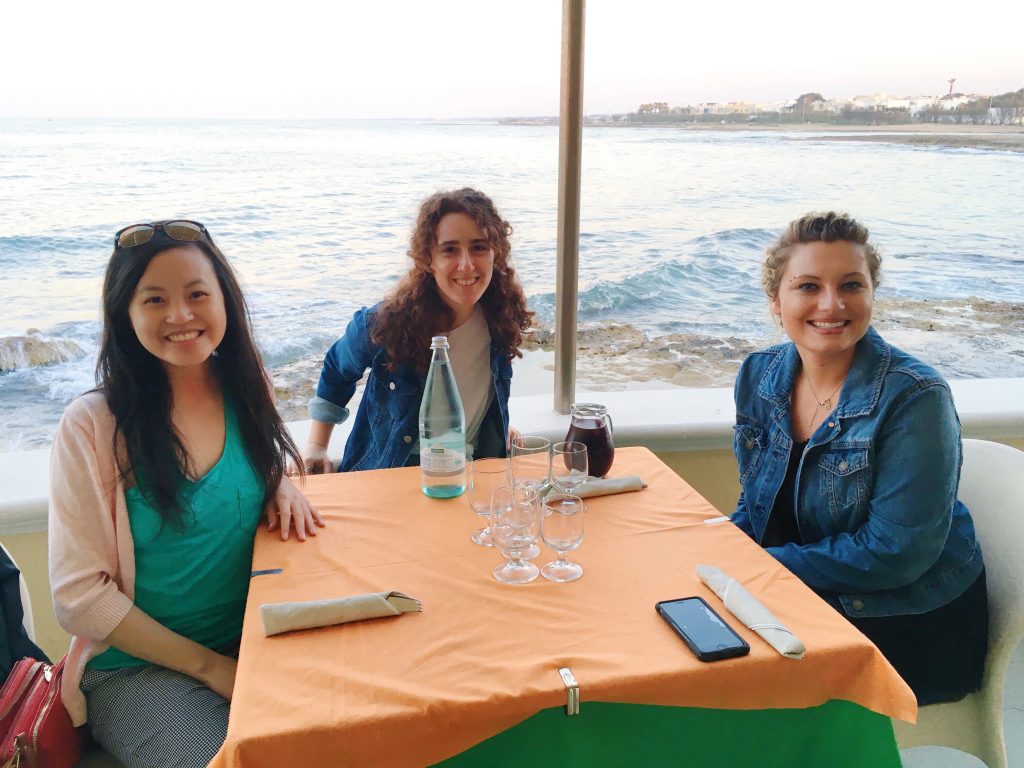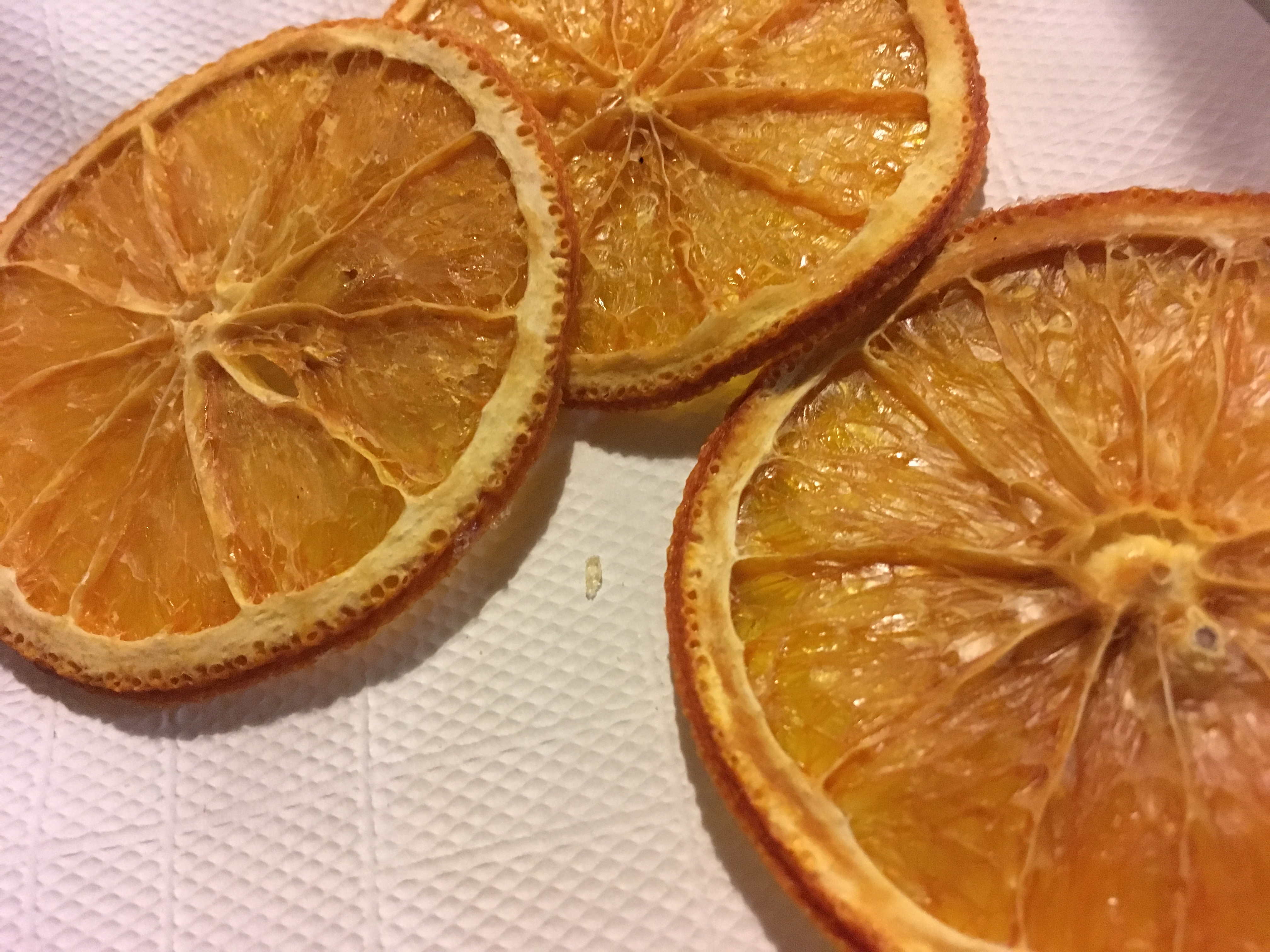 They gave candied oranges as a free dessert!!
Ostuni and Lecce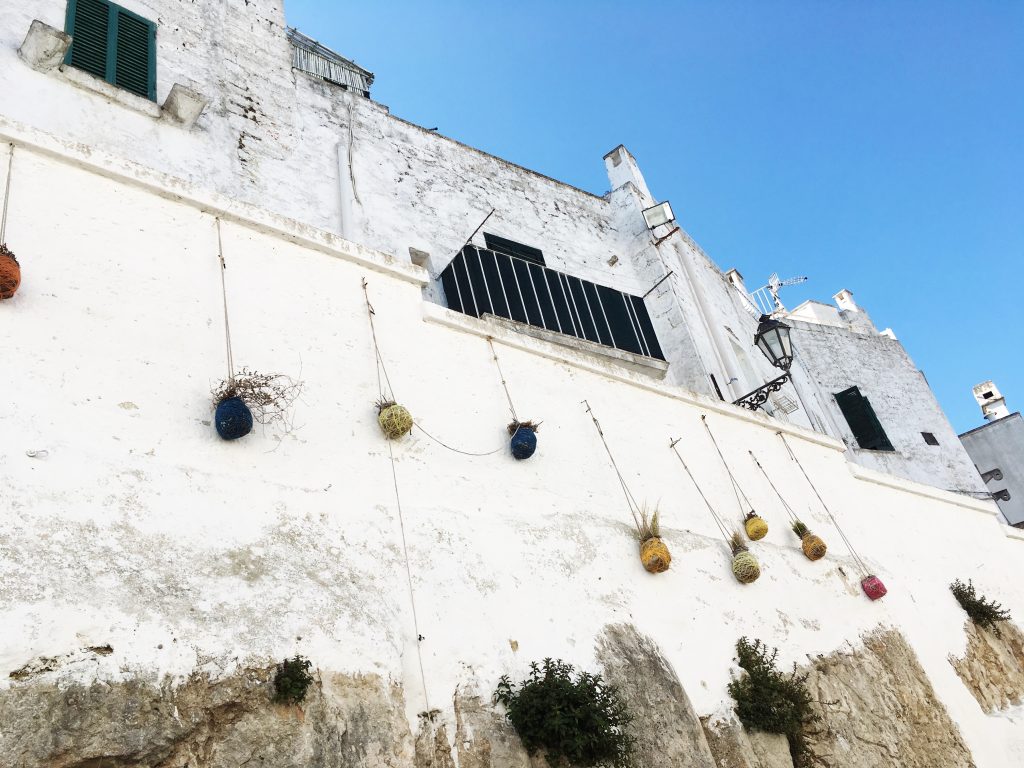 The next day, we explored "the white city" of Ostuni and the historical gilded city of Lecce. I LOVED Ostuni! Imagine a whole city of white walls, colourful doors, and vivid flowers. We took so many pictures of doors that we joked we should make an Instagram account called "DOORa the Explorer."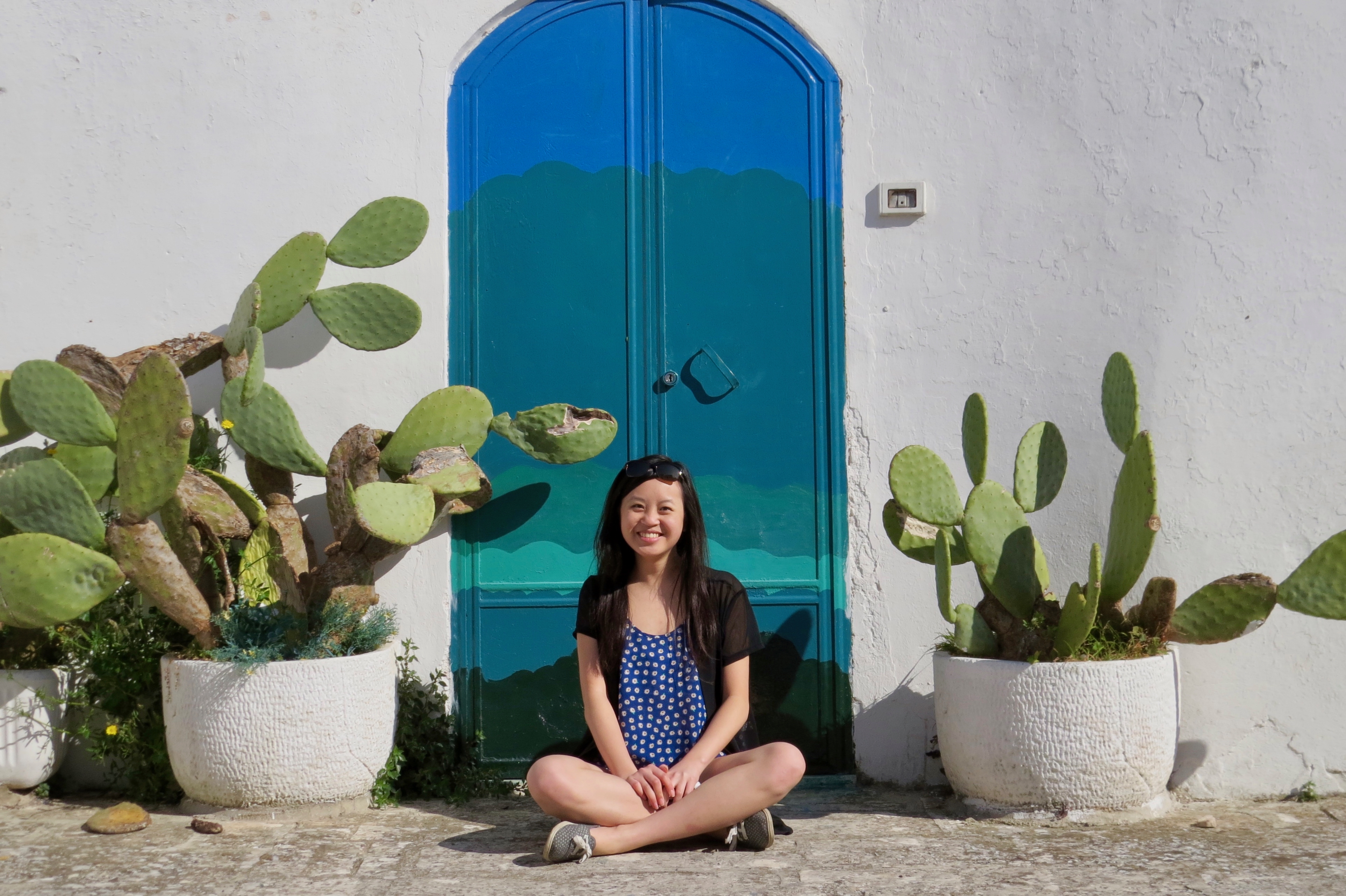 For some reason, there were a lot of French tourists in Ostuni, both young and old. Not sure why, but they seemed to all come in giant (but different) tour groups. There were also a lot of stray cats in Ostuni.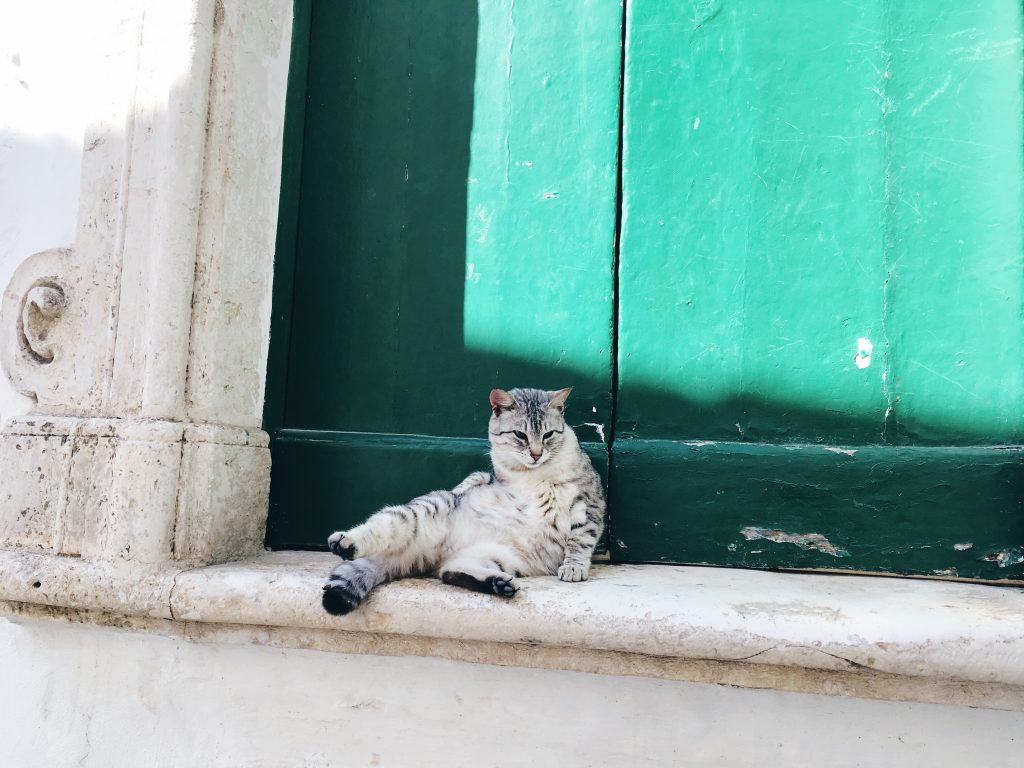 Straight chillin'.
After spending the morning in Ostuni, we took a train to Lecce for the afternoon… because we are nothing if not efficient travellers!! Despite being just a couple hours away by TrenItalia, Lecce looked completely different from Ostuni. It's historical and golden but a bit less pristine — picture lots of graffiti against a backdrop of Baroque architecture.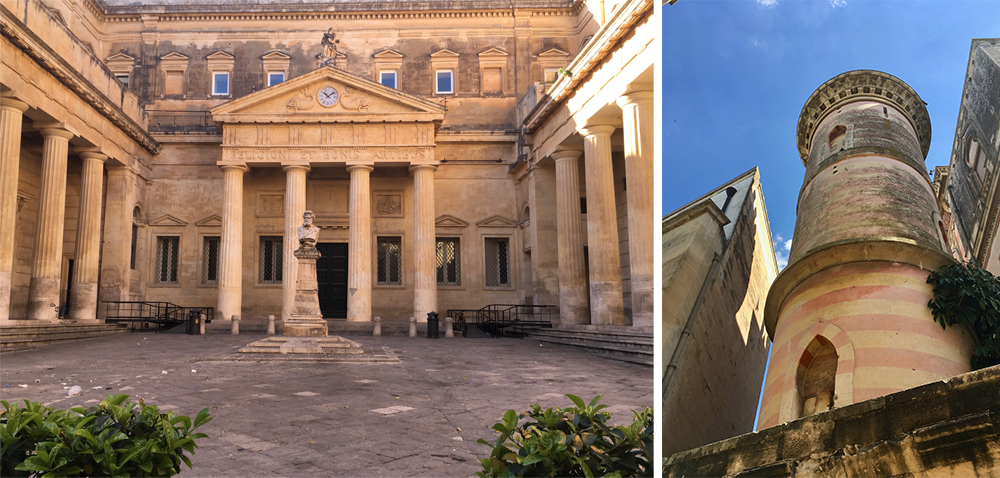 Lecce also had a bunch of coliseums within the city! It was cool because this particular coliseum (below) was surrounded by high-end shops, almost as if it were the "central gathering place" of some galleria/shopping mall. I dunno, it almost reminded me of an outdoor version of this spot at the Erin Mills Town Centre in Mississauga. Image included below for comparison — lmk if you see the resemblance.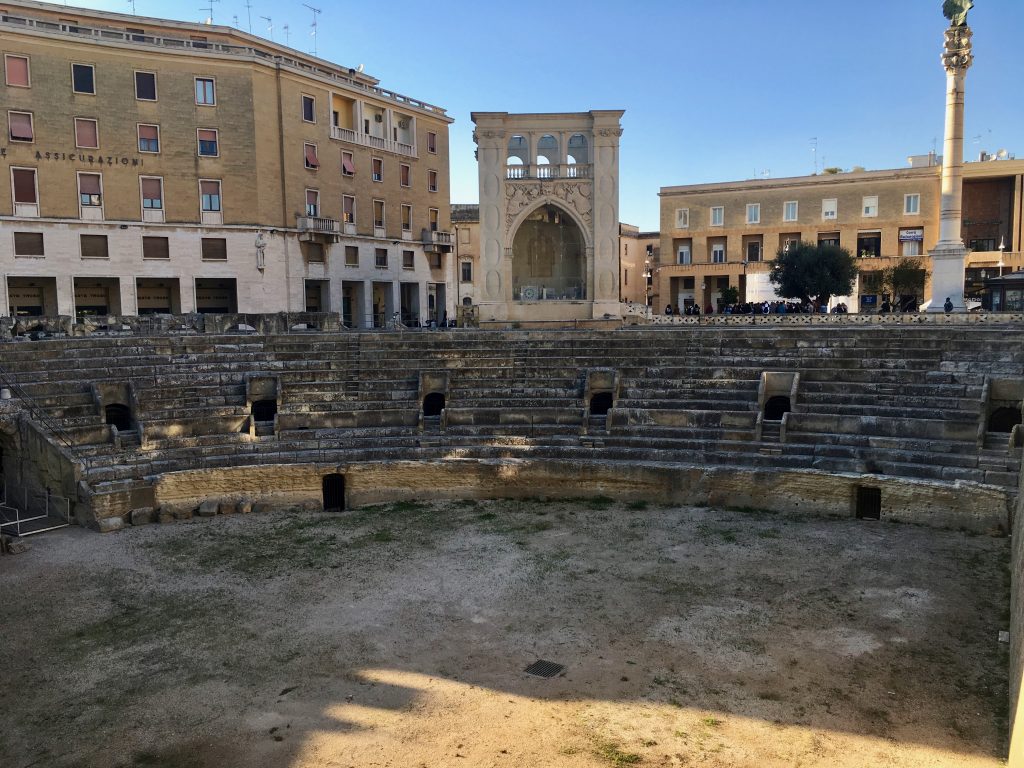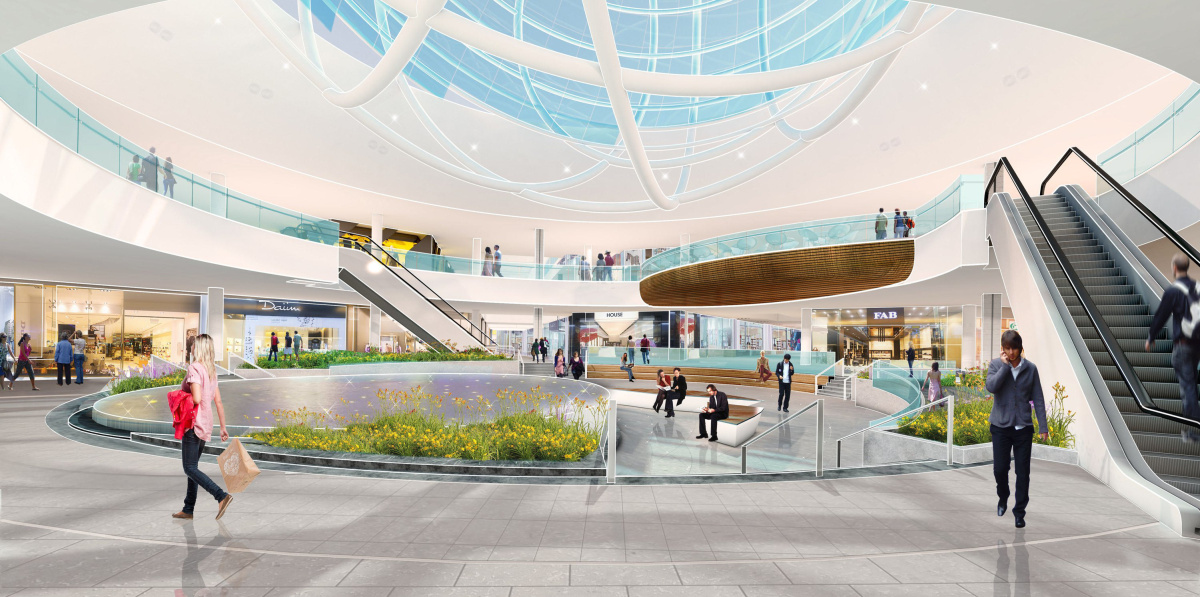 What if this becomes a tourist attraction one day?
Afterwards, we got a ride from the train station back to Specchiolla from Pietro's buddy, Marco. Marco and his girlfriend seemed to be lively and funny people, but the language barrier was a bit of a struggle. Marco's girlfriend even used Google translate to figure out how to say "Italian guys are idiots" in English, just to let us know she was teasing him!
Poglinano a Mare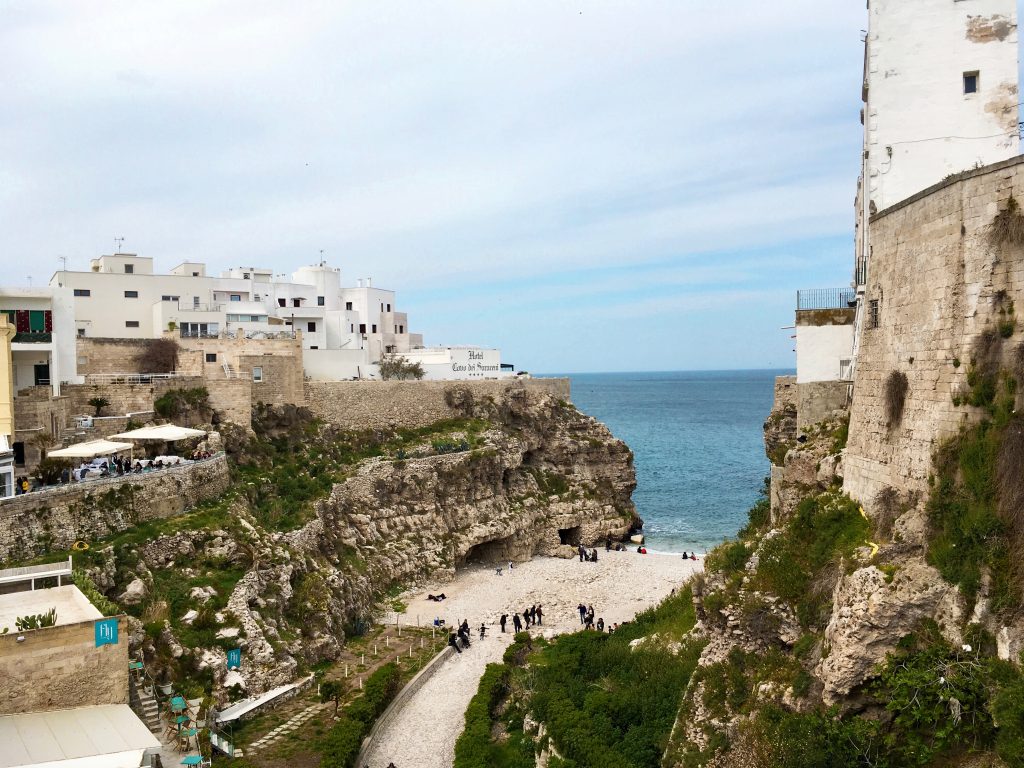 Our Airbnb host told us that another nearby city called Poglinano a Mare was worth a visit, so we went to check it out the next day (Specchiolla, evidently, is a spot everyone likes to escape from. Picture your favourite GTA suburb, and it's the hip Italian version of that). It was a super bumpin' place, especially for a Sunday! Not sure if everyone decided they wanted to chill on a pebbly beach or grab some gelato after church, but the place was teeming with people. The city was mostly built at the top of these cliffs, leading to a spectacular view (above).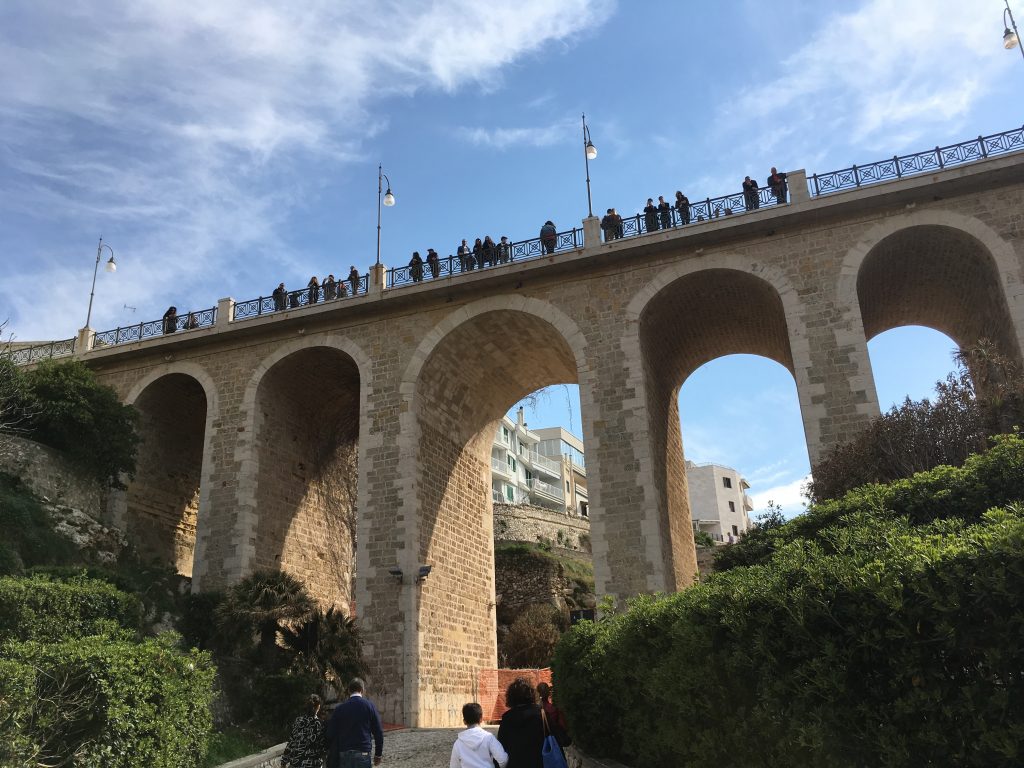 This was the view from below. If I were artsy enough, I'd make some comment on how everything is a matter of ~perspective~.
We took some super slippery stone steps to get to a pebbly beach below. Unfortunately, the water was really freaking cold, but there were still some brave swimmers out there! Down by the beach, there were also these caves and grottos by the water. This one (below) MUST be man-made, right? How else could it be so perfectly rectangular?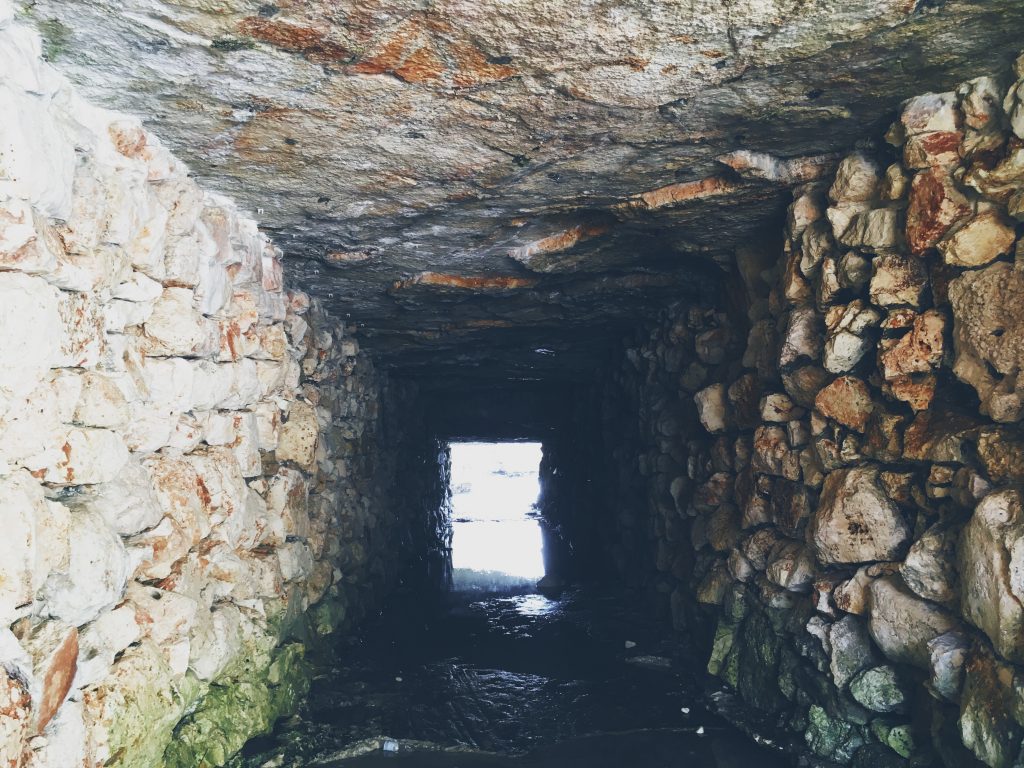 We then wandered around a bunch of small, unique shops and grabbed gelato (I had two in a row! After a fruity flavour, you HAVE to balance it with a nutty flavour, am I right?). There also seemed to be a super cool restaurant IN a grotto, but it was under construction and also probably out of our budget.
Conclusion
All in all, visiting the Puglia region was a fantastic weekend getaway. It's a LOT less touristy than the hard-hitting, big-name cities in Italy, which was such a refreshing change of pace. It was a lot more run down and authentic. Lilly summed it up when she said, "This is what California WANTS to be." There were fig, olive, and fruit trees at every corner, and content pets trotting alongside their owners. I pretty much ate my weight in gelato and seafood, and couldn't be any happier about that! If we had more time, I would've loved to see Alberobello, which is famous for its conical houses.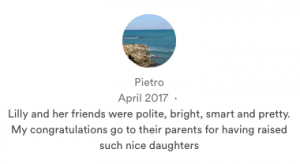 Side note: Pietro also gave us the cutest Airbnb review at the end of the trip. He commended our parents for raising such great girls. 😉