Spring Break (Part 1) – Barcelona & Morocco
Spring break in Zurich ran from April 12 – 24 this year. It was a little jarring since the term was already wrapping up back home around that time, yet I was just reaching the midway point on exchange! Thankfully, spring break gave me an opportunity to go on a longer, more ambitious trip. It started off feeling like a regular weekend adventure, but 12 days of non-stop travel definitely takes a toll on you.
The nitty-gritty logs: We visited Barcelona first, then went to Nador in Morocco. Within Morocco, we took buses to Fes, Chefchaouen, and Tangier. From Tangier, we took a ferry to Algeciras and a train to Seville. From Seville, we took another flight to Valencia. Then a bus to Barcelona. Then a flight to Milan. Phew! I can't remember the last time I took so many different forms of transportation (planes, trains, buses, ferries, cars, subways, bicycles, and my own two feet).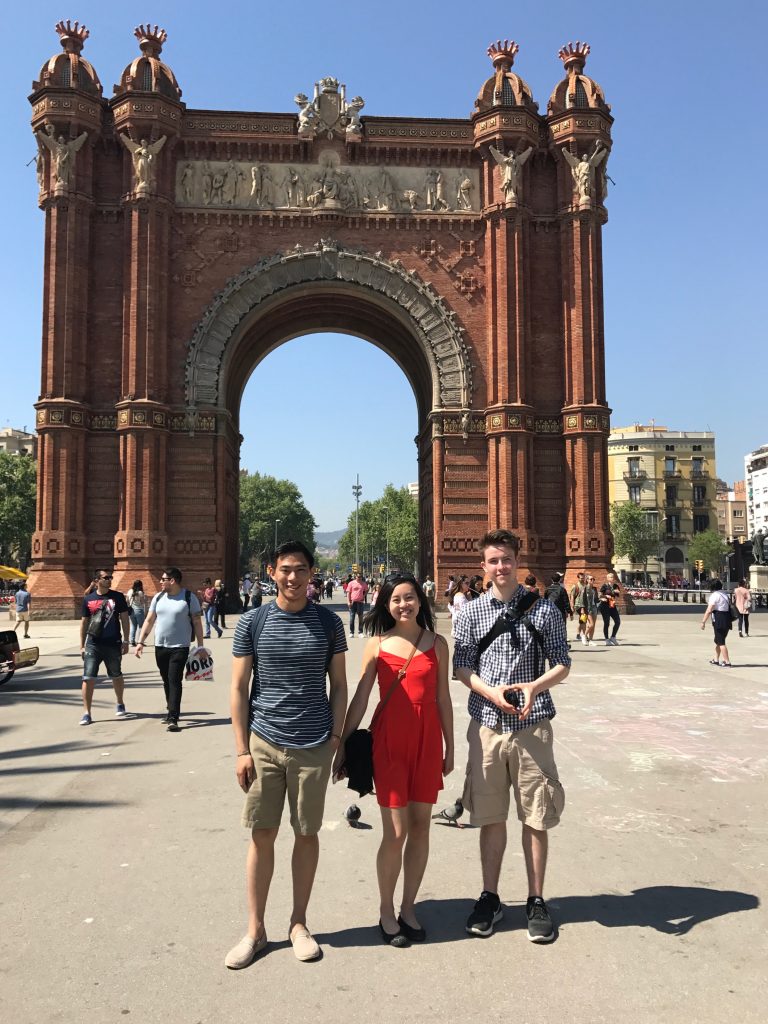 Barcelona (April 12-15)
Day 1-2
To kick off the trip, I boarded a plane to Barcelona (via Dusseldorf) with William, an exchange friend who lives in my building at Zurich. Due to some pesky delays in Dusseldorf, we didn't arrive until 1 am or so. Luckily, that gave us a chance to kickstart our step-count for the day: we ended up walking 44,803 steps in ONE DAY on April 13, smashing all prior records. #fitness! We walked a good 40 minutes to our hostel, where we linked up with our other Barcelona travel buddy, Lennart. Lennart will actually be at UofT this fall — what a small world!

Yes, I visited the Sagrada Familia so often on exchange that I saw construction go from three cranes (January) to two cranes (beginning of April) to one (end of April)!
Unlike most people who go to Barcelona, our hostel was kinda far away and somewhat expensive. This was because we unexpectedly arrived in Barcelona during Holy Week. Every possible tourist attraction was positively bumping. As a result, we were unable to get into the Sagrada Familia even though we tried two days in a row (and even tried booking online!), and weren't able to get tickets to enter the iconic Park Güell photo spot either.

For our first day in Barcelona, we saw some Gaudí buildings and walked all the way along the boardwalk. There were a bunch of these white figures bobbing in the water and in a nearby museum. Does anyone know what they're for?? LMK.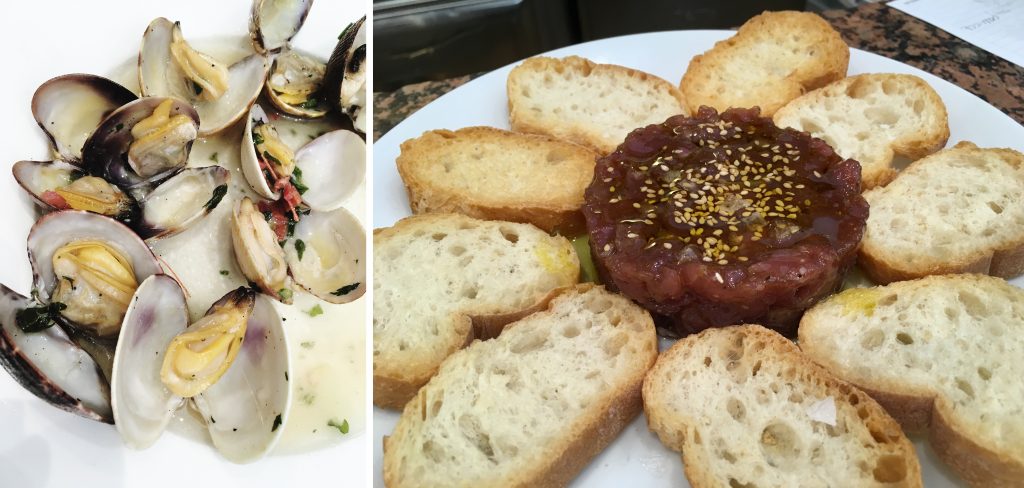 We also ate significant tapas. For lunch, we went to a great spot called Cal Pep. The place had NO menus and the waiters only spoke Spanish! Luckily, William is pretty fluent in Spanish, and that made a HUGE difference throughout the trip. People seem a lot nicer when you speak their language. 🙂

That evening, we went to a restaurant called Cera 23 (thanks Yelp!). We had some pretty good octopus, some AMAZING "volcano" arroz negro, and two gorgeous desserts (the chocolate one pictured above was to die for). In general, I'd say we ate really, really well in Spain. A word of caution though — prices can really add up! I'd say that we were averaging around €25-€30 per person per meal (yikes!).
To end the night, we went to the Dow Jones Bar! That's a bar where the drink prices change based on popularity, as displayed on stock tickers. We definitely heard quite a few American voices surrounding us.
Day 3-4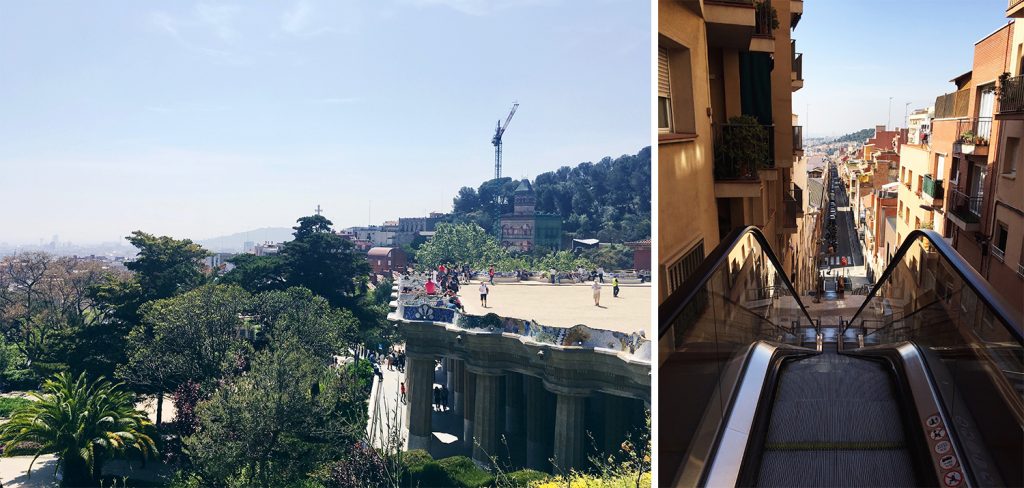 The next day, we made a plan to hit the bigger tourist hotspots. We tried visiting the Sagrada Familia again, but it was swarming with people and we didn't have a chance at entering! We then took some bikes up to Park Güell, which was probably the worst idea EVER. We had to stop at the Hospital de l'Esperanza along the way (just to rest; nothing to be alarmed about!!). Park Güell is kinda high up elevation-wise. For context, they have escalators for tourists to get there. But hey, at least the view was pretty! I was quite sad about not being able to take the classic Park-Güell-insta-worthy shot, but we still enjoyed the park itself.
We then tried biking to the Bunkers del Carmel, but called it off after 5 minutes. If we went through with that plan, THAT would've truly been the worst idea ever. And I probably would've lost a limb on exchange. Instead, we took our bikes down to Barceloneta Beach. Although the weather was perfect, the beach was kind of underwhelming! The sand was really coarse, and there were a lot of naked elderly folk.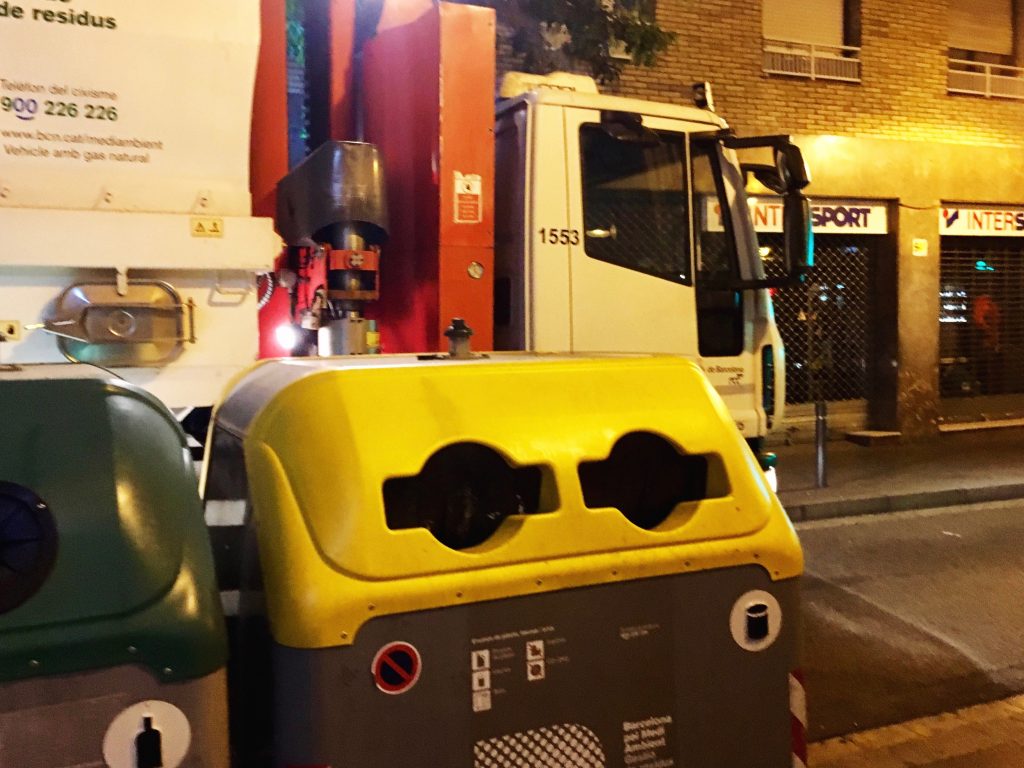 Also, I know this isn't any sort of tourist attraction, but I like how they collect garbage in Barcelona! A giant mechanical arm lifts and dumps this whole bin from its round opening. There were a bunch of these big bins near intersections, which are all diamond-shaped to allow cars to park at each edge.
Nador & Fes (April 15-17)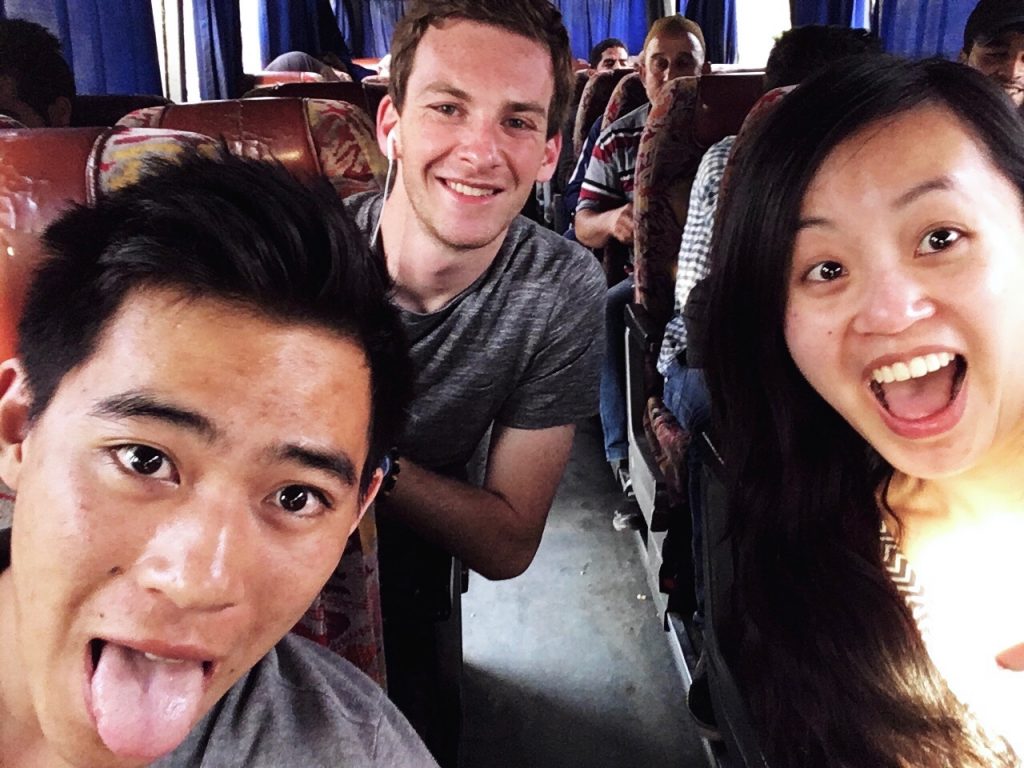 We met Cameron in Nador the next day. What can I say about Nador? It felt like we stepped in the twilight zone. There were people shouting at us from all directions, live chicken pens adjacent to a rotisserie chicken place, and no other tourists. There also wasn't anything to do. Nador kind of became an inside joke for us throughout the trip (whenever anyone said the words "no" or "door"… don't ask). We didn't plan out ANY transportation within Morocco, which turned out to be somewhat of a blessing. Upon realizing we needed to get the heck out of Nador, we boarded a bus right away. Let me tell you, ALL of our bus rides in Morocco were exceedingly sketchy. This one arrived 3 hours later than scheduled, and we kept getting checked by the police. Vendors kept climbing aboard during the stops, trying to get us to buy food. One of our buses the next day was really honk-happy, and there was little to no ventilation.

Guess who slept upstairs?
That evening, we wandered through a crazy medina and finally found our riad. Although a bunch of locals kept trying to "help" us find our way (for a tip, of course), we stuck to asking other tourists to direct us via Google maps. 🙂 Our riad was gorgeous!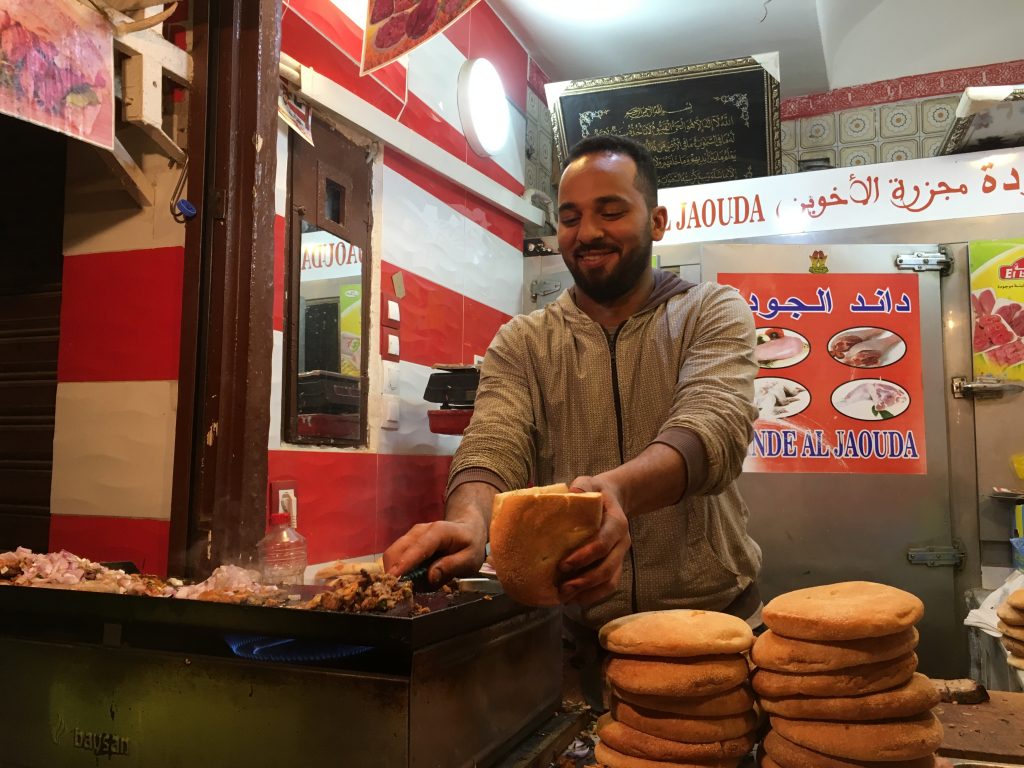 Afterwards, we got some kebabs and juice from vendors on the streets. I really respected this vendor (pictured above). He gave some extra "mixed meat" scraps to little kids who couldn't afford a full sandwich — pretty astounding since the sandwiches were only €1!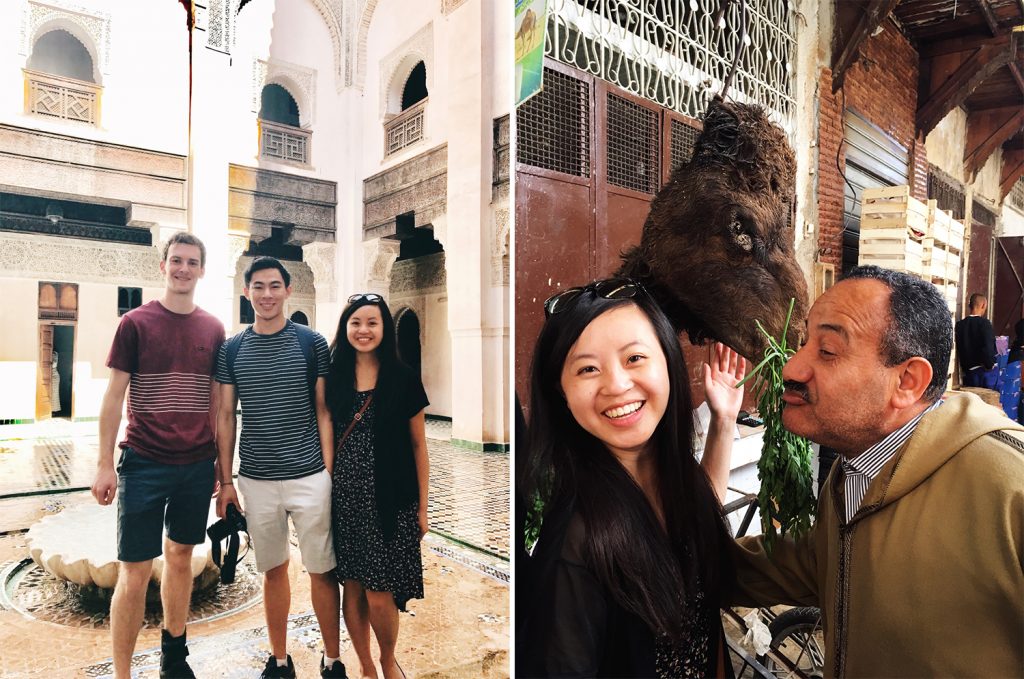 The next day, we booked a guided cultural tour around the old city of Fes. This was undoubtedly the best way for us to navigate the maze of the medina, especially since none of us could speak Arabic! Najib (pictured on the right ft. me and the camel) shared a lot of history and interesting stories. He had a great line: instead of going to a five-star hotel, he'd take his family camping to see a million stars in the sky. Smooth! He also kept joking that he could take Cameron to the mountains and get him four wives.
A couple Canadians also joined us on the tour. WE'RE EVERYWHERE!! It was a little strange because everyone in Fes would talk all the time about how much money doesn't matter as long as you're ~rich in the heart~, but would then follow up by asking us for a bigger tip. While the tour started off great, it increasingly became more touristy and dragged on a little longer than we'd asked for. It pretty much took up the whole day, so we didn't get to do anything else in Fes!
Chefchaouen/Tangier (April 17)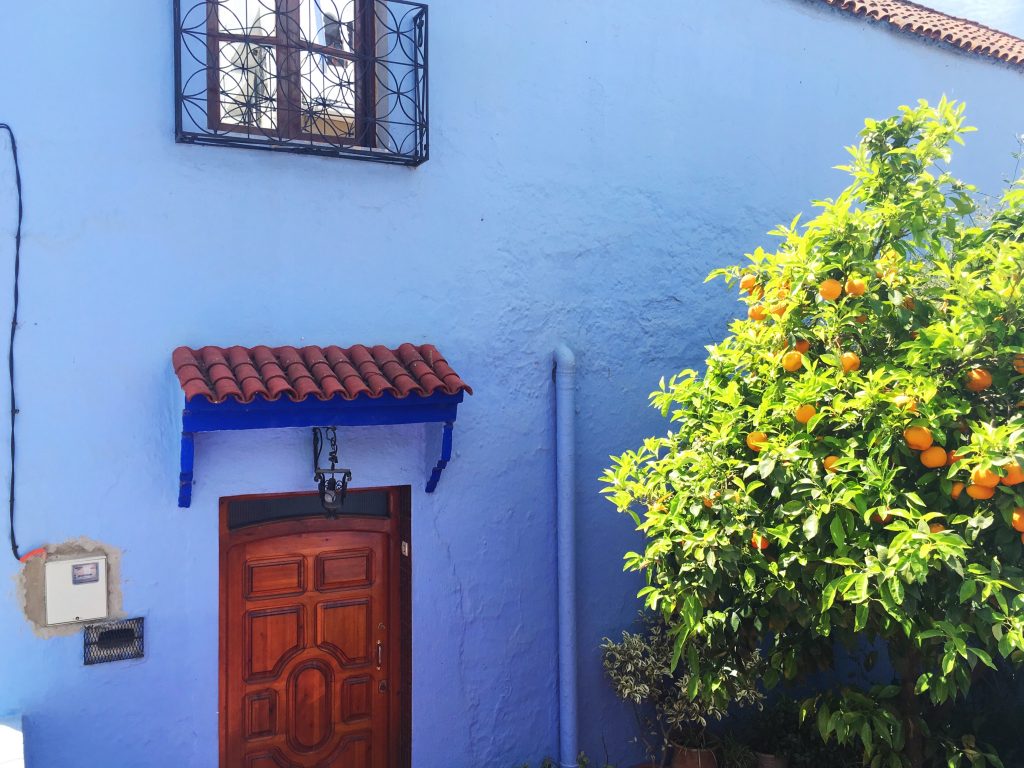 Early the next morning, we boarded a bus to Chefchaouen, aka the "blue city"! TBH, the city was NOT as blue as I expected. After Nador and Fes, it felt like we were starting to re-enter civilization. There was a big fruit market lining the streets and towering mountains in the distance. We didn't have a way to navigate (no data in Morocco!), so we wandered around and struggled in a search for the ~iconic~ blue alleyways. For full disclosure, we totally went to Chefchaouen for the sole purpose of taking some sick instagram pics. As soon as we found remotely blue streets, we scrambled to take photos.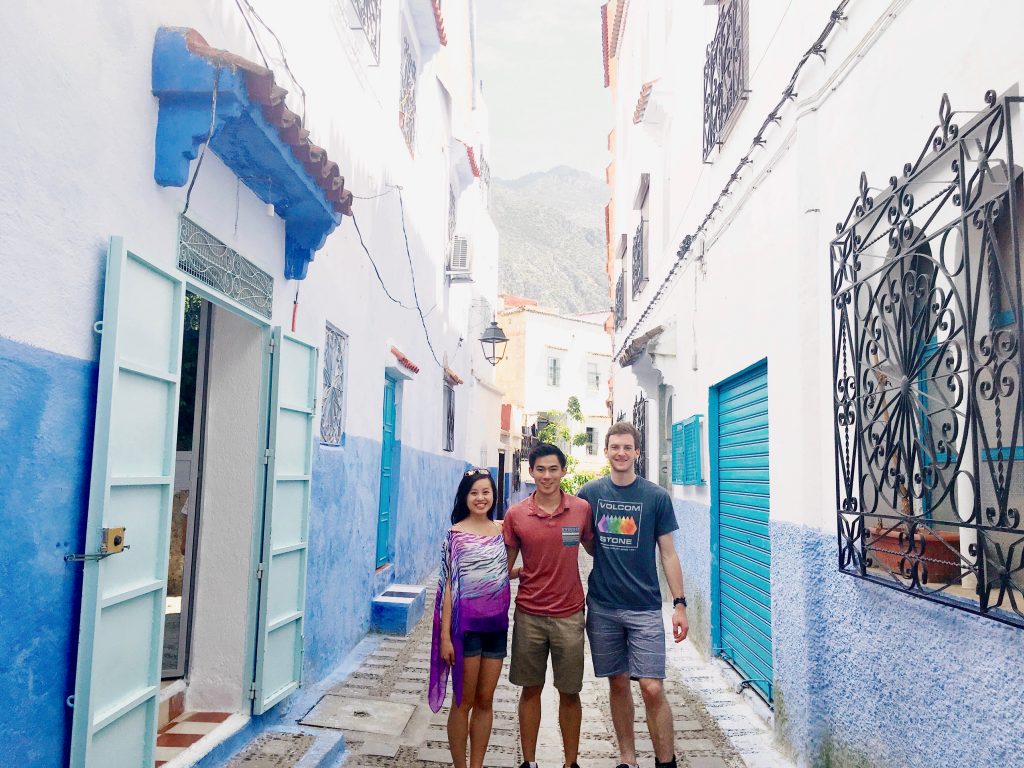 If we had more time here, we definitely could've hiked up to the Spanish mosque and explored more blue streets! All told, Chefchaouen felt more like a rest stop on our way to Tangier, and we only had a couple hours to trek from the bus station to the city and back.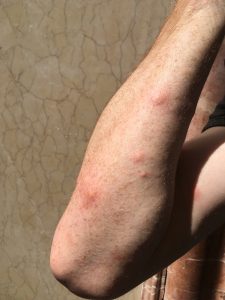 As soon as we got to Tangier, we parked at a McDonald's and used the wifi (#sorrynotsorry). It finally felt like we were back in a world we recognized! …Plus camels. We took a nice long walk on the beach, watched the sunset, and enjoyed some steak and ice cream. Unfortunately, our airbnb was horrendous. Think bugs, doors that didn't really lock, a non-functioning shower, and mysterious bites the next morning. See: this splotchy picture of Cameron's arm. 🙁
Super early the next morning, we took a grand taxi to board a ferry back to Spain. This was the one thing we DID purchase ahead of time, only to discover that our 6:00 am ferry got CANCELLED! Luckily, another company had a ferry departing at the same time, which was crucial since we had some trains booked for later that afternoon.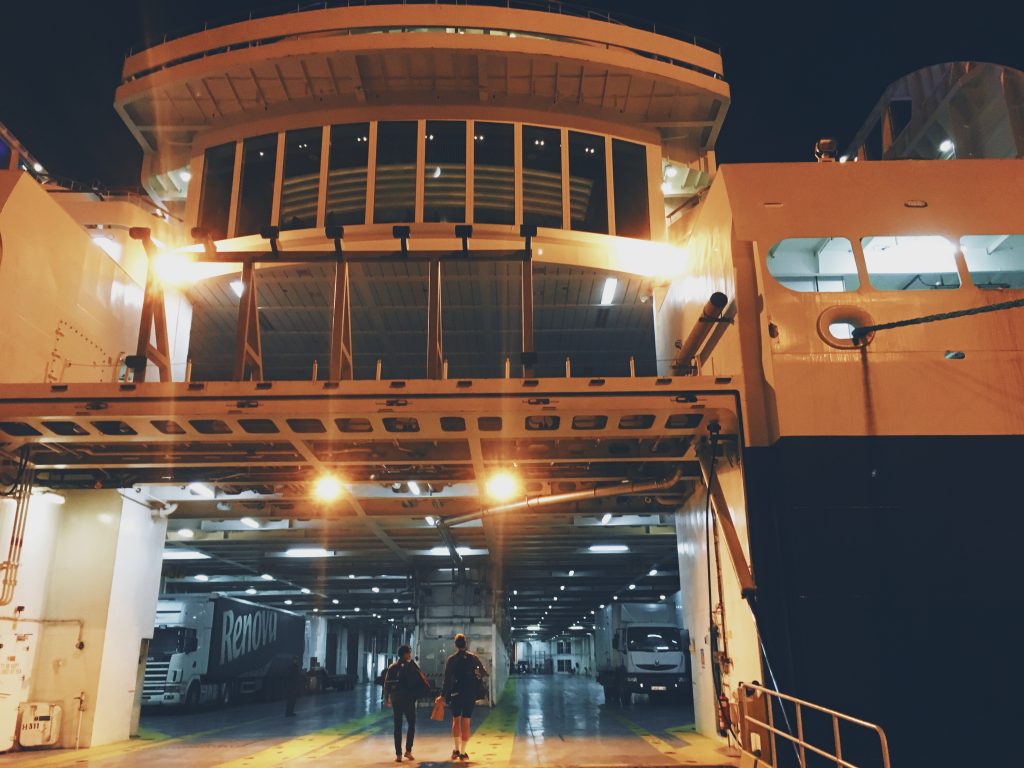 Where to next?? Spring break part 2 will be up soon (hopefully before I leave exchange lol)!