Spring Break (Part 2) — ESPAÑA!
Have you read part 1? It's been a while, so the tl;dr is: went to Barcelona and Morocco, then boarded a ferry from Tangier to Algeciras. And that's where our story picks up today…
After the craziness of Moroccan bus travel, the Spanish trains we took to Seville were a welcome reprieve. Air conditioning! Tables and leg room (side note: always bring a pack of cards for moments like these)! AND THE VIEW!! We saw sprawling landscapes, beautiful villages, and untouched valleys. In awe, I kept asking my friends if they would ever consider living in such remote villages (the answer was always no).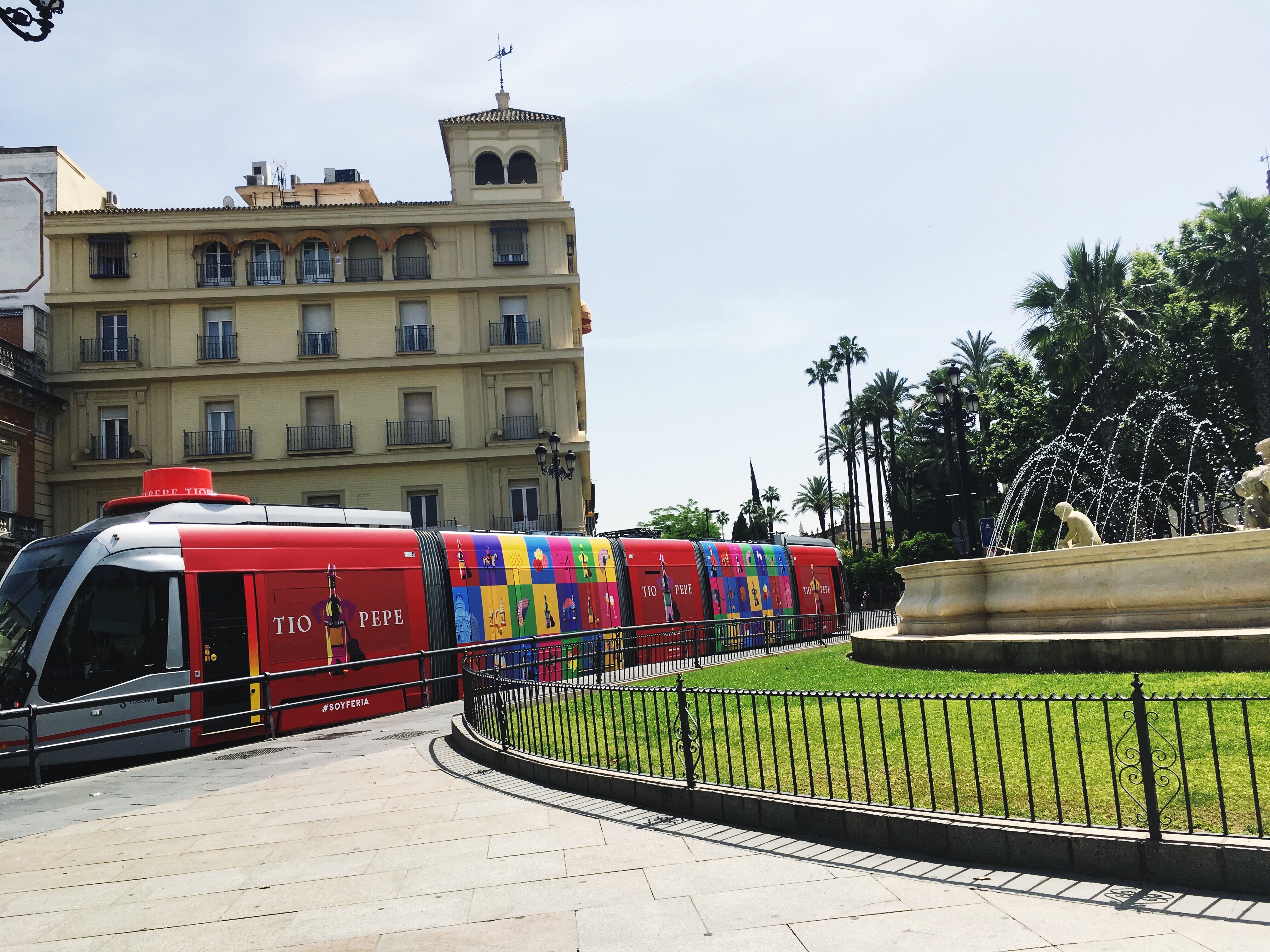 This tram in Seville had a hat on it!
Seville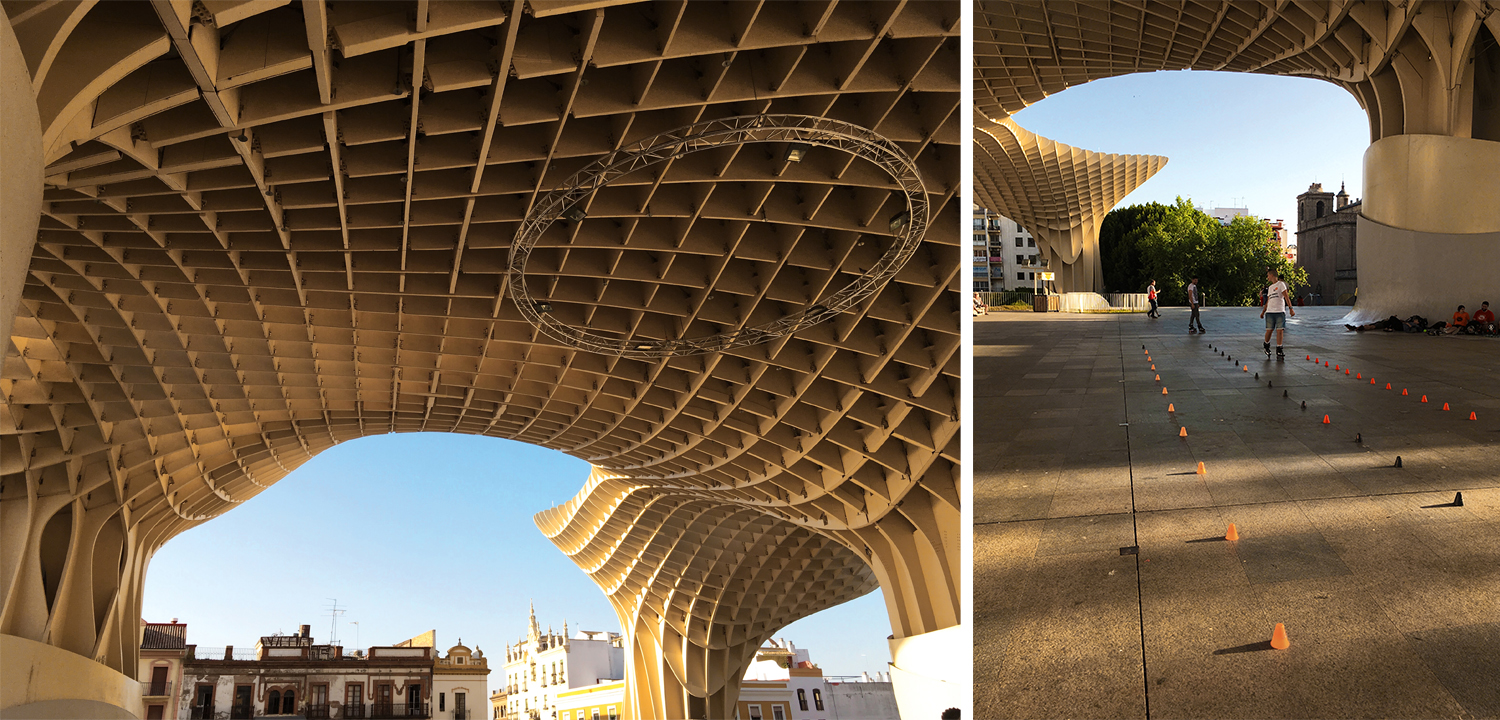 I was a HUGE fan of Seville! It was super hot (think 30ºC) with all sorts of charm. The only thing that could've made it better was a beach! Our Airbnb was right near Las Setas (pictured above), so naturally, it was one of the first places we visited. Not sure why they have this building, also known as the "Metropol Parasol," but it's definitely a big modern hangout spot. There were a bunch of roller bladers set up underneath the structure with some pylons (side note: apparently "pylon" is a Canadian-specific term?).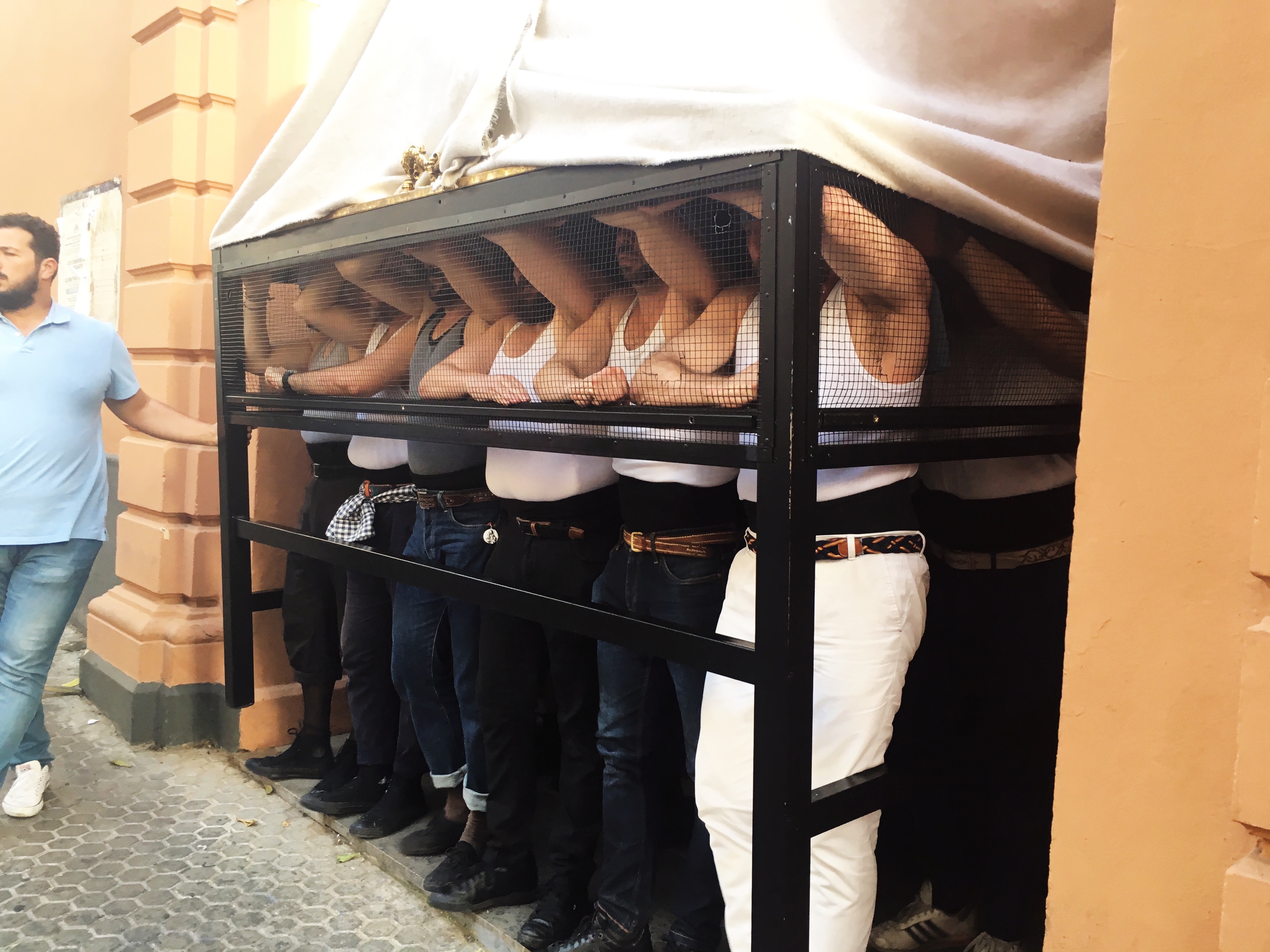 These men marched in military precision out of a cathedral. It was definitely a traffic-blocking spectacle!
We grabbed some Iberian ham sandwiches and settled in for a flamenco show. I was definitely glad we did this! We were the youngest willing attendees (i.e. not forced to attend by our parents), and all too often I feel like we young folk don't experience enough culture on exchange. While I wasn't as enthusiastic as the guy in front of us who'd "already seen 10 flamenco shows in Seville!!", it was definitely worth experiencing once.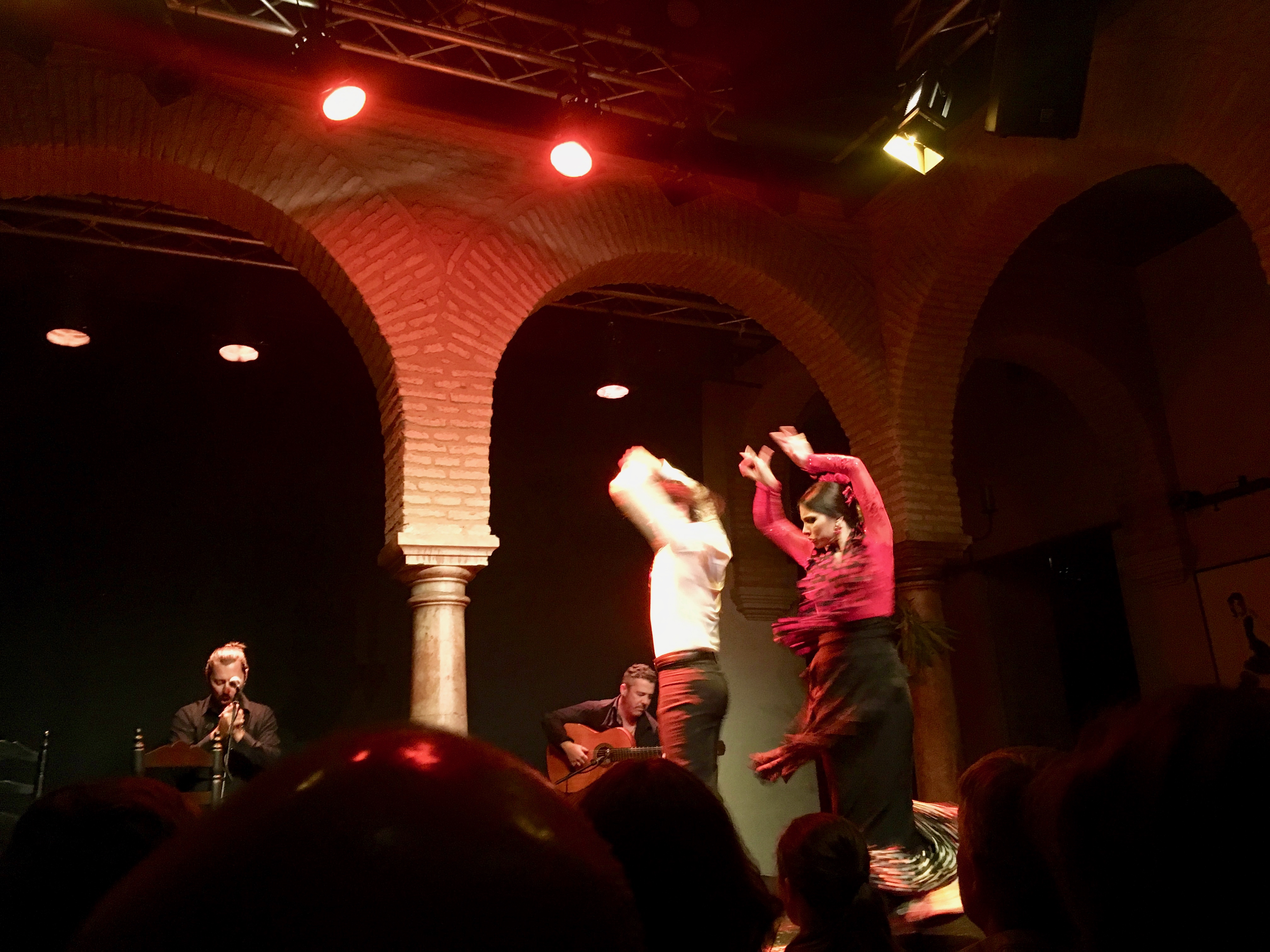 After the show, we got some dinner at the oldest tapas place in Seville. Note that old ≠ good, unfortunately! Luckily, we made up for it with a ton of smoothies all throughout Spain. Thank goodness Cali boys love smoothies as much as I do.
The next day, we walked around and hit up all the major tourist attractions. I really appreciated how Seville had well-manicured gardens everywhere! I was also a huge fan of the Plaza d'España. Picture this: it's a ridiculously hot 30ºC with scorching asphalt all around. We could take more pictures, buy an overpriced tourist-trap drink, or… jump in the main fountain at the Plaza d'España! And the latter is exactly what we did. It felt slightly rebellious/sacrilegious and 100% brilliant at the same time. Honestly, this was one of the most memorable and blissful moments of the whole trip.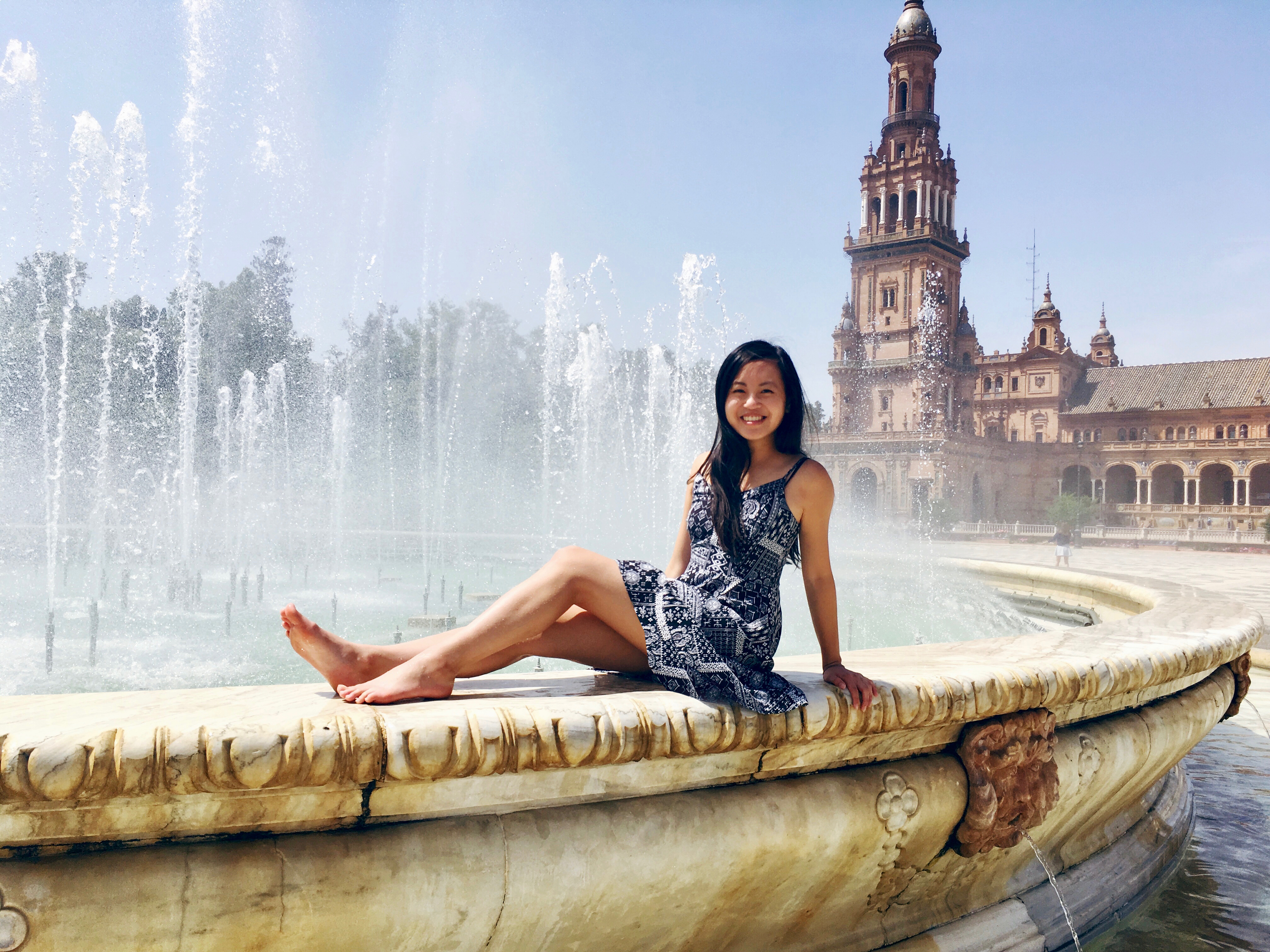 Sad confession: I might've needed a boost to get up here.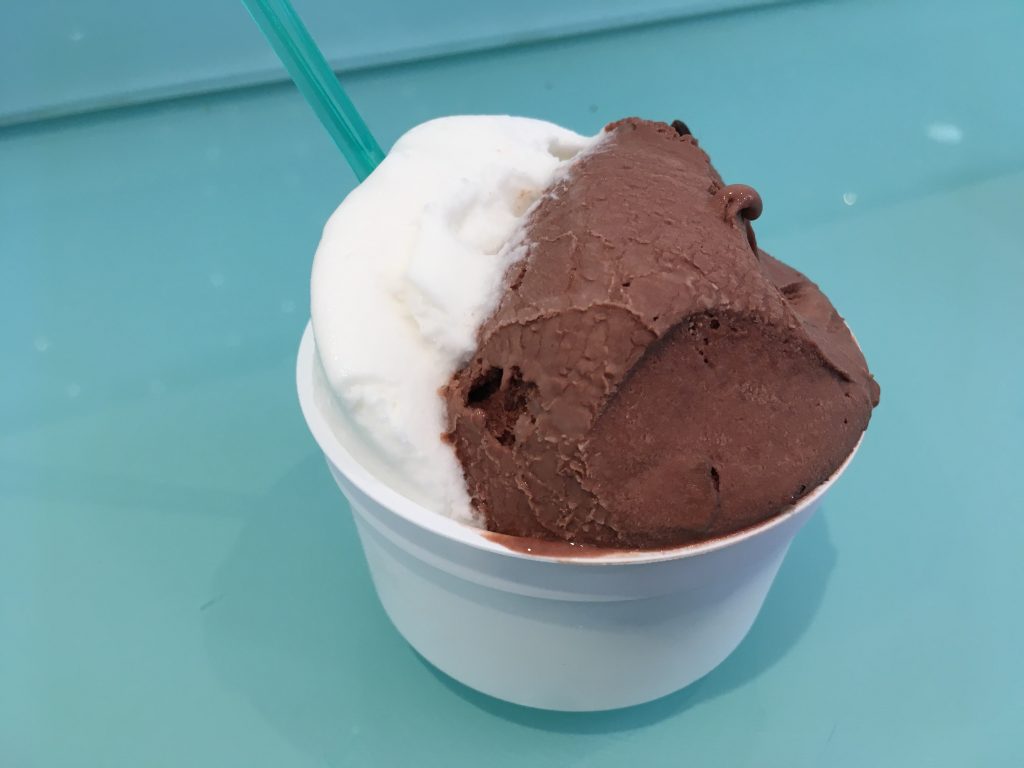 Afterwards, we walked quite a ways for Seville's famous Rayas gelato, which had super unique flavours like Viennese Sacher torte and creme caramel with full sheets of flan on top.
After putting it off all day, we finally got into the endless line for the Royal Alcazar. It wasn't that impressive in person, but the pictures turned out well, at least! We plodded through a hedge maze and sat down to prevent heatstroke. We also tried picking one of the oranges off the trees (seriously, we were such degenerates that day), but it was super sour — would not recommend.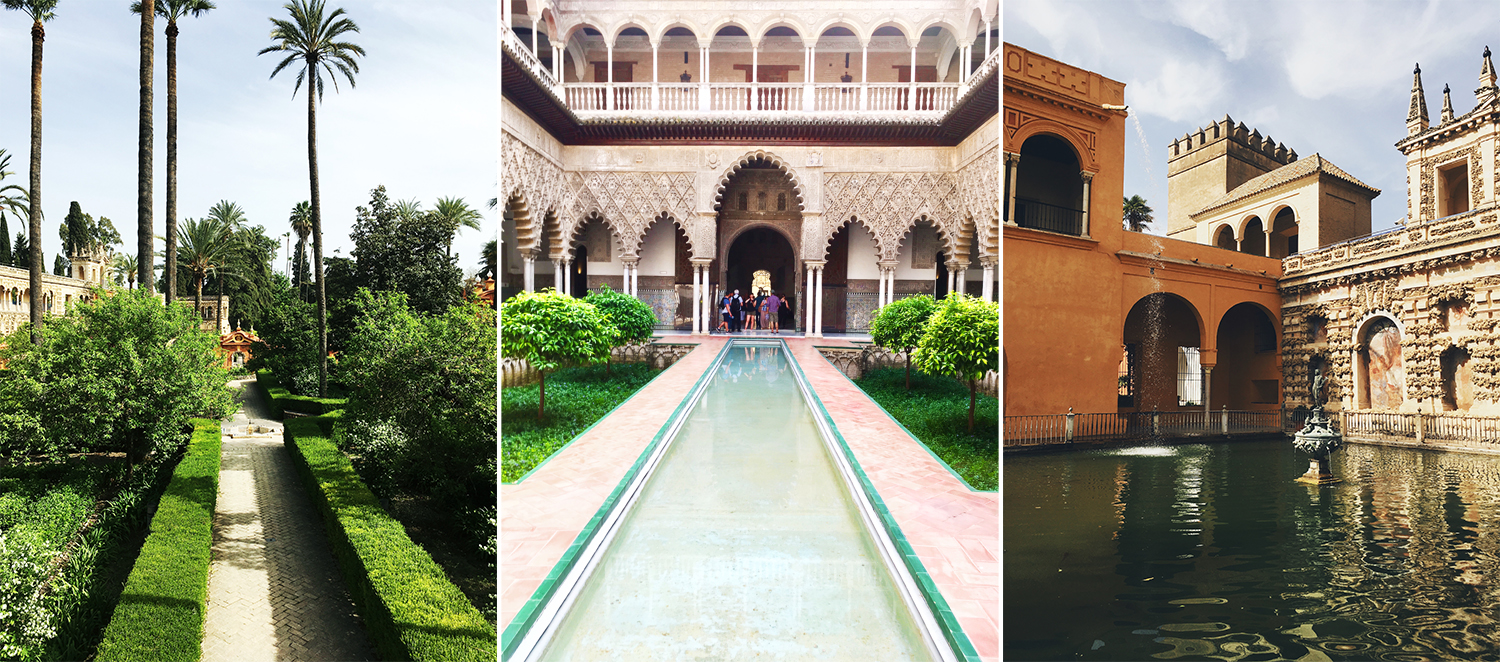 We capped off the Seville leg of the trip by visiting the Plaza de Toros and eating an absurd amount of food at Duo Tapas — s/o to Jordan and Dustin for the tip!
Valencia
From Seville, we took a plane to Valencia. While all we wanted in Seville was a beach, Valencia actually DID have beaches, but it was tragically cold (think 13ºC and cloudy). As a result, we ended up spending the first day mostly just chilling at our Airbnb. At least we got real, authentic paella! Fun fact: Paella originates from Valencia. Also, never mix your meat paellas with your seafood ones.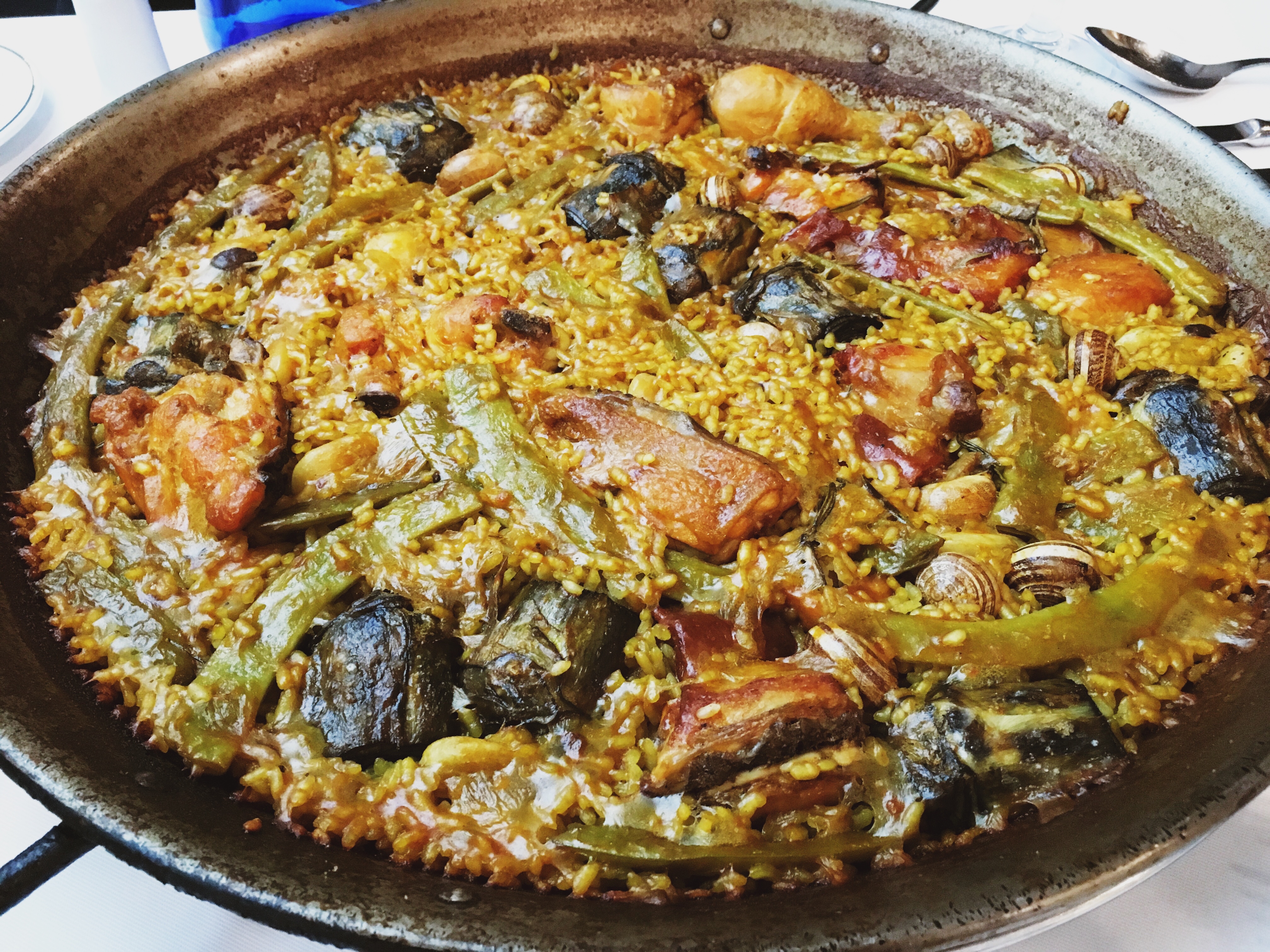 Meat paella from Casa Roberto. Everyone else there was in business attire, and we were dusters in full-on vacation attire.
The next day, we went guns blazing to check out the City of Arts and Sciences — definitely my favourite spot in all of Valencia! Seriously though, how cool would it be if an entire city was planned out with this kind of architecture? The photo shoots out here took a while. The science museum was fun, especially the interactive exhibits on memory and the human body. We got a little carried away though, and ended up pushing back a lunch reservation from 11:30 am until 3pm… whoops. To be fair, all the hotspots in Valencia (city centre, city of arts and sciences, and the beach) are each ~1 hour away from each other (shades of the GTA).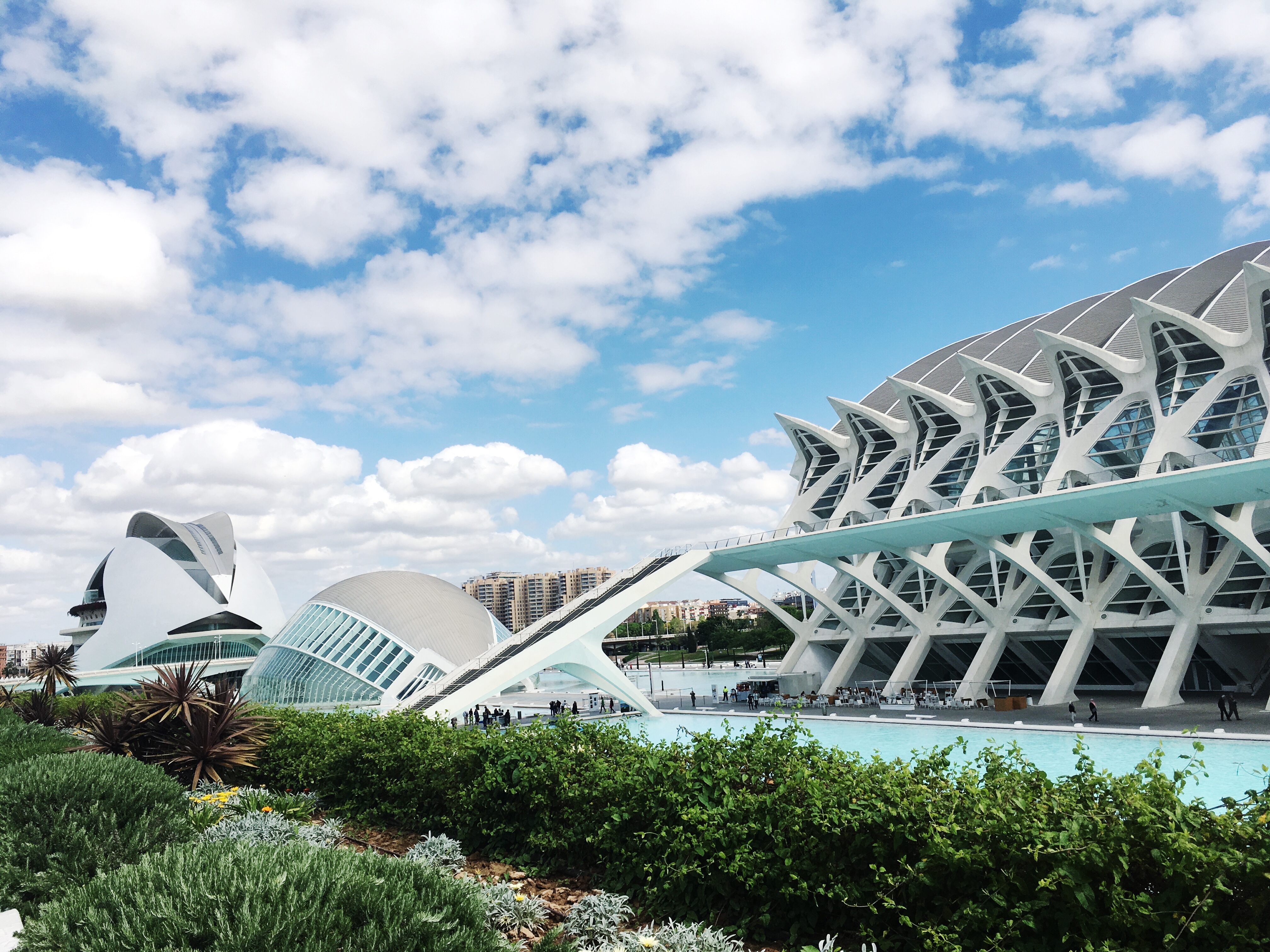 It is SO key to research places you go to ahead of time. I'd heard a lot about the indoor markets in Valencia, but it turned out that they were all closed the day we went. Luckily, you can't really close outdoor public spaces, so we wandered for a while. Valencia feels a lot more like a livable and "real" city, but also kinda grimy and construction-filled. Something I found cool was that their city parks and playgrounds tended to have a lot of work-out equipment. Maybe they're good for running circuits? Or maybe it's just a ploy to make all the kids really fit.
Barcelona (again!)
For the last leg of the trip, we went back to Barcelona. After missing all the touristy hotspots the first go-around, we were determined to #MAKEITCOUNT this time. The first thing we did was dash to the Sagrada Familia. We didn't even drop our bags off anywhere. But I'd already seen the exterior of the famed church three times, and I was NOT going to go a fourth time without making it inside.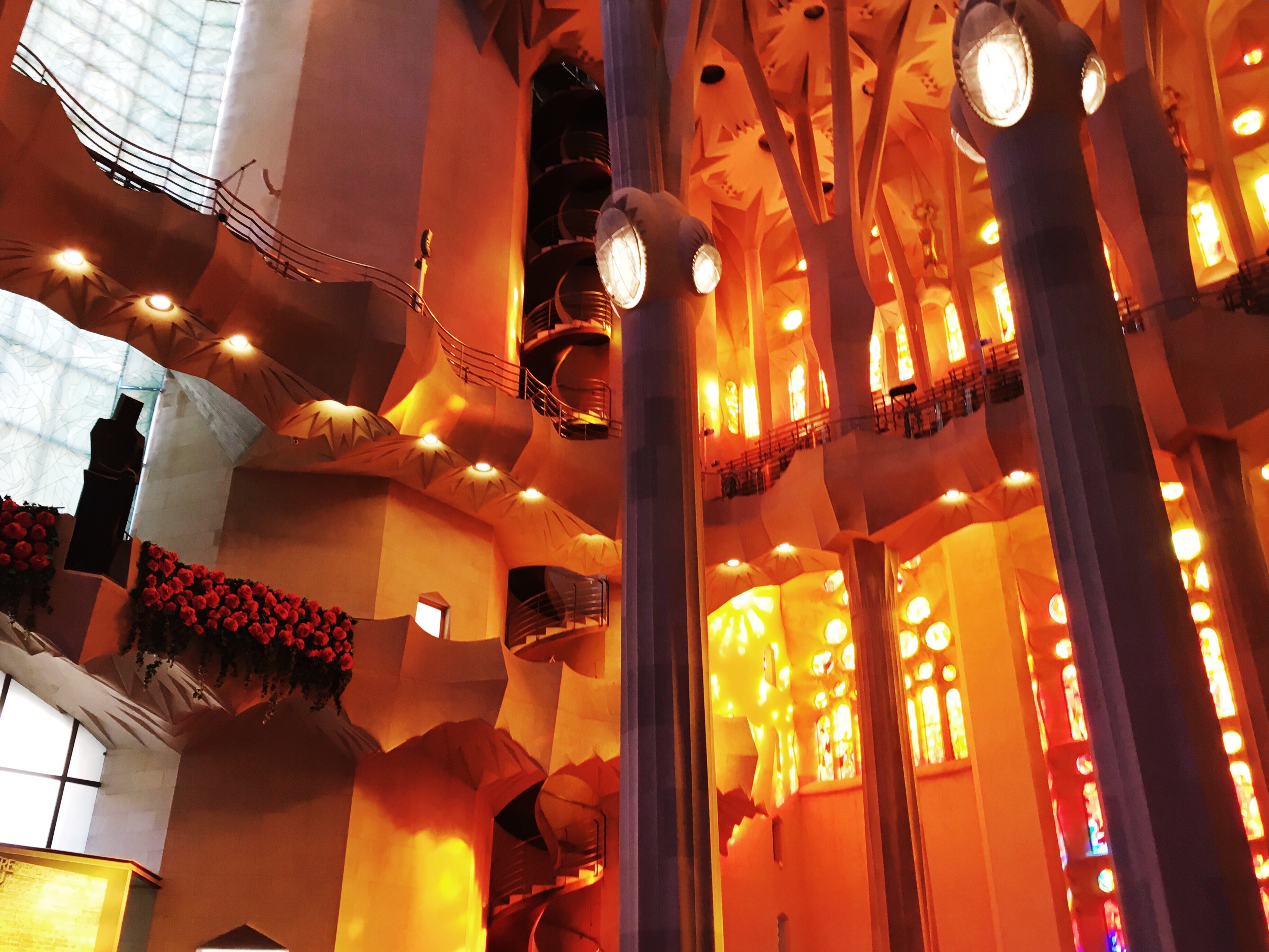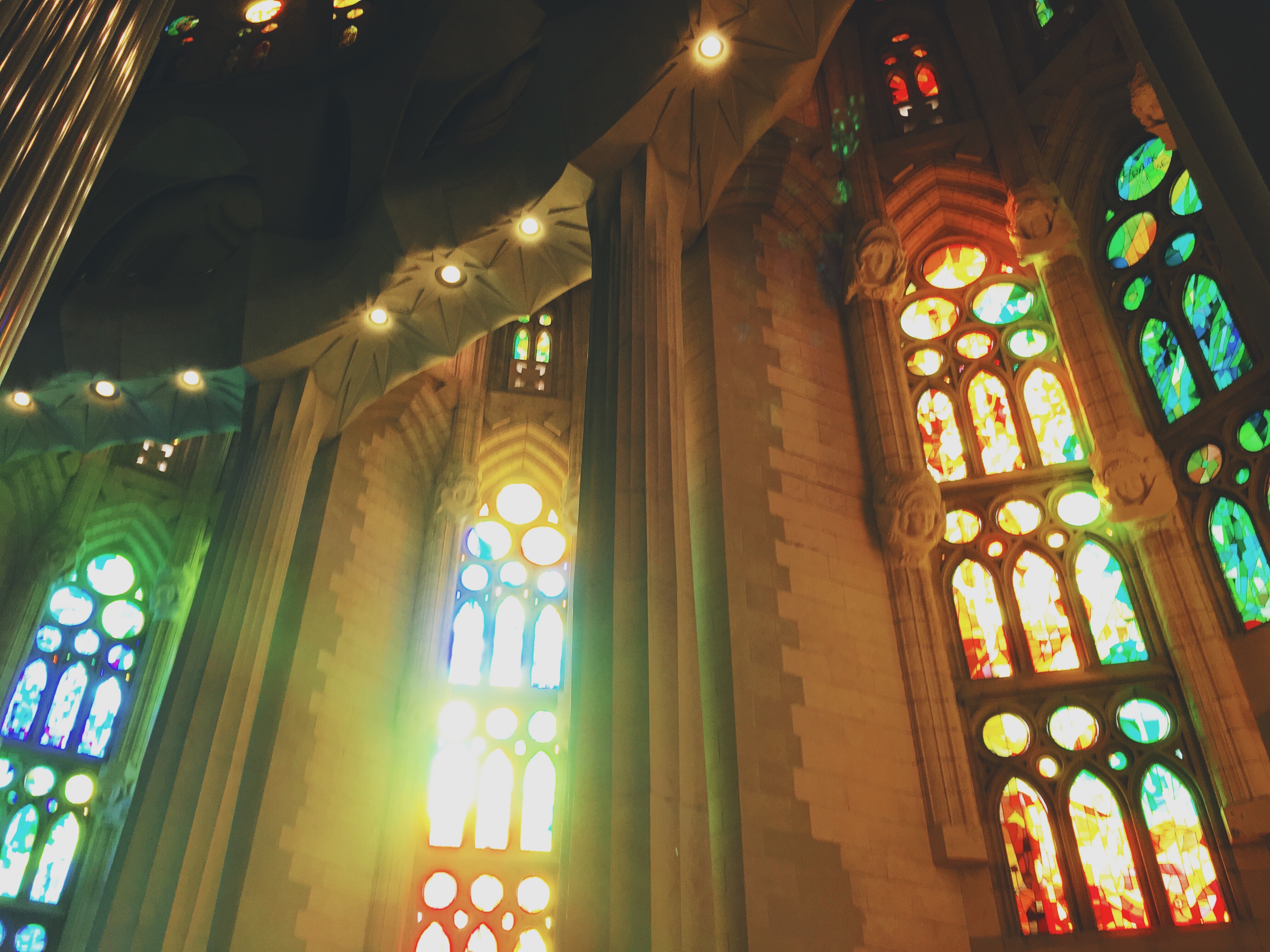 And guess what? It was totally worth the wait. 🙂 Book your tickets ahead of time, kids!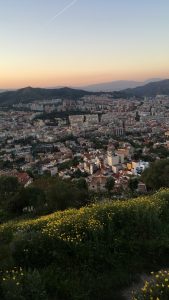 Afterwards, we stopped by Will's high school friend Chris's homestay. Chris was on exchange in Barcelona, and it's astonishing to think about how different everyone's exchange experience could be. Chris lived with a Spanish host family, and it gave him a great opportunity to strengthen his language skills and immerse himself in the ~real~ culture (nothing's more authentic than a Spanish family's home-cooked meals)!
From there, we decided to run another 40 minutes to the Bunkers del Carmel to catch the sunset. Here's the thing: Google maps stated it would take 30 minutes to take a bus or taxi to the beautiful lookout point, and 40 minutes to walk. What they don't tell you is that the trek is 40 minutes straight uphill. This is a problem when you're chasing a sunset 30 minutes away. DO NOT WALK THIS!! At least the view was spectacular.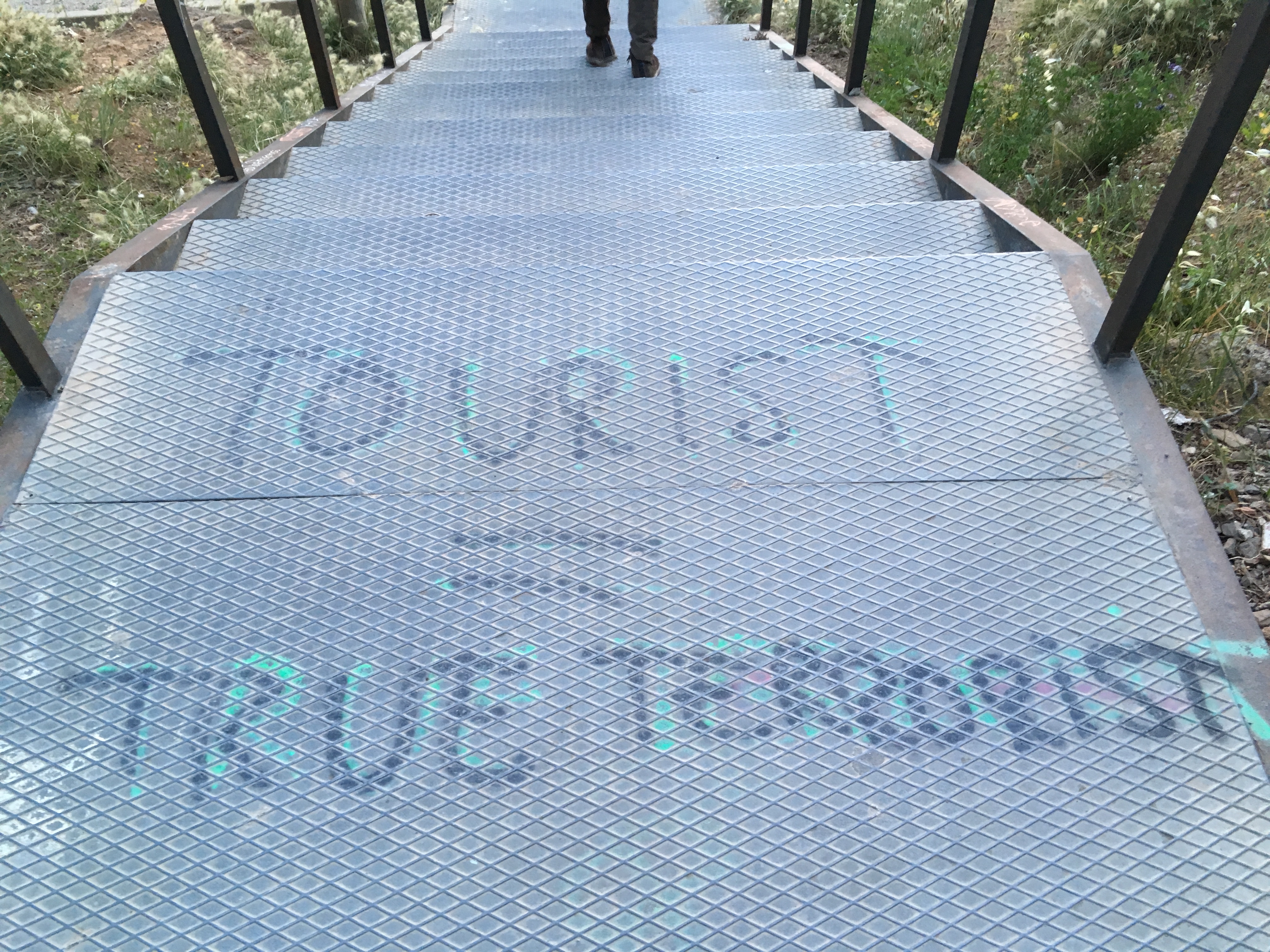 …Oh. I snapped this one on the steps near the Bunkers. It's true that there were a LOT of people at the lookout point, blasting music and chilling with their friends.
Afterwards, we headed to dinner at a tapas place where I met up with Filip from Queen's. Filip and Parker were super nice to us and let us stow our bags at their apartment for the evening, since we decided not to get any accommodation for the night (our flight was early in the morning). It was great to catch up and hear about their exchange experiences at ESADE as well. They had a nice, big place to themselves, and I realized it could've been fun to rent a place with other Queen's students… yet another completely different exchange experience!
From there, we went to Opium (a classic place, not the drug xoxo), which was SO CROWDED. It was very international with a LOT of tourists and North Americans in general, and it was hard to move since it was so packed (but the music was good!). From Opium, we picked up our bags and went straight to the airport.
Milan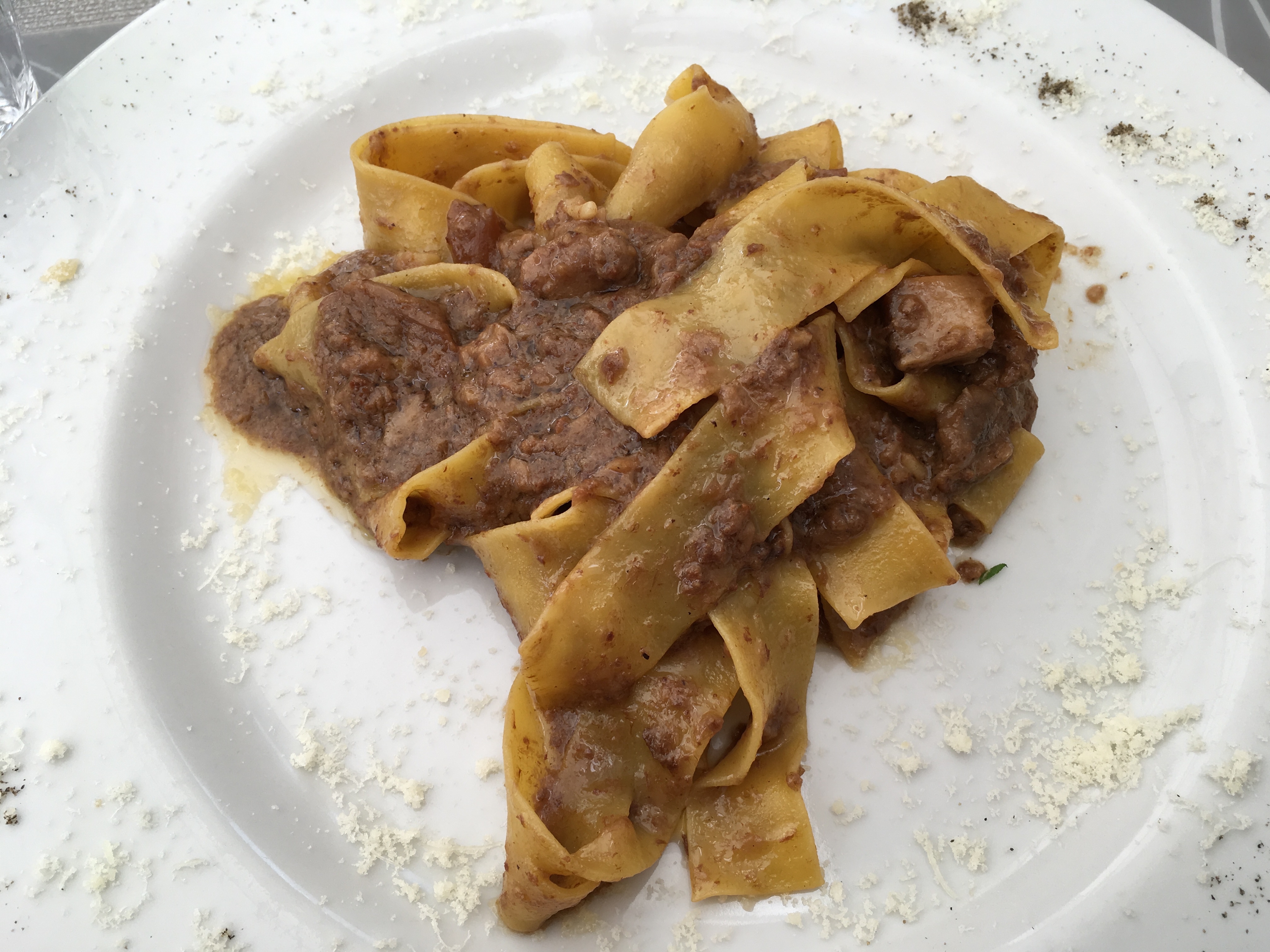 Riding on no sleep, I quickly learned that showering is a good way to separate days that would otherwise blend together. Will's friend Jason generously let us into his residence at Bocconi to freshen up/get our lives together. Jason's university experience sounds cool as a whole — he's doing that World Bachelor of Business program where you spend a year at USC, Bocconi, and HKUST + a 4th year back at one of those schools, and get a degree from all of them. For lunch (breakfast? dinner? Who knows at this point), the three of us were also joined by Nancy, another one of Will's friends who studies fashion in Milan. It was great hearing all the stories and shared history between the three of them (I'll never forget the story of someone accidentally breaking into some poor family's house for 30 minutes in Asia).
After lunch and gelato (because really, how could you RESIST), we boarded the flixbus back to Zurich, where we ran into none other than Lennart again! Spring break really went full-circle. Spain was one of my top-three destinations to hit on exchange, and it did not disappoint. I only wish I had time to check out the Alhambra in Granada and the monkeys in Algeciras.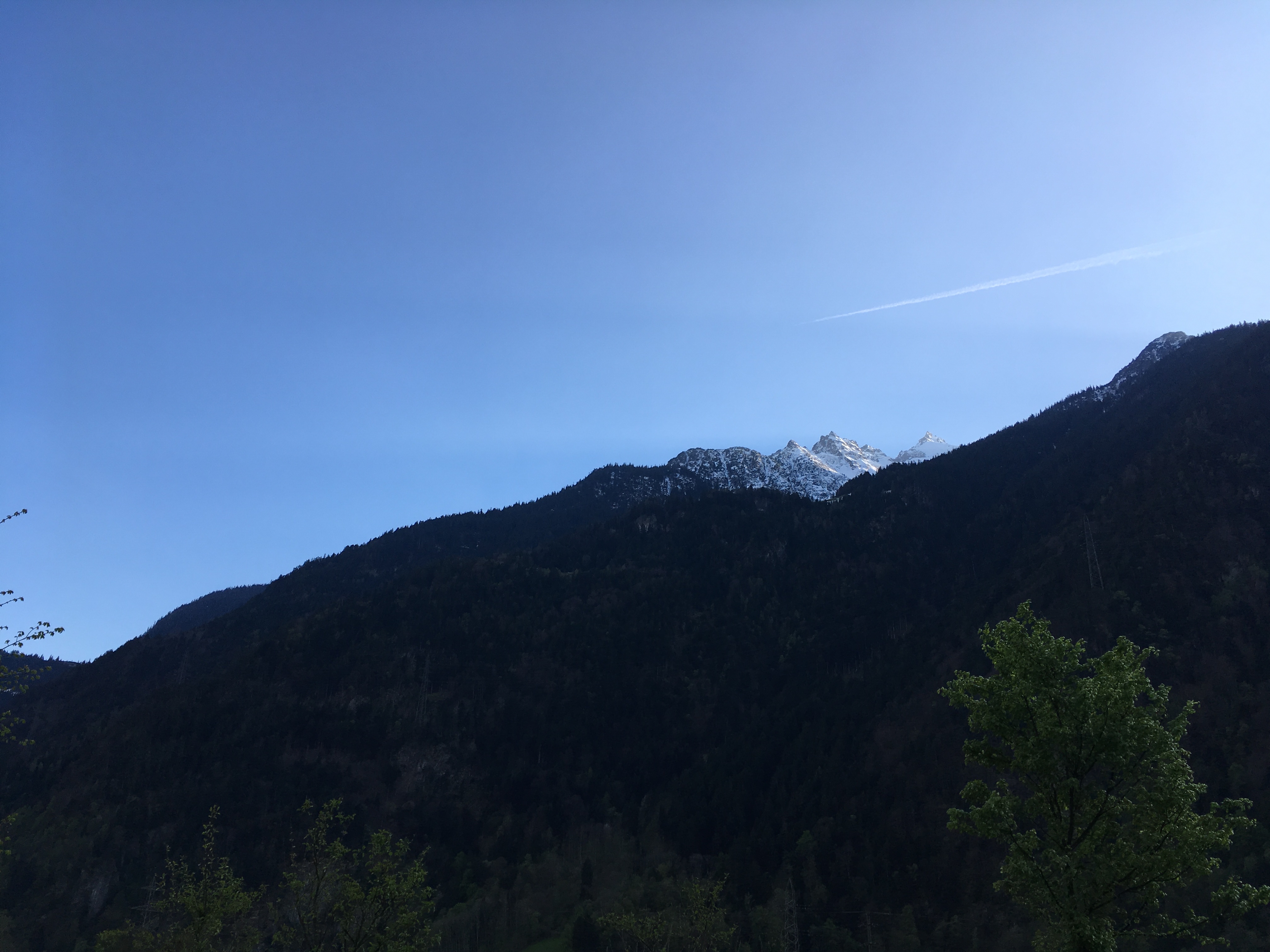 Hasta la vista!!