The Last Hurrah [Serbia, April 14-23, 2018]
After leaving London, it was time for my last case competition of undergrad: The Belgrade Business International Case Competition in Serbia. This time around, I worked with Eileen, Andrew, and Mark. Our faculty advisor had a family emergency, so we got to bring in case comp LEGEND and former co-captain Amit along with us.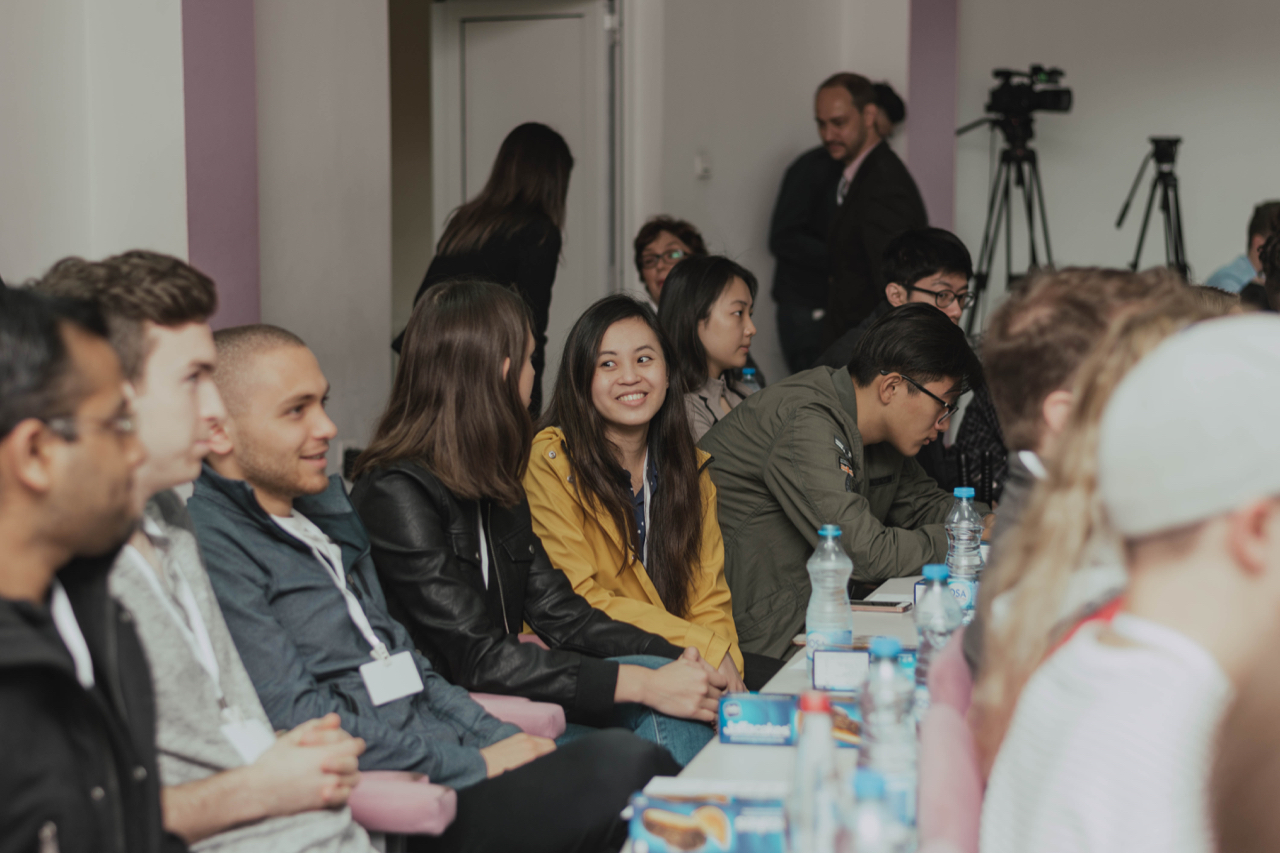 BBICC was particularly thrilling because it felt like such a big deal. There was a ton of press, the Serbian prime minister came to speak, all the Canadian teams were invited to visit the Canadian embassy, there were beautiful posters/banners/other "pubs", and I personally was interviewed on Serbian national television FOUR times (I credit this to the bright yellow jacket purchased in London). I'm forever thankful to Queen's for supporting and funding the Queen's Case Competition Union. Not to mention, we capped off this "Last Hurrah" with another 1st place finish!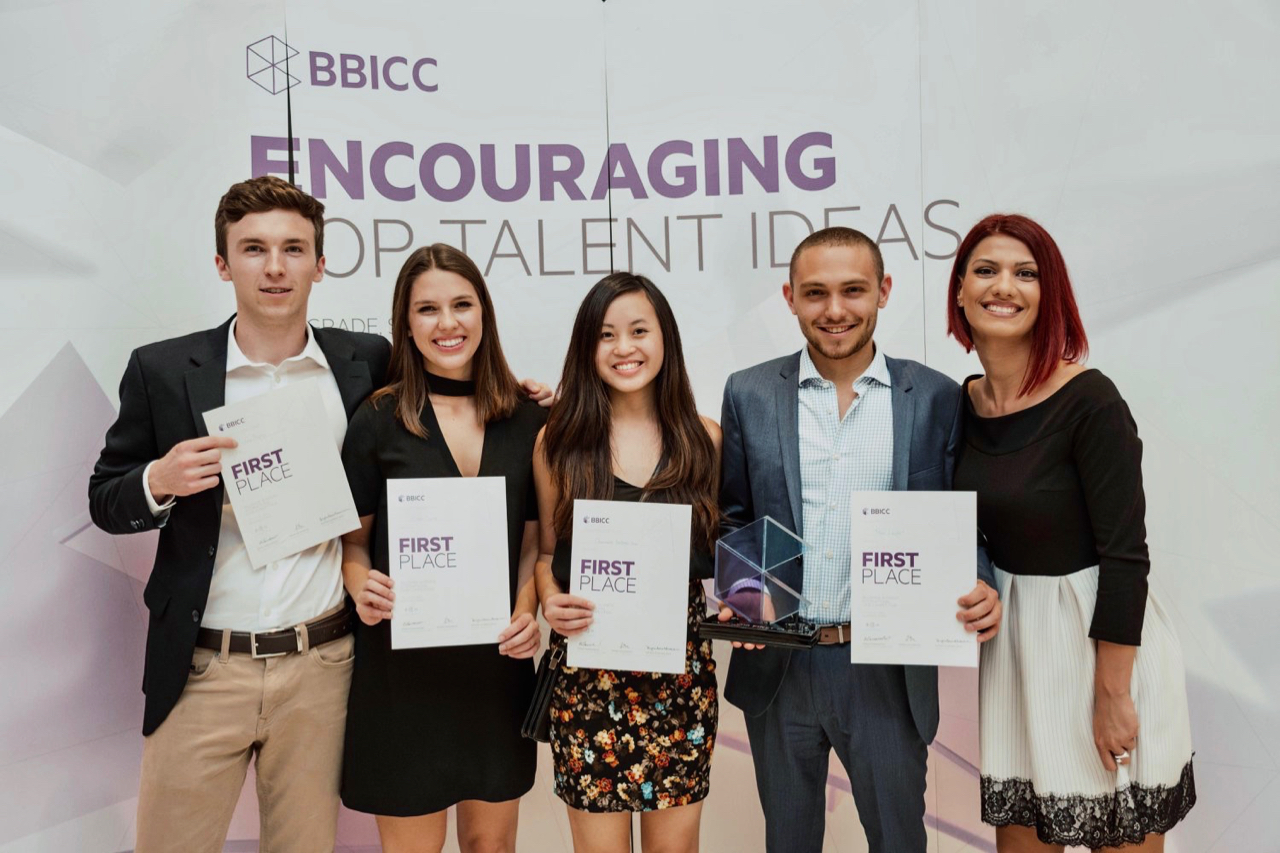 As a country, Serbia is so different from anywhere else I've been. I felt major culture shock witnessing all the locals smoke indoors in formal business attire. The cocktail hours were equally funny because "dinner" consisted of cevapi (sausages) and rakija (local fruit brandy clocking in at 40% ABV). People were downing rakija shots like it was water. With two vegetarians on our team, we had to skip out on a lot of these cocktail hours...


The first dish (and milkshake) were from a place called "Mydan," which wasn't great but had HUGE portions. The dessert was from an all-you-can-eat Slavic tapas place called "Ambar,"" which was right by the water. The food came in "trains," and we also had delicious squid ink rice.

Begley trying on his tux.
In the days leading up to the competition, Eileen and I met our team buddy Katarina and walked around Republic Square. Andrew and Mark arrived later, but unfortunately, their luggage did not. This led to a pretty funny situation where the boys ended up renting matching suits from a wedding shop, which they wore every day until the competition finals.
The next day was one of those "Amazing Race" days to facilitate bonding between the teams. Unfortunately, it was super rainy. Also, the Queen's team got a bit distracted by all the shiny objects (and a CRYPT!!) at St. Sava Church, so we ended up going through the activities with just each other, plus a guy named Alex from HKU. Alex, you're the MVP for bearing with four Queen's jokers all day. Eventually, we caught up with all the other teams and took pictures at the Kalamegdan, which is this big fortress and Belgrade's main tourist attraction.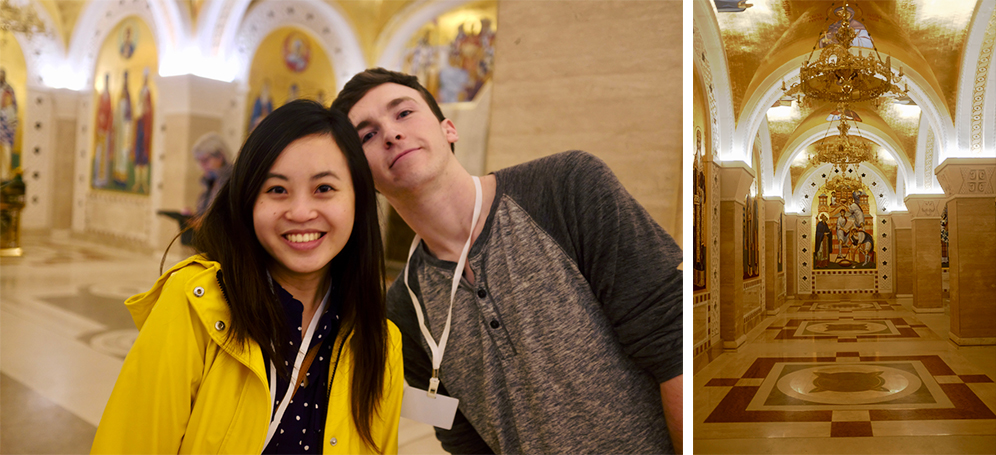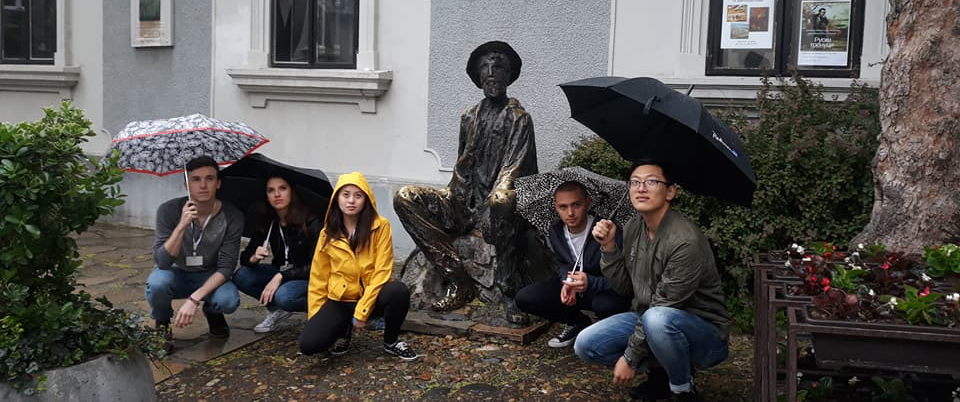 That evening, we got to visit the Canadian embassy. The ambassadors were super friendly and passionate about their work. I couldn't help but wonder what inspired people to become diplomats. The job seems kind of... isolating?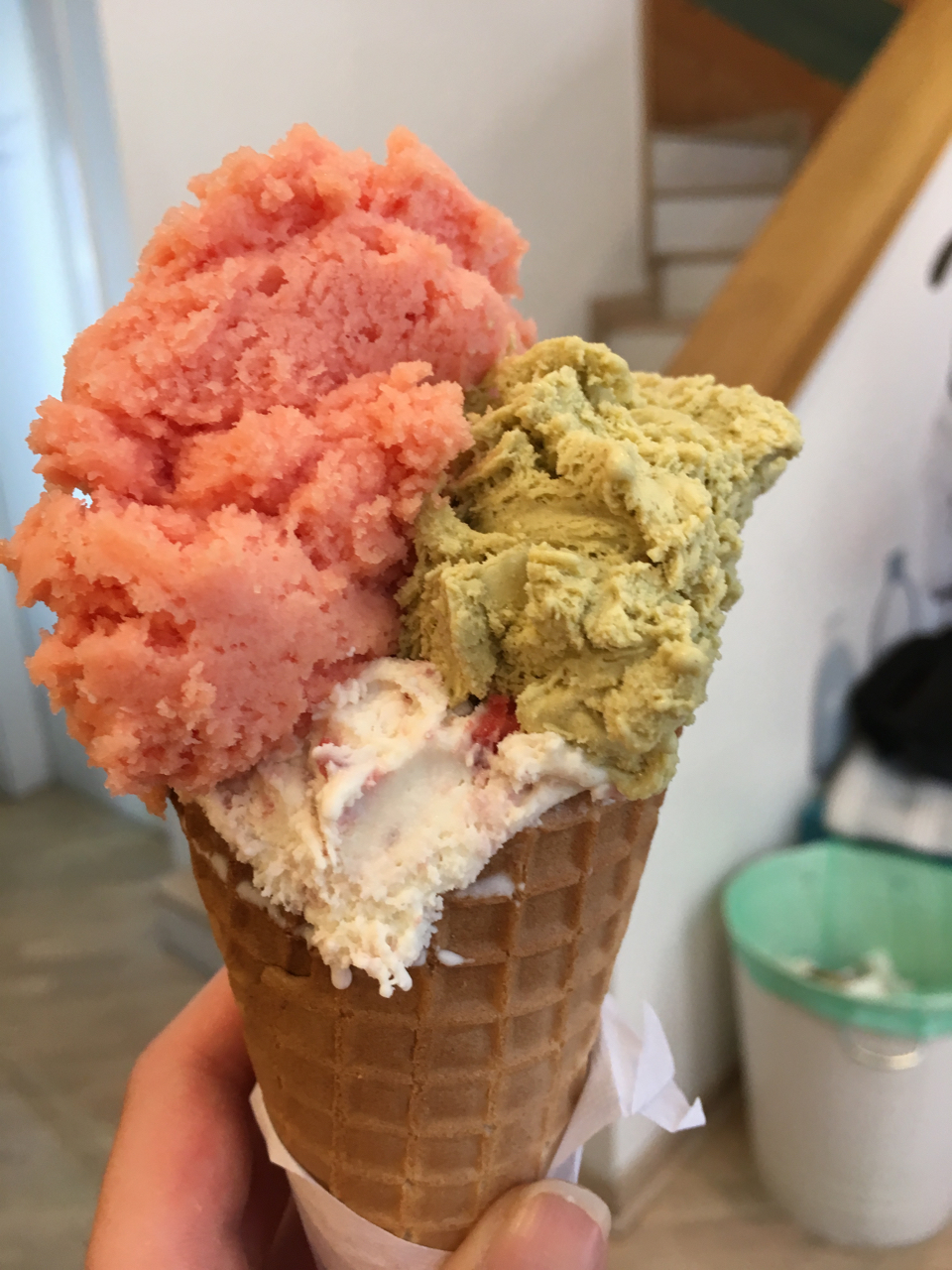 I went for white chocolate + strawberry balsamico, blood orange, and pistachio.
After that point, the competition kicked into high gear. This was probably the most adversarial case comp team that I've worked with, but at the end of the day, we came up with solutions that we were proud to stand behind. The finals were super legitimate (with headset microphones and more national TV press), and the post-competition celebration is always fun. It was during this post-competition dinner where we befriended the UNSW team. I still keep in touch with some of these team members to this day, and a couple of them even visited Toronto while on exchange in November 2018! All the teams ended the night by going to a place called "Freestyla," which played a lot of hip hop (and ESPECIALLY a lot of Drake)!
Mark and Begley unfortunately had to leave right away due to additional final exams, but Eileen and I had one last day to tour around Belgrade. Thankfully, it was sunny this time around (and that made ALL the difference!). Katarina and another team buddy named Nemanja served as our tour guides, and this made the whole experience more fun. We went to a cute street called Skadarlija Street for lunch, which I LOVED (check out the cute cobblestones!). Of course, we couldn't resist ordering some ice cream at Crna Ovca (lit. "Black Sheep"), which had excellent flavours.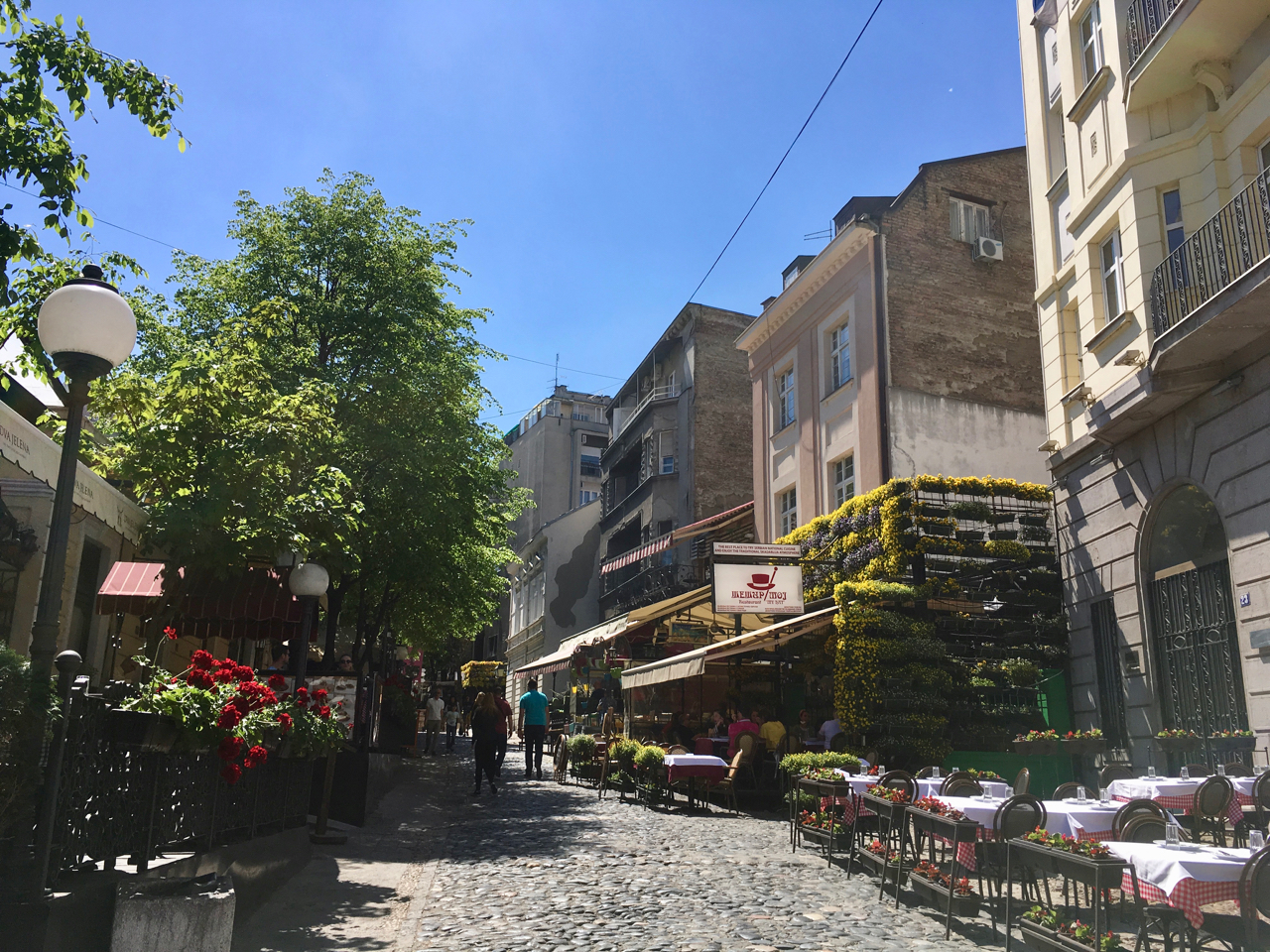 We capped off the day by hanging around the Kalamegdan again, taking pictures by the Danube. We passed by some marching bands, a bunch of popcorn stands (I swear, they are EVERYWHERE on the streets! My kind of place!), and strolled by one of those clean, upscale shopping streets called Knez Mihailova Street.
Belgrade definitely has unique post-communist vibes to it. While it wasn't my favourite place in the world, and probably not a place I'd go back to, I'm glad we got the opportunity to visit this part of the world. From here, Eileen and I went our separate ways — she went on to continue her grad trip touring around Eastern Europe, and I went to meet up with my mom in Greece!